Mother whose son 'baked to death' in prison is awarded $2.25mn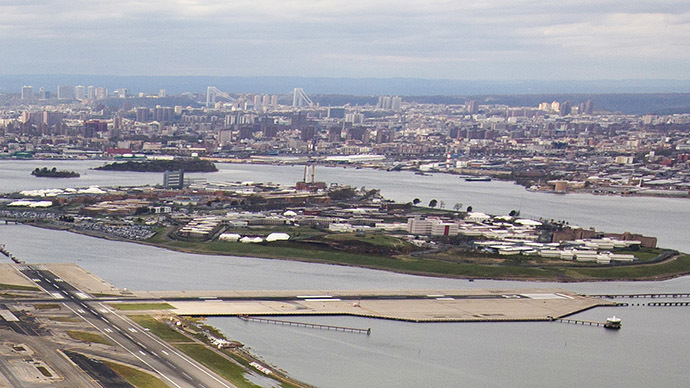 The mother of a former Marine with mental health problems who died in over 100-degree heat at Rikers Island will receive $2.25 million from New York City. The family originally planned to sue for $25 million.
Jerome Murdough, a 56-year-old veteran, was arrested in early February for sleeping in the stairwell of the roof of a Harlem apartment. He was charged with a trespassing misdemeanor and bail was set at $2,500. Unable to afford bail, he was sent to the Rikers Island prison complex. A week later, the mentally ill Murdough was found dead in a mental observation unit that city officials said overheated to at least 100 degrees, apparently because of malfunctioning equipment.

"Mr. Murdough essentially got the death penalty simply for being arrested for trespassing," commented Derek Sells, the family's attorney. The family had planned to sue to city for $25 million, according to the New York Daily News.
READ MORE:Mother of mentally ill vet who 'baked to death' in jail cell suing New York
In the announcement of the $2.25 million settlement, city controller Scott Stringer made a public apology to Murdouch's mother, Alma.

"On behalf of the City of New York, I'm sorry, Ms. Murdough, for your loss...I hope that in some small measure, it will provide closure for Mrs. Murdough and her family," he said.
Jerome Murdough: City Agrees to $2.25 M Deal in Rikers 'Baking' Death http://t.co/5yI95IcVnA

— Victoria Bekiempis (@vicbekiempis) October 31, 2014

Alma Murdoch found out about her son's death a month after it happened, and only when she was contacted by the Associated Press, which broke the story.
READ MORE:Amnesty International slams US in death penalty report for executing mentally disabled prisoners
Before his death, Jerome Murdough suffered from bipolar disorder and schizophrenia, according to his family. Prison officials said he was on anti-psychotic and anti-seizure medication, which may have made him more vulnerable to heat. He also apparently did not open a small vent in his cell, as other inmates did, to let in cool air.

However, prison guards were supposed to check on Murdough every fifteen minutes as part of a suicide watch. Four hours lapsed before a guard discovered him slumped over dead, in a pool of vomit and blood.

"He basically baked to death," one of the officials told AP.

The autopsy report was inconclusive but officials with knowledge of the case say the cause of death points to extreme dehydration or heat stroke.
READ MORE: Imprisoned Occupy activist alleges medical negligence at Rikers Island
At the time of the inquiry, New York City Mayor Bill de Blasio called Murdough's death "troubling," and convened a task-force of experts to examine how the mentally ill fare throughout New York's criminal justice system — before, during, and after their time in jail.
An attempt to make amends for the degeneracy of our criminal justice system. re: Jerome Murdough's family's $2 million settlement

— M. Anas Uddin (@manasuddin) October 31, 2014

"We want justice for what was done," said Wanda Mehala, one of Murdough's sisters, back in March. "He wasn't just some old homeless person on the street. He was loved. He had a life. He had a family. He had feelings."

Forty percent of the 12,000 Rikers inmates are mentally ill, and a third of them suffer from serious mental problems. Advocates and others have long argued that correction officers are not sufficiently trained to deal with mentally ill inmates whose needs are complex.