NYC mayor to shrink Rikers prison population by 25%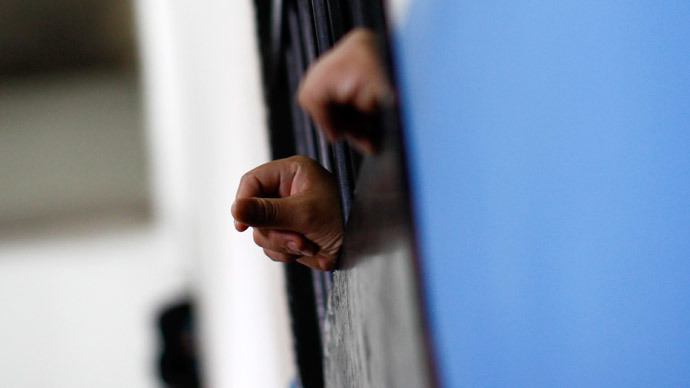 More than 400 people have spent two years in Rikers without ever being convicted – a problem New York's mayor plans to address by shrinking the population by 25 percent over the next 10 years, The New York Times reported.
Mayor Bill de Blasio (d) is set to announce a plan Tuesday to reduce the inmate population at Rikers by clearing the backlogs of cases at state courts. According to city data, as of March, more than 400 people have been held at Rikers without having been convicted of a crime. Some half dozen people have been there for more than six years.
"Too many people have been detained at Rikers, sometimes for years, while they wait for trial," de Blasio said in a statement released to NYT. "For the first time, our city will work with the courts, law enforcement, district attorneys and the defense bar to immediately tackle case delays head-on and significantly reduce the average daily population on Rikers Island."
The Mayor's latest proposal attempts to target the much larger issue of court inefficiencies, namely "too few judges and court officers" and the lack of "enough interview rooms for lawyers to consult with clients." Compounding these problems are missed court appointments, witness no-shows, scheduling conflicts and "overworked prosecutors and defense lawyers."
Encouraged to see @BilldeBlasio tackle the very serious issues at Riker's Island. This is leadership: http://t.co/2dfTe9WHTN

— Michael Skolnik (@MichaelSkolnik) April 13, 2015
Under de Blasio's proposal, all cases where defendants have been held for over a year – more than 1,500 people – will be put on the court calendar within 45 days. Officials think plea deals, convictions and exonerations can resolve half of the cases within six months. Additionally, the city is introducing an online tracking tool to monitor cases to prevent backlogs.
"Speedy disposition of justice is just an incredibly important moral obligation for a state," de Blasio told the Times. "These are pretrial; they are not guilty of anything."
READ MORE: NYC hired Rikers officers with gang ties, psychological issues - report
The administration's plan is the latest effort to curb the dysfunction at Rikers, one of the world's largest jails, which can hold as many as 15,000 inmates. It has come under scrutiny over the past year because of safety and security problems.
The US Justice Department filed a lawsuit against the city over allegations of violent abuse of teenage inmates. City investigations found guards had smuggled in contraband and used excessive force. The city has also been sued by families of inmates who passed away at the prison – a schizophrenic inmate who died in an overheated cell, another who died after drinking corrosive disinfectant and another who was allegedly beaten to death by guards.
READ MORE: NYC jails register record-breaking use of force against inmates in 2014
In March, the mayor introduced a 14-point plan to reduce violence among inmates by limiting visitors, adding security cameras and separating rival gangs. Under his direction, the corrections department has stopped solitary confinement for inmates under 21 years of age and has created therapeutic programs for all inmates.
The mayor's office said more than 700 acts of violence were reported this year, reported Reuters. Last year, 71 percent of the violent acts at the prison involved attacks between inmates.
You can share this story on social media: