FAA testing app to inform drone operators where they can fly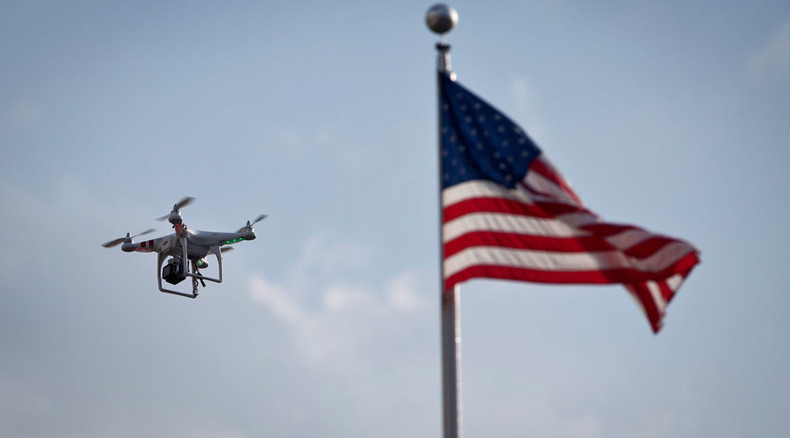 The US Federal Aviation Administration has released a new smartphone application designed to help unmanned aerial vehicle operators know if there are any rules about flying a drone in a certain location.
Dubbed B4UFLY, the app has been offered to only about 1,000 beta testers made up of "members of industry, government, and the public," the FAA announced Friday. The beta test will likely run for at least two months before it's made available to the general public - hopefully by the end of 2015, the agency said.
The purpose of the app is to inform hobby or recreational drone operators if they are flying close to airspace restricted to UAVs, such as airports. Information about an operators' chosen or current location is communicated with a "status" indicator. With "Planner Mode," the app allows users to plot future flights.
Safety, the agency said, is the chief aim of the app.
"The FAA is concerned about increasing reports of unsafe operations of unmanned aircraft near airports, over people, and in close proximity to manned aircraft," the agency said. "If using B4UFLY prevents even a single conflict between manned and unmanned aircraft, this will support the FAA's primary mission of aviation safety."
The app's maps will also feature temporary flight restrictions that apply in case of a wildfire, for example.
READ MORE: California county offers $25k for data on drone operators who interfered with firefighters

The FAA says future versions of the app will offer a way of notifying air traffic control of any plans to fly within the standard five-mile no-fly zone around airports in the United States.
B4UFLY also includes interactive maps and links to FAA and other government websites and regulatory information.
The app is currently designed for iOS devices only, with future versions planned to support Android devices as well.
US federal agencies – especially the FAA – are currently compiling rules and protocol to safely integrate unmanned aircraft into American skies, with the goal of proposing a structure later this year.
Pursuant to the 2012 Federal Aviation Administration Modernization and Reform Act, the FAA is obliged to finally incorporate drones into US air traffic by September 30, 2015, though it is highly unlikely the deadline will be met. The definitive version of commercial drone regulations will likely take years.
READ MORE: US govt. secretly developing microwave drone interception system – sources to Reuters

The FAA has said about 7,500 commercial drones will be buzzing around US skies within five years once regulations go into effect.
Existing regulations allow Americans to fly small drones for recreational use at least 5 miles (8 kilometers) away from any airport and at an altitude no more than 400 feet (120 meters).
Drone use is prohibited at night, and a drone operator must always keep the UAV in their line of sight.
READ MORE: City drone vs. country shotgun: Court case breaks out over downed hexacopter
The FAA might soon propose a "risk-based" blanket exemption from regulations for small drones weighing less than 5 lbs (2.25kg). Neighboring Canada has already approved such an exemption for small UAVs.
Unauthorized use of private UAVs near airports and at high altitudes among manned aircraft is currerntly the principal headache for civil aviation. There have been 650 drone sightings reported by pilots as of August 9 this year, according to the FAA, compared to 238 sightings in all of 2014.
READ MORE: FAA buried study showing air traffic controllers battling chronic fatigue – report
Google is currently partnering with NASA and other companies to create an air-traffic control system for UAVs, as RT reported in July.
Drone operators are increasingly testing the bounds of UAV flight in other areas of the US, as well. For instance, two drone incidents have occurred near the White House this year. In January, a small quad-copter crashed on the grounds of the executive mansion. An employee with the National Geospatial-Intelligence Agency, part of the Department of Defense, later confessed to flying the DHI Phantom quad-copter and losing control of it somewhere over the White House.
In May, a man was arrested outside the White House after attempting to launch a small drone from nearby Lafayette Park. The Secret Service put the area on lockdown and questioned the unidentified man about his intentions.