City drone vs. country shotgun: Court case breaks out over downed hexacopter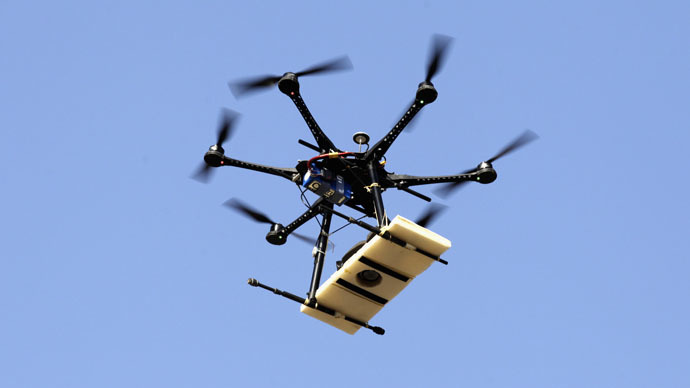 As hobby drones become more ubiquitous, one California man decided he wouldn't accept our new robot overlords and shot down his neighbor's homemade hexacopter. Now he's refusing to pay the owner back, despite a court mandating him to fork over the cash.
Eric Joe headed to his parents' home in Modesto, California for Thanksgiving weekend last year. While there, he decided to test out his hand-built aerial device above the family's walnut orchard.
Suddenly, a 12-gauge shotgun fired from nearby, and the drone plummeted to the ground.
Joe went to find the shooter, who turned out to be his parents' neighbor, Brett McBay.
"When I went out to go find it, I saw him come out shotgun-in-hand," Joe told Ars Technica. "I asked: 'Did you shoot that thing?' He said, 'Yeah, did we get it?'"
McBay thought the hexacopter "was a CIA surveillance device," he told Joe, according to the drone pilot.
Not wishing to "get argumentative with a guy with a shotgun," Joe decided to email McBay, asking for restitution for the destroyed parts.
"It was nice to meet you and your son. I wish it could have been under different circumstances, but I have to give credit to the McBay school of marksmanship. Still, I'm pretty bummed that I just built this hexacopter only to have it shot down," Joe wrote in an email to McBay, according to court documents obtained by Ars Technica.
"Also, it was a little disconcerting to know that the spread of the birdshot/buckshot was in my direction. In any case, I had a chance to test the components of the downed hexacopter," he continued. "Good news is that the more expensive components (on the inside of the frame) are in tact [sic]. Stuff on the outside of the frame took the most damage."
Joe provided McBay with an itemized listing of the destroyed parts, and asked for $700 to cover the cost of fixing the aircraft.
"With all [due] respect $700 dollars seems excessive. Perhaps in [San Francisco] it's normal for folks to have drones hovering over their property but we live in the country for privacy. I will be willing to split the cost with you but next time let us know your testing surveillance equipment in our area. I'll drop a check [off] this afternoon," McBay responded.
READ MORE: Amazon test-drives delivery drones in Canada, bypassing tight US regulation
Joe replied that he was insisting on full reparations based on his request.
"I'm sorry, but I must insist on full payment for equipment you damaged, as you shot it when it was above my property. The aircraft's GPS data positions it clearly above our orchard. Additionally, the hexacopter crashed next to our driveway, ~203 feet (per Google Maps) from the dirt road that separates our respective properties," he wrote, noting that there was not a camera attached or the bill he had sent McBay would have been higher.
"Just as you asked me to give the courtesy of notifying you of my flying activities, I also ask you the courtesy of not shooting live ammunition in our direction. This is the third time discharge from your firearms has hit our house and property," Joe continued. "The first incident left a bullet hole in the door by our garage. The second incident occurred last Thanksgiving when birdshot from your skeet shooting activities rained into our backyard. The third, of course, being what we're currently discussing."
Three minutes later, McBay replied, "Your facts are incorrect, I'm considering the matter now closed."
Joe, however, filed suit against McBay in the county's Small Claims Court in March.
"The cost to replace the drone totals $1789.57. It took me approximately 40 hours to build the drone that Brett McBay shot down," Joe wrote in his small claims lawsuit. "I would need to spend countless hours to repair and test my damaged drone. I can no longer spend the time to rebuild the drone and feel Mr. McBay should compensate me with an assembled, comparable drone."
READ MORE: FAA warns Colorado town that shooting down drones could lead to prosecution
At the end of May, the court found in Joe's favor.
"Court finds that Mr. McBay acted unreasonably in having his son shoot the drone down regardless of whether it was over his property or not," the Stanislaus County Court Small Claims Division ruled.
However, Joe still hasn't received the promised $850 from McBay. He and his lawyer said they will pursue further legal action against the shotgun wielder if they do not receive the money by Tuesday.
"We don't believe that the drone was over McBay's property ‒ we maintain that it was briefly over the shared county access road," Jesse Woo, Joe's cousin and attorney, told Ars Technica. "But even if it did, you're only privileged to use reasonable force in defense of property. Shooting a shotgun at this thing that isn't threatening your property isn't reasonable."
In October 2014, Gov. Jerry Brown (D-California) signed a bill preventing paparazzi from using camera-equipped drones to target celebrities. That move came just days after he was criticized for shooting down a bill requiring police to obtain a warrant to use a drone.
You can share this story on social media: