FAA warns Colorado town that shooting down drones could lead to prosecution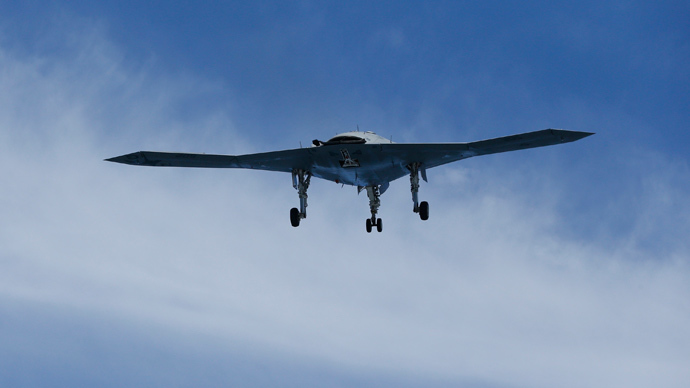 On the heels of a Colorado town's announcement that it was floating the idea of legalized drone hunting, the Federal Aviation Administration has warned that the practice could result in prosecution and fines.
The small town of Deer Trail, Colorado is currently weighing an ordinance that would grant residents permits to shoot down unmanned aerial vehicles, or drones, and even encourage the practice by awarding a $100 bounty to anyone presenting identifiable pieces of a drone that has been shot out of the sky.

Deer Trail resident Phillip Steel, who introduced the ordinance for debate - while admitting the move would be largely symbolic - voiced distrust towards the quickly proliferating technology already shared by many others, in particular privacy advocates who recoil at the thought of flying cameras hovering over American communities.

"Basically, I do not believe in the idea of a surveillance society, and I believe we are heading that way," says Steel.

"We do not want drones in town. They fly in town, they get shot down," he added.

In response, the FAA has released a statement that seeks to answer many of the questions raised by such a city ordinance, whether symbolic or otherwise.

A drone "hit by gunfire could crash, causing damage to persons or property on the ground, or it could collide with other objects in the air," the statement said.

"Shooting at an unmanned aircraft could result in criminal or civil liability, just as would firing at a manned airplane," adds the FAA.

Steel said in an interview that he already has 28 signatures on his petition — roughly 10 per cent of the town's registered voters. Colorado law requires local officials to formally consider the proposal at a meeting in August, reports the AP.

Town officials would then have the option of adopting the ordinance or putting it on the ballot in an election this fall, he said.

Steel has already dismissed the FAA's warning, saying that "the FAA doesn't have the power to make a law."

The FAA does have regulatory authority over all civil aviation, and Congress has given the agency until 2015 to develop additional regulations governing the use of drones over US territory. The FAA already estimates that thousands of drones will be in use over the country for a range of purposes, including search and rescue operations and agriculture activities.

Kim Oldfield, the Deer Trail town clerk, told 7News that the so-called drone hunt is not likely to take the form of local vigilantism.

"I can see it as a benefit, monetarily speaking, because of the novelty of the ordinance," says Oldfield.

"Possibly hunting drones in a skeet, fun-filled festival. We're the home of the world's first rodeo, so we could home of the world's first drone hunt. If they were to read it for the title alone and not for the novelty and what it really is, it sounds scary, and it sounds super vigilante and frightening," adds Oldfield.

Though Deer Trail's potential ordinance has made headlines for its unique take on drones, other communities and states have also begun to take steps to regulate drone use, in particular for the purposes of domestic surveillance.

According to the ACLU, legislation that would regulate drone use has been proposed in 42 states and enacted in six, and is still being floated in some 27. In some states including Georgia, Illinois, Montana, Oklahoma and Massachusetts, proposed legislation would ban the weaponization of drones.

Other states such as Hawaii, Maine and Washington, in response to interest by police departments to use drones to help in their investigations would require reporting from law enforcement agencies on their drone usage. California and a handful of other states want law enforcement to justify the need for drones before they are ever acquired.

According to the Electronic Frontier Foundation, in February 2012 81 county and city law enforcement agencies applied for certificates of authorisation from the FAA to operate drones. The EFF was alarmed that law enforcement had looked to acquire drones without consulting their communities, and without specific regulation on their use already in place.

Beyond local law enforcement, the Washington Post revealed this June that the FBI had begun seeking permission from the FAA to fly drones domestically in 2009, and received authorization for its first operations a year later.

A Freedom of Information Act lawsuit filed by the EFF led to some disclosure by the FBI on a total of four drone operations, though the FBI declined in June to say how many drones the agency had, and only that it sought approval from the FAA in advance.

You can share this story on social media: