Drone sightings by aircraft pilots more than double since 2014 – FAA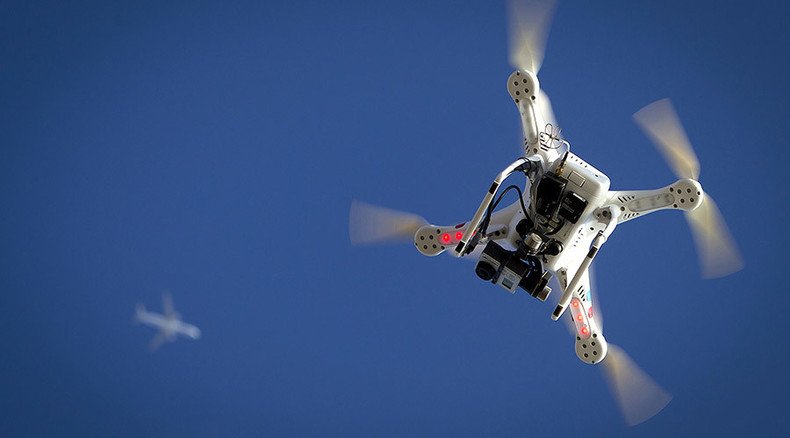 The number of drones sighted by aircraft pilots this year has already more than doubled last year's number, and is set to quadruple by the end of the year, according to the Federal Aviation Administration.
There have been 650 drone sightings reported by pilots as of August 9, compared to 238 sightings in all of 2014, raising concerns about the increasing possibility of a mid-air collision.
The reports came from a variety of aircraft, including many from large airliners, according to the Federal Aviation Administration (FAA). Sightings in June and July alone eclipsed last year's total, with 275 drones reported at altitudes up to 10,000 feet.
READ MORE: Draft FAA drone regulations ban 'out of sight' use of civilian UAVs
A close call was reported on Sunday, when four airline crews spotted drones while approaching Newark Liberty International Airport in New Jersey at altitudes from 2,000 to 3,000 feet. The four flights landed safely without needing to take evasive action.
Flying a drone "anywhere near" an airplane can result in criminal charges and fines from $1,000 to $25,000, according to the FAA.
"The FAA wants to send out a clear message that operating drones around airplanes and helicopters is dangerous and illegal," the agency said in its statement.
Several times this summer, emergency aircraft battling wildfires in the Western United States have been grounded to ensure pilot safety due to drone use. Crews battling a 23,000-acre forest fire in the San Bernadino Mountains had to ground their planes twice in one week in June, officials said.
"We do believe that this affects our firefighting operations," said Janet Upton, a spokeswoman for the California Department of Forestry and Fire Protection. "Any time air operations are halted, that affects our ability to put out these fires."
READ MORE: Congressman asks FAA to block drones from interfering with firefighters
San Bernardino County has offered a $75,000 reward for the identities of the operators of those drones.
The FAA is also supporting the National Interagency Fire Center's "If You Fly, We Can't" campaign in an effort to help reduce interference with firefighting operations.
The increase in reports may not perfectly represent the surge in drone activity, however, so, in addition to working closely with law enforcement, the FAA has been encouraging the public to report their sightings.
You can share this story on social media: