Google using NASA partnership to test drones inside the US - report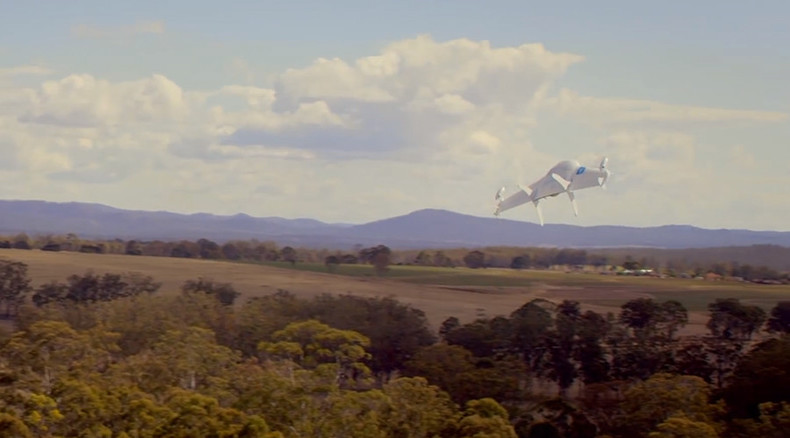 A partnership with NASA has enabled Google to test-fly its drones in US airspace, dodging federal aviation regulations. Citing current rules as too restrictive, several US tech companies have conducted their drone research elsewhere.
While Amazon used a research facility in Vancouver just across the US border in Canada, Google tested its Project Wing drones in Australia. However, Google seems to have also tested its drones on US soil, using a partnership with NASA to obtain certificates of authorization (COA) to skirt restrictions imposed by the Federal Aviation Administration (FAA), according to the Guardian's Mark Harris.
Though both NASA and Google declined to comment on the arrangement, the Guardian says it obtained a document in which NASA said it might issue COAs to conduct "joint field tests" of unmanned aerial systems (UAS). FAA regulations allow government agencies to invoke COAs for UAS testing if they are the exclusive owners or operators of the drones. Commercial operations are prohibited.
Earlier this week, Google reorganized as a collection of companies under the umbrella name Alphabet. The company also filed a request with the FAA for a "section 333" waiver for aerial data collection, research and development, and filed documents with the Federal Communications Commission (FCC) requesting permission to conduct tests on using cell phone frequencies to remotely control drones. The tests are supposed to be conducted on private property near Merced, California, and take up to six months to complete, according to the public documents viewed by the Guardian.
This would be in line with the statements Project Wing leader Dave Vos made last month at the Unmanned Traffic Management Convention.
"Let's work with the cellphone industry," Vos said to the gathering of industry leaders and government officials at NASA's Ames Research Center. "This is a great opportunity … to move up into the third dimension. Join us, you can make a ton of money and so can we, and we can have fun doing it."
NASA hopes to do for unmanned aerial vehicles what road regulations and air traffic control have done for highways and commercial aviation. Last September, the agency called for "public, private, and academic organizations to collaborate with NASA to conduct Unmanned Aerial System (UAS) and UAS Traffic Management (UTM) research and development with the collective goal of safely enabling these operations at lower altitudes." As of July of this year, 14 companies had signed agreements with NASA, and another 100 enterprises and universities had expressed interest in the project.
In April, the FAA gave Amazon permission for limited testing of UAVs over the next two years, citing the need to "ensure the next evolution in package delivery happens in the United States first." Google's filing with the FAA indicates the Project Wing drones will comply with the same restrictions imposed on Amazon: to fly at no more than 400 feet (120m), no faster than 100 mph (160 km/h) and weigh no more than 55lb (25kg), including the payload.
Google's filing also details safety procedures, saying that if the drone ever loses a GPS signal or contact with operators on the ground, it would turn around automatically and return to base. This sort of autonomous operation may not be in line with FAA rules, however; the agency's letter to Amazon included the requirement that the drone may never leave the operator's line of sight.
Google is requesting that some of the details of the proposed operations be kept from the public, citing the "significant commercial value" of the proprietary equipment, wireless applications and frequencies.
"The technology under development is highly sensitive and confidential in nature. The release of such information would provide valuable insight into Google's technology innovations and potential business plans and strategies," says the company's FCC filing.
At this point, according to the Guardian, the FAA is sitting on a backlog of 1500 exemption filings, so it is unlikely Google's request will be granted any time soon.