Google, NASA work together to design drone air-traffic-control system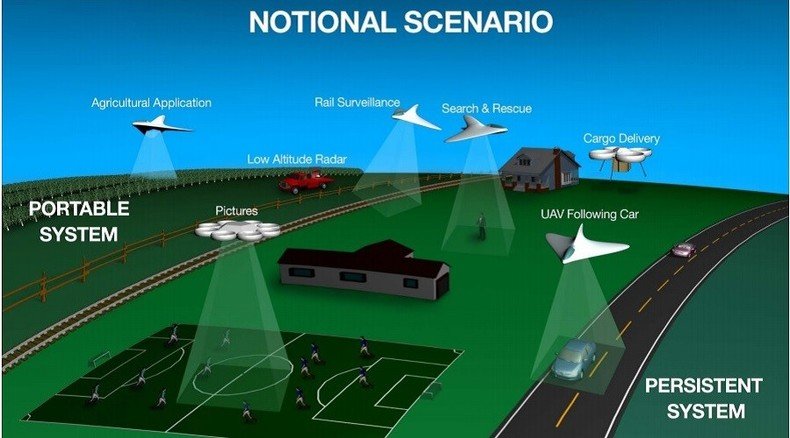 Google is partnering with NASA and 13 other companies, including Amazon and Verizon, to create an air-traffic control system for drones, called the Unmanned Aerial System (UAS) Traffic Management.
Drones are the way of the future, and ‒ rather than let the air be clogged with unruly, unregulated unmanned robots ‒ the government is seeking to work with the private sector to create rules of the aerial road. The move comes after a series of incidents involving drones, including crashes at national parks and on the White House grounds. Yet, for some businesses, the regulations can't come fast enough.
Companies like Google are clamoring to get involved with designing the UAS Traffic Management system so they can get in on the bottom floor of the emerging multi-billion-dollar drone economy. Along with the 14 companies that have signed agreements with NASA, another 100 enterprises and universities have expressed interest in the project, Bloomberg Business reported.
"They definitely see it as an economic opportunity and as something that they want to participate in," Brian Wynne, president of the Association for Unmanned Vehicle Systems International, said. "This is real magic."
NASA began the project as a way to create infrastructure and rules governing the use of drones and other aircraft in lower altitudes.
"A UAS traffic management (UTM) system for low-altitude airspace is needed, much like today's surface vehicles that operate within a system consisting of roads, lanes, stop signs, rules, and lights, regardless of whether the vehicle is automated or driven by a human," NASA said on its website.
"While incorporating lessons learned from the well-established ATM system, which grew from a mid-air collision over the Grand Canyon in the early days of commercial aviation, the UTM system would enable safe and efficient low-altitude airspace operations by providing services such as airspace design, corridors, dynamic geofencing, severe weather and wind avoidance, congestion management, terrain avoidance, route planning and re-routing, separation management, sequencing and spacing, and contingency management," the agency continued.
NASA's short-term goal is to develop and demonstrate the UTM system to safely enable low-altitude airspace and drone operations within five years. Within 10 to 15 years, the agency hopes to safely enable the anticipated dramatic increase in density of all low-altitude airspace operations. The space agency is working in conjunction with the Federal Aviation Administration (FAA) and other government entities, as well as partners in industry and academia, to research, develop, test and implement the system.
The studies will focus on mapping out corridors and no-fly areas (like airfields) creating a collision detection system, and programming an algorithm that will allow drones to safely fly in hazardous conditions such as rain or strong wind, which is a particular danger for such light objects.
"We think the airspace side of this picture is really not a place where any one entity or any one organization can think of taking charge," Dave Vos ‒ the head of Google's secretive Project Wing, the company's future drone delivery fleet ‒ told Bloomberg News. "The idea being that it's not 'Google is going to go out and build a solution and everyone else has to subscribe to it.' The idea really is anyone should be free to build a solution."
On top of its drive to create a postal UAS system, Google received a patent in June allowing it to manufacture drone ambulances, which would "(a) identify a remote medical situation, (b) determine a target location corresponding to the medical situation, (c) select a UAV from the fleet of UAVs, where the selection of the UAV is based on a determination that the selected UAV is configured for the identified medical situation, and (d) cause the selected UAV to travel to the target location to provide medical support."
Vos added that he believes that, in the future, thousands of drones will roam the skies merely a few hundred feet above the ground.
Amazon, under the guidance of founder and CEO Jeff Bezos, is also well on its way to creating a fleet of delivery drones of its own. Last July, the company petitioned the FAA for permission to conduct outdoor tests to create its Prime Air service.
As part of the thrust to create the UTM system, NASA is holding a conference at the end of July to "discuss the latest developments in unmanned aerial systems technology, solutions for privacy concerns and issues, safety and security, and the future impact of low-altitude flight on the emerging business sector." The event is cosponsored by the Silicon Valley Chapter of the Association of Unmanned Vehicle Systems International.
Google hosted a conference of its own in June to share its vision of air-traffic control for drones, Bloomberg Business reported.
Vos said that computer networks ‒ both on the ground and in the air ‒ will eventually set routes to dodge mid-air collisions, with humans relying on the computers to make split-second decisions to keep drones flying smoothly. He also believes the system should be decentralized with multiple private operators overseen by the FAA.


You can share this story on social media: