Amazon applies for approval of delivery drones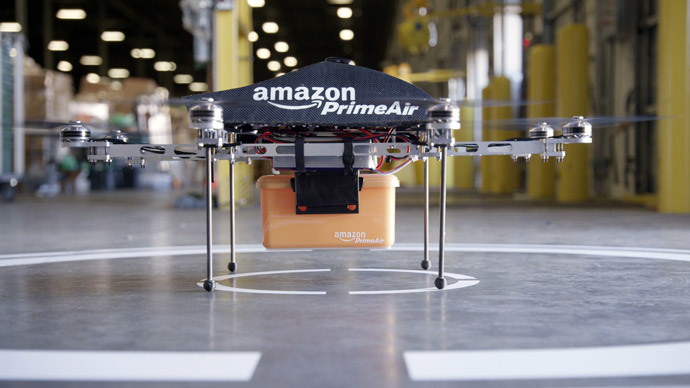 ​Internet retailer Amazon is serious about wanting to ship packages using unmanned aerial vehicles, and now the company is asking federal regulators in the United States to help make drone deliveries a reality.
On Wednesday this week, Amazon sent an official letter to the US Federal Aviation Administration, petitioning for permission to conduct outdoor tests with its new UAV, or drone, technology, which the company hopes to have ready for the public soon as part of its in-the-works "Prime Air" service.
Amazon CEO Jeff Bezos said last year that his company was toying with the idea of taking its retail and delivery service to the sky, and was met to a degree with ridicule as a result. Mocking failed to make the idea disappear, however, and in the last five months Amazon has greatly expanded its drone team by hiring robotics experts, aeronautical engineers and a former NASA astronaut.
Unfortunately for Amazon, federal regulators say the sky currently is the limit with regards to testing commercial drones. Now with those restrictions limiting the degree of drone testing Amazon can legally conduct, the company is appealing to the FAA for assistance.
Currently, commercial drones are restricted from US airspace, forcing Amazon and other private companies to conduct UAV testing indoors or overseas. Amazon says they want to keep their operations at home, however, in this week's letter to the FAA writes that they want to test small, unmanned delivery vehicles in the air in order to fine-tune its state-of-the-art service of the future.
"In the FAA Modernization and Reform Act of 2012, Congress directed the FAA 'to safely accelerate the integration of civil unmanned aircraft systems into the national airspace system' and, under Section 333 of that law, gave the FAA power to grant innovators 'expedited operational authorization' to do so. By this petition, Amazon is seeking its first such authorization, in order to conduct additional research and development for Prime Air," Paul Misener, Amazon's vice president of global public policy, wrote to the FAA this week.
"Because Amazon is a commercial enterprise we have been limited to conducting R&D [research and development] flights indoors or in other countries. Of course, Amazon would prefer to keep the focus, jobs, and investment of this important research and development initiative in the United States by conducting private research and development operations outdoors near Seattle – where our next generation R&D lab and distinguished team of engineers, scientists and aeronautical professionals are located. In order to allow outdoor R&D testing for Prime Air in the United States, we are submitting this petition for exemption pursuant to Section 333 of the FAA Modernization and Reform Act of 2012," the letter continues.
According to Misener, having Amazon's plea granted by the FAA "will do nothing more than allow Amazon to do what thousands of hobbyists and manufacturers of model aircraft do every day," while also allowing the company to at the same time test a delivery service it expects to someday soon be mainstream.
"One day, seeing Amazon Prime Air will be as normal as seeing mail trucks on the road today, resulting in enormous benefits for consumers across the nation. We respectfully submit this petition for exemption so that Prime Air can be ready to launch commercial operations as soon as eventually permitted by subsequent FAA action," Misener writes.
Already, according to the letter, Amazon is in the midst of developing aerial vehicles that travel over 50 miles per hour while carrying 5-pound payloads — nearly nine-out-of-ten of the product's currently sold through Amazon's traditional service. Next, the company wants to test its drones so it can follow through with its plan of being able to deliver packages by air to customers in 30 minutes or less.
You can share this story on social media: