England team not boycotting World Cup because tournament belongs to fans, not Putin – Johnson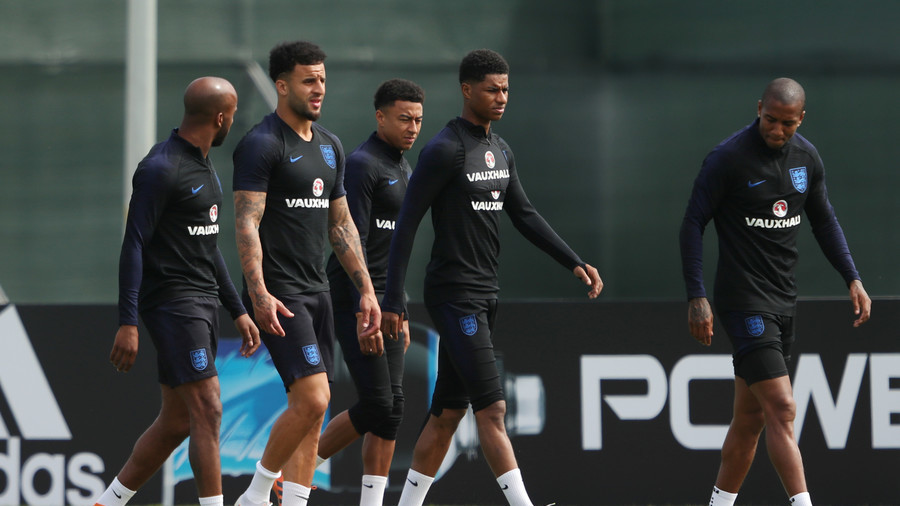 As England prepares for its first World Cup match and fans arrive in Russia, Boris Johnson says the nation was never going to boycott the tournament – despite previously sparking concerns that it would indeed forego the event.
In his piece for British daily The Sun, UK Foreign Secretary Boris Johnson said that he has been asked "questions in tones of increasing outrage" about England's role in the World Cup, taking a moment to once again accuse Moscow – without evidence – of poisoning former Russian double agent Sergei Skripal in Salisbury.
But according to Johnson, there was never even a shadow of a doubt that England's team would be participating in the football tournament.
"It would have been unfair on the team — young athletes who have trained so hard for what is the summit of their careers. It would have been unfair on the fans — who simply want to enjoy the sport without the intrusion of politics," Johnson wrote.
His op-ed comes after a comment in March sparked speculation that the England team might boycott the event. "For my part, I think it will be difficult to see how, thinking ahead to the World Cup this summer, it would be very difficult to imagine that UK representation at that event could go ahead in the normal way. We will certainly have to consider that," Johnson said at the time. That comment sparked outrage from football fans who urged the government to stay out of football, with Johnson later clarifying that England had no plans for a total boycott of the event.
That same month, Johnson made an inflammatory remark in which he said that Putin would revel in the World Cup in the same way that Adolf Hitler did in the Olympic Games in Berlin in 1936. That comment prompted a response from the Russian Foreign Ministry, which said that Johnson was "poisoned with venom of hate, unprofessionalism, and boorishness."
Johnson wasn't the only British party to try to stir up hysteria – UK tabloids seized the opportunity to try to discourage fans from heading to Russia for the tournament, using scare tactics of potential violence that could be aimed at England fans. Ex-England defender Wes Brown chimed in by saying that such stories are often written by people who have never set foot on Russian soil.
In his op-ed, Johnson went on to assure that Britain has "no quarrel with Russia, or the Russian people," but that its problem is with the "current administration of the Kremlin."
"It was certainly Putin's Russia that won the right to host the World Cup. But this World Cup does not belong to the Kremlin. It belongs to football fans everywhere in the world," he said. Johnson mentioned that Putin "simply cannot afford to see this World Cup, on which he has lavished so many billions, descend into ugly scenes involving fans from England or anywhere else."
"His prestige is on the line," Johnson wrote of Putin.
The UK foreign secretary stressed that British police and consular staff will be present wherever an England match is played. He also noted that British police have been traveling to Russia "for months" in preparation for the event, meeting with their Russian counterparts.
Johnson's op-ed comes after the UK Parliament rejected a petition calling for England to boycott the World Cup and instead host an alternative tournament. "The Government isn't responsible for the England football team," it wrote in response to the petition.
However, UK Prime Minister Theresa May did announce a diplomatic boycott of the football tournament in March, with no ministers or members of the royal family traveling to Russia for the event.
But radio host and journalist Jon Gaunt says he doubts the diplomatic boycott will last long if England makes it into the finals. "You watch, if England – and it's a big 'if' – if England got to the final, I bet you Boris Johnson, Theresa May, and Prince Harry or Prince William would attend the final. This is all gesture politics," he told RT.
"I think it's a ridiculous game. I wish they'd [UK government] just drop it. Can we please, for this month anyway, get on and enjoy the football? It would appear that Russia's putting on a good event, the fans are enjoying themselves, no problems. Boris Johnson should keep his nose out."
Think your friends would be interested? Share this story!