German politicians should not boycott FIFA World Cup in Russia – poll
Published time: 15 Jun, 2018 16:40
Edited time: 16 Jun, 2018 11:49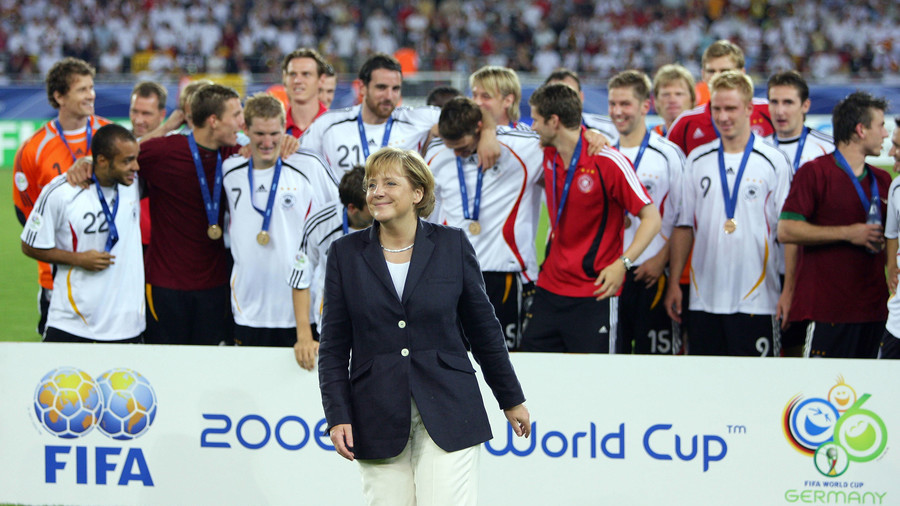 As speculation continues as to whether Chancellor Angela Merkel will attend the World Cup in Russia, the majority of Germans believe that boycotting the event would be a bad choice, according to a new poll.
The survey, conducted by Infratest-dimap for Germany's major ARD broadcaster, revealed that 69 percent of respondents believe German officials should be at the World Cup to cheer on their squad.
Only 26 percent would support a decision to stay away from the much anticipated event.
Meanwhile, opinions on whether Russia should be hosting the World Cup were nearly split in half. While 45 percent support the country as host, 42 percent said they did not approve.
At the same time, an overwhelming majority of respondents (88 percent) said the West should establish better dialogue with Russia.
There has been a lot of uncertainty regarding Angela Merkel's intentions to attend the World Cup. The German chancellor, who is known for her passion for football, previously said that she had not ruled out the possibility, but had not made any commitments.
German Football Association President Reinhard Grindel has tried to tempt Merkel to travel to Russia, stressing the importance of her support for the German team.
"We'll hail any support [for the German national football team in Russia], including from Angela Merkel," he told Nordwest Zeitung, as cited by DPA. The vice president of the German Bundestag, Thomas Oppermann, told RT that any boycott of the World Cup would be "fundamentally wrong."
The poll follows calls to boycott the football tournament by various entities, including a group called AVAAZ, which published billboards in various European cities calling the World Cup the "Cup of Shame," and urging football fans to boycott over Moscow's role in Syria. However, the group's campaign conveniently failed to acknowledge Russia's fight against terrorism in Syria, including de-escalation zones and humanitarian corridors.
Other calls for a political boycott of the World Cup have come from Ukraine's sports minister, who cited the situation in Crimea – which was reunited with Russia following a referendum in 2014. In addition to Ukraine, eight other countries have announced a diplomatic boycott of the event. In addition to Ukraine, other countries have also announced a diplomatic boycott of the event, including Australia, Denmark, Finland, Iceland, Poland, and the UK. The British announcement wasn't exactly surprising, as London has long accused Russia of being behind the poisoning of Sergei Skripal in Salisbury – despite a complete lack of evidence.
But as the West attempts to use politics to undermine the event, the head of Russia's World Cup organizing committee, Alexey Sorokin, confirmed to RT that the maneuver is not affecting ticket sales.
"We regret that some people may have opinions but it's their own opinions, it doesn't influence opinions of many other football fans who are buying tickets every day in large volumes. We have very good ticket sales," he said.
Meanwhile, US football fans are accounting for a huge number of ticket sales, despite a senior Trump official warning fans to "think twice" before jumping on a plane to Moscow.