Britain's MPs and media prepare for the World Cup by scaring the hell out of fans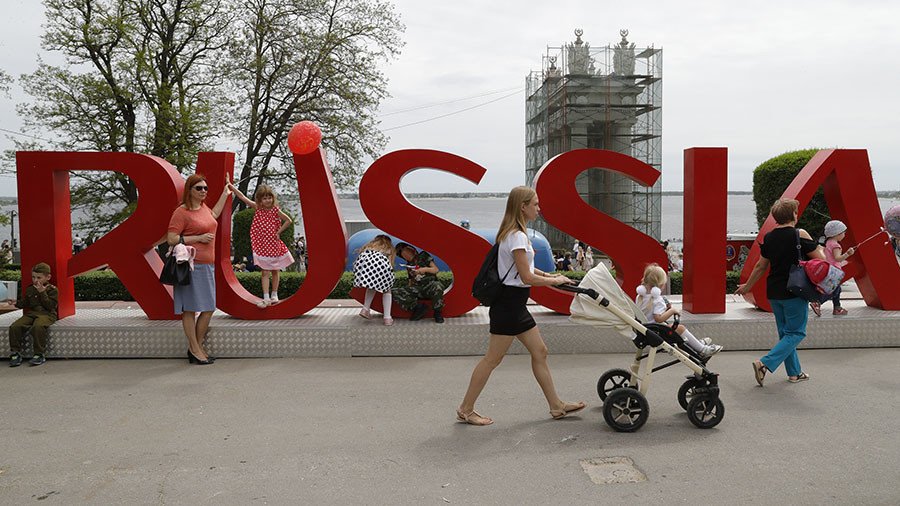 As the 2018 FIFA World Cup in Russia fast approaches, Britain's parliament and media, in their time-honored fashion, are attempting to scare the hell out of any fans who plan to attend the tournament.
At the more extreme end of the spectrum is the likes of Britain's Daily Star newspaper, which has run a story warning that "Videos posted on YouTube show gangs of [Russian] men, women and child hooligans taking part in organised fights to prepare for clashes with England supporters."
The tabloid appears to believe that a spot of light football violence is a family day out for most Russians. Of course no one takes the Daily Star seriously, but this kind of claim does feed into a general irrational fear of Russians.
READ MORE: 'Nazi female thugs': Sun newspaper takes early lead in race for stupidest Russia World Cup story
For a while now, the British tabloid media has been scouring social media sites for videos of any kind of punch being thrown in Russia, so they can write a story about the hordes of hooligans waiting at baggage reclaim to launch waves of attacks on England fans.
MPs are not meant to be operating at the same end of the scale as tabloid rags, but in the Foreign Affairs Committee this week, some of the experts summoned to give evidence about the preparations for the World Cup were obviously taken aback by some of the suggestions coming from the elected officials.
The least of it was the spectacle of MPs telling experts that they were being "naive" for trying to ease fans' fears by suggesting that Russian police have the intention and the ability to keep people safe. Deputy Chief Constable Mark Roberts, the National Lead for Football Policing, said Russian organizers want to host a "safe tournament", as if that had to be underlined.
After MPs called him 'naive' he apologetically told the committee that he was forced to base his views on "facts." Parliamentarians have not been restricted by facts in regards to Russia for a few months now, but it's worrying that they appear to believe their own stereotypes.
The scene in the parliamentary committee room was a battle in itself. MPs were repeating every anti-Russian cliche they could dredge up, while the bemused experts, even Foreign Office officials were suggesting, actually, there might be a little more nuance behind the scaremongering.
There's a strange contradiction in what the British media and politicians tell themselves about Russia. On one hand that it's a full-on autocratic state where no one even coughs without permission. While on the other hand, there are gangs of marauding thugs roaming the streets ready to cause chaos during Russia's showpiece event.
Non sequiturs abound in much of the reporting. Take for example this opening paragraph of a Guardian story: "Russian and UK police are cooperating well on plans to protect supporters traveling to the World Cup, the Foreign Office has said, despite the collapse in relations between the two countries following the poisoning of Sergei and Yulia Skripal in Salisbury in March."
The use of the word 'despite' suggests that it's strange that Russian and British humans could interact on a civilized level, as if ordinary Russians are non-autonomous political creatures, whose every interaction is controlled by the Kremlin.
A lot of the coverage of Russia makes direct links between the Salisbury and Syria situations, and the way English fans might be greeted by locals at the World Cup, as if people in Volgograd and Nizhny Novgorod are checking the morning headlines so they know whether they're allowed to be nice foreigners on that day. Here's a secret about Russians … the nice ones are nice, the horrible ones are horrible (just like where you're from!).
Britain's ITV ran a documentary called "Russia's World Cup Gangs". It was a curious mixture, because the tone of it included all the scaremongering tactics we know and love, the opening started with this: "After the clashes at the Euros … we meet the fans too afraid to go to the World Cup."
It was followed by an interviewee talking about clashes in France between Russian and English fans who said "One lad I went with, I mean he's a veteran in the armed forces and he found it more terrifying than wars that he's served in." It would be interesting to know which wars he served in.
The presenter then asks "As relations worsen ... are our politicians inflaming the situation." The answer is yes, but not as much as documentaries like this.
But there were also insights from ordinary people that were in stark contrast to what is presented by the media and politicians in the UK. Take for example an interview with Robert Ustian from the group CSKA Fans Against Racism. He told ITV's reporter: "When it comes to human relations, my Britain is not Theresa May or Boris Johnson, it's you, my friends from Britain. This is my Britain, why is Russia always about Vladimir Putin. That's my main concern."
Weirdly, the most reassuring interview came from an anonymous self confessed football thug who said: "Serious work is being done" by the authorities to prevent any trouble. When asked about the effect of the political situation, the hooligan replied "No one gives a shit about it, no one gives a shit at all. You are the ones focused on it. You are the ones who are always afraid of something." This may be the hardest message for Brits to accept.
"Will England fans be safe if they behave?" the hooligan is asked. His reply:"Absolutely." So there it is, just behave. In this writer's experience, the biggest danger you'll face is an over enthusiastic Russian host force-feeding you.
You can share this story on social media: