'Nazi female thugs': Sun newspaper takes early lead in race for stupidest Russia World Cup story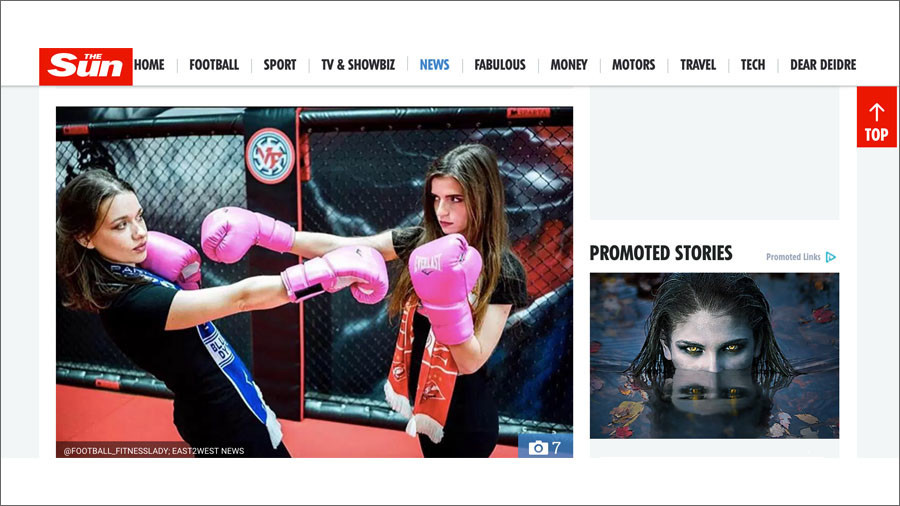 The competition for next summer's greatest prize is already underway. Not for the World Cup itself, but for the media outlet that can concoct the most bats**t crazy story about Russia, as it prepares to host the world's biggest sporting event.
Off to a commanding and possibly insurmountable lead is The Sun. The Murdoch tabloid's extensively researched story about an 'Army of female Russian Nazis lying in wait for England fans' is a compelling one. Few people would fail to be baited into clicking that headline.
Not many things come in armies. It's mainly flesh-eating zombies and Russians. The lurid tale that lies within is certainly worth your time.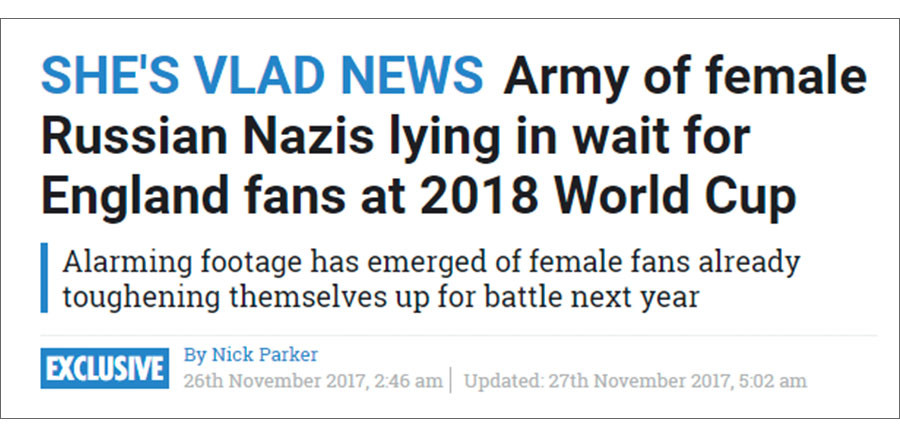 The 'evidence' is an admittedly brutal video of groups of girls fighting in the snow. Not so much 'lying in wait' as beating the hell out of each other… in wait. It appears to show 'fans' of Russian football teams Spartak Moscow and Dynamo Moscow scrapping in the snow.
The 'army' described in the headline though dissolves before your eyes as you dip into the details. By the second paragraph, the 'army' has shrunk to 'hundreds.' Not so much an army as an unruly mob, or large queue. But of those hundreds of Russians "lying in wait," The Sun can name only one: 19-year-old Diana Ivanova, who "was involved in trouble at a match last week."
It would be interesting to see what kind of trouble someone can get into as they "lie in wait." She does apparently call herself a Nazi, however, and she has a tattoo written in English. That's enough for The Sun's headline writers to put two and two together and get 39 – 1939.
But wait, two other Russian 'thugs' are also named: Olga Borisova, who is apparently a Russian from Uzbekistan; and Elena Maleyeva, who is a Russian from Ukraine. So, not Russians, strictly speaking, but their names sound funny and foreign, so that's good enough for The Sun.
Just in case fans weren't already shaking in their replica kits ahead of the summer tournament, the details become even more shocking. A "Russian security source" (or possibly Uzbek or Ukrainian, who cares?!) reportedly said: "Recently, the authorities have cracked down on all hooligans, including women. So far, this is holding pretty well."
Intimidating stuff. The police are forced to admit that they appear to have the situation under control.
The last line of the 'story,' however, is enough to strike fear into the heart of even the most battle-hardened soccer fan willing to put their life on the line by travelling to Russia for the World Cup. "Top clubs Spartak Moscow and Dynamo Moscow arrange boxing bouts for rival women thugs to channel their aggression," it reports.
The two young models in the picture, fully made-up with scarves viciously dangling from their necks, are clearly about to rip each other to pieces with their oversized pink boxing gloves.
Brace yourself. The media coverage of Russia over the next six or seven months is going to be something to behold.