Anti-fascists gear up to take on Tommy Robinson, Milo Yiannopoulos at free speech rally showdown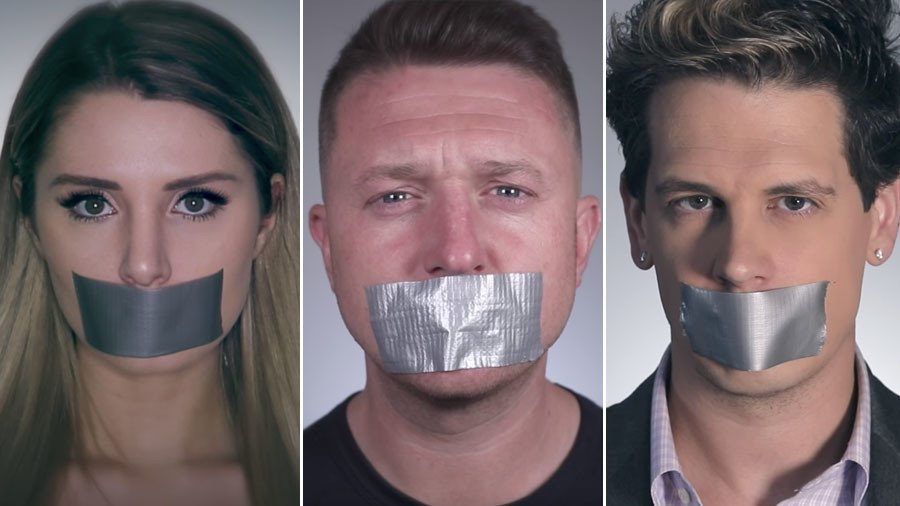 A wave of controversial far-right speakers will descend on Whitehall - and activism groups will meet them there like a wall, ready to face-off with controversial free speech fighters like Tommy Robinson and Milo Yiannopoulos.
Sunday's 'Day for Freedom' touts the big names in alt-right and far-right preachers – Robinson, Yiannopoulos. Youtube comedian Count Dankula, who recently achieved infamy for teaching a dog to perform a Nazi salute while using anti-semitic language, is also set to attend. Canadian right-winger Lauren Southern is also expected to attend. Southern has previously been blocked from entering the country after handing out flyers in Luton declaring "Allah is gay."
READ MORE: Generation Identity activist was 'also member of banned Nazi terrorist group'
A string of controversial right-wingers have pledged to take to the streets around Whitehall as part of the 'Day for Freedom' demonstration to ostensibly fight for their right to freedom of speech.
In a dramatic statement on the 'Day for Freedom' website, the group wrote: "As we travelled the world to film with our guests and speakers, we listened to their perspectives on the need for free speech and one thing became clear. Everyone agreed that without free speech there can ultimately be no freedom, and without it, the freedoms on which we found our societies would begin to crumble and fade."
In turn, the Anti-Fascist Student Network (AFSN) has issued a call to arms, urging Britons to stand up against the "far-right anti-Muslim bigots" preparing to have their voices heard at the weekend.
To further drive their point home, activism groups have done a creative re-cut of a video originally released by the 'Day for Freedom' campaign – complete with Hitler mustaches – with the tagline "If you want to use your free speech to take away other people's freedoms in the day of bigotry."
Counter-protesters argue that free-speech should be allowed in all cases except when it impinges on "the freedoms of others." In the video they show Southern questioning why her Luton stunt got her banned from the UK, Yiannopoulos's comments on sexual relationships between children and adults – comments which saw him leave alt-right media group Breitbart – and Anne Marie Waters, who said "my thinking is we need to reduce [Muslim] birthrates now."
"On Sunday 6 May thousands of far-right anti-Muslim bigots will be marching through central London, anti-fascists from across the country need to take to the streets to oppose them," AFSN said.
Taking particular aim at Robinson, AFSN said it's standing up to the English Defence League (EDL) founder, whom it described as an "anti-Muslim hate preacher whose violent rhetoric radicalises killers."
"Since forming the EDL back in 2009, Robinson has been stirring up hatred against Muslims, dehumanizing them to such an extent that his followers have already started killing," AFSN said. "Osborne [the Finsbury Park mosque terrorist] isn't the only follower of Robinson to use violence against Muslims in the UK. There have been many others and there will continue to be many more. Robinson may be trying to reinvent himself as a journalist, but he's still pushing the same hatred."
The free-speech rally and opposing protest looks likely to descend into discord. Last time Robinson spoke at Speakers Corner to advocate for freedom of speech scores of police were required to keep the peace. Scuffles broke out after a handful of counter-protesters confronted Robinson and his group, and it is understood that police made arrests.
The issue of free-speech has been taken on by figures on the right. Activists have decried the alleged impingement of their rights due to 'no-platforming' protests or their banning from social media platforms.
Unlike the US, the UK has no specific law which protects free speech. Laws against hate speech and defamation are in place, with the former regularly exercised against figures on the far-right and radical Muslims. The right is enshrined in the European Convention of Human Rights, from which the UK is set to be exempt following Brexit.
Think your friends would be interested? Share this story!
You can share this story on social media: