Deserving or disastrous? Scorching roast of White House's Sanders sets Twitter on fire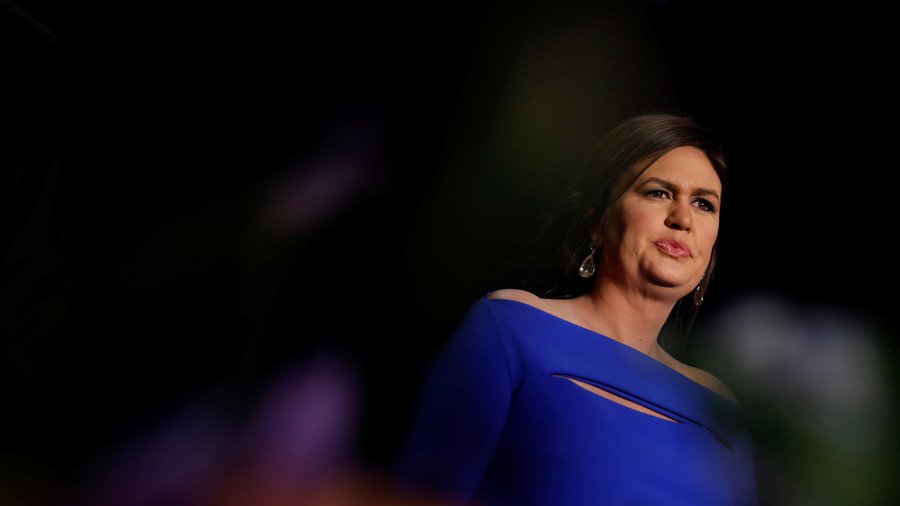 Liberals and conservatives are locked in a Twitter battle over the roasting of White House Press Secretary Sarah Huckabee Sanders at the correspondents' dinner. Rulings range from "she deserved it" to "pathetic."
The White House Correspondents' Dinner is famous for poking fun at US officials, from presidents to secretaries of state and others. Even though the absent President Donald Trump got the usual share of mocking, it was the roasting of Sanders by comedian Michelle Wolf that is making waves in the Twittersphere.
Wolf compared Sanders to Aunt Lydia in The Handmaid's Tale (a major villain) and went on to call her "resourceful" because she "burns facts and uses the ash to create a perfect smoky eye."
"Maybe she's born with it. Maybe it's lies. It's probably lies," she said in a twist on the famous 'Maybe it's Maybelline' cosmetics slogan.
Wolf also ended up referring to Sanders as: "What's Uncle Tom but for white women who disappoint other white women?"
The roast prompted responses from all sides, reaching the top of Twitter trends in the US on Sunday morning. Conservatives, unsurprisingly, vented their anger.
Former Republican Congressman Joe Walsh stated that Sanders displayed "class and dignity" while being attacked by Wolf, an "out of touch, nasty, bitter, Hollywood lefty elite."
And others went on grumbling about the political motivation of the mocking.
Meanwhile, political activist and commentator CJ Pearson, who has already made waves in the conservative world despite being only 15 years old, said he empathized with Sanders. "The Left hates free-thinking women just as much as they hate free-thinking blacks," he wrote.
Fox News host Abby Huntsman called Sanders the "winner of last night," while Sarah's father Mike Huckabee called it "bullying."
Former White House Press Secretary Sean Spicer, Sanders' predecessor, called the correspondents' dinner "a disgrace."
Another person took that word a bit further, calling it a "disgrace to all women."
In the other political camp, tweets were praising the roast as something Sanders deserved as Trump's press secretary.
Journalist and entrepreneur Ed Krassenstein called the roasting of Sanders "glorious," stating that it was "like watching a school bully being put in place in front of his entire school."
Some pointed out that Trump has a less-than-great track record when it comes to referencing women, including former presidential candidate Carly Fiorina.
One person tweeted to Sanders to express hope that the way she was treated will make her understand "how innocent groups of people your boss insults and belittles feel."
There has been no reaction from Sanders herself. Footage later showed her all smiles while talking to Chris Christie, the former New Jersey governor and US presidential candidate.
On the other hand, if one to believe a Washington group famous for its "research" on Russian internet activity, all this fuss is orchestrated from Moscow.
Like this story? Share it with a friend!
You can share this story on social media: