Generation Identity activist was 'also member of banned Nazi terrorist group'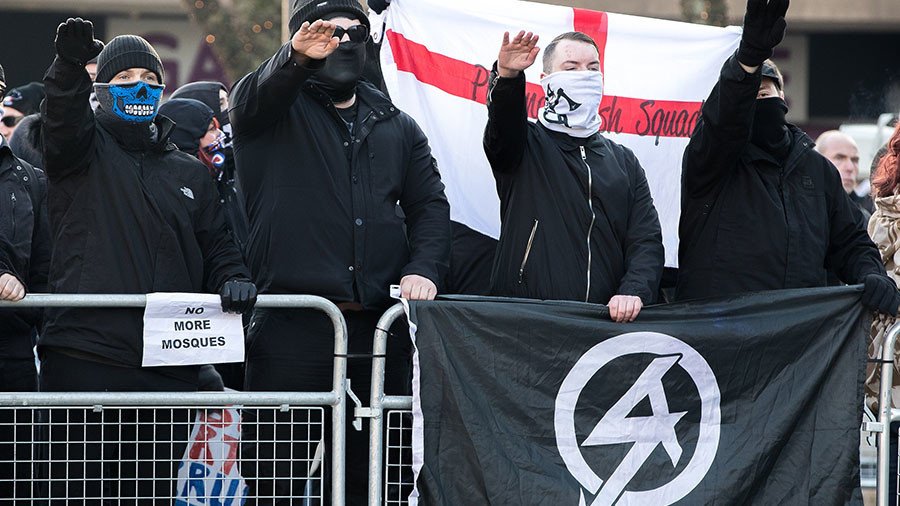 A member of anti-Islam group Generation Identity (GI) was part of far-right terrorist group National Action (NA), now banned in the UK, an advocacy group has exposed. Jacob Bewick, 27, was spotted at one of NA's marches in 2016.
National Action was the first far-right group to be banned under counterterrorism laws by Home Secretary Amber Rudd amid claims it was a "racist, anti-Semitic and homophobic organization." According to anti-racism campaigners Hope Not Hate, Sheffield-born Bewick had been a member of the group.
His Twitter account contains numerous neo-Nazi and pro-National Action posts. In a post from January 2017 on Twitter, he wrote: "Hitler Speaks About the Jews. The truth the world would be so much better if he world of won. It's coming now tho [sic]."
READ MORE: Free speech or hate speech? Right-wing activists 'banned' from Britain (VIDEOS)
Bewick has now pledged support to the pan-European movement GI. The network, which shares traits with so-called alt-right, is not avowedly anti-Semitic. Although it has not directly endorsed white supremacy, it promotes the idea of 'ethnic pluralism'. Members have also been linked with neo-Nazi movements in Hungry and Poland.
GI has become increasingly active in the past few months. Over the weekend the group made headlines after three of its high-profile members were detained. UK border police arrested Martin Sellner, Brittany Pettibone and Lauren Southern as they attempted to reach London for a political event.
Their detention prompted GI members and sympathizers to demonstrate for free speech in London on Sunday. They were fiercely opposed by a group of anti-fascist opponents chanting "Nazis off our streets," and who claimed there is a difference between hate speech and free speech, a distinction that is in UK law.
Vinnie Sullivan of Veterans Against Terrorism says right-wing groups are having free speech denied to them.
"I don't have a platform unless I create it myself. We have to sneak around and use underground means just to get our message out," he told RT UK at the protest on Sunday. "In this country today it's becoming a crime to be white, a crime to fly your own flag and a crime to have right-wing opinions.
"They [Antifa] turn up with their faces covered – we would be arrested for that. There is no free speech anymore – not even here."
READ MORE: Brits recruited by Ukrainian Neo-Nazi paramilitary organizations
National Action emerged from the far-right scene in 2013 and has been linked to planning terror plots. On its website, it boasted of targeting students and universities in the UK for members. Its website displayed anti-Semitic imagery and lengthy quotations by Adolf Hitler, and its motto was "For a Free White Britain." It organized "Miss Hitler" beauty pageant competitions, ran "white's only" food banks for Glasgow's homeless, and handed out "white zone" flyers.
National Action was banned in December 2016. However, it is understood the group continues to change its name to evade authorities.
In a statement on their website, GI said they had "let go" of Bewick because he had failed to be honest about his past.
"Everybody who agrees to our basic principles can become part of GI. It means defending our ethnocultural identity but also rejecting old ideologies of racism and extremism. Our members come from all different backgrounds. Some from the far left, some from the far right, and some have not been politically interested at all.
"GI stands for a new approach and is finally an alternative to the wrong dichotomy of "Nazism vs Multiculturalism" that the Mainstream wants to create. We don't judge anyone for his past but we demand clear-cut honesty. If people lie to us about their past, there is no basis for trust.
"Unfortunately, this happened in one of our sections and we had to let go of a young activist who was dishonest with us.
"We don't care where people come from ideologically. We care about where they want to go. But if you lie to us you are out."
If you like this story, share it with a friend!
You can share this story on social media: