Free speech or hate speech? Right-wing activists 'banned' from Britain (VIDEOS)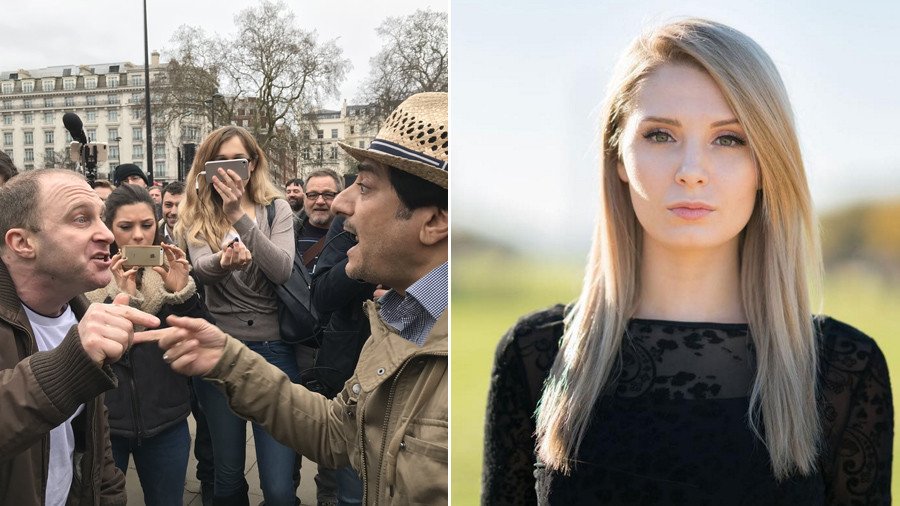 Right-wing activists have been banned from entering the UK and held in 'detention centers', sparking a free-speech debate on the streets of London. Members of Generation Identity (GI) and Antifa clashed on Sunday.
Border police held three high-profile members of GI just months after the group opened its UK wing. Martin Sellner, Brittany Pettibone and Lauren Southern were detained as they tried to make their way to London.
GI, seen by some as the European equivalent of America's so-called 'alt-right' has been recruiting in the UK and attempting to spread its message, but a fierce left-wing opposition has seen meetings shut down and rallies interrupted. GI has an anti-Islam, nationalist message propagated through slick social media videos.
First, Sellner, the Austrian co-founder of GI, was held with activist and American girlfriend Pettibone at Luton Airport on Friday. The pair was detained when their plane touched down.
Speaking to fans on Periscope before she too was detained, Southern, from Canada, said her peers were being kept in a "detention center."
"I'm just in absolute shock right now. They took them away in different locked vehicles and drove them to detention centers," she said.
"[Pettibone]'s having to call people from a detention centre phone. They gave them very specific reasons. One they were going to interview Tommy Robinson and Martin Sellner is part of GI – a right wing group – they said 'we are detaining you and banning you from the united kingdom because you are right wing.'
"This is political discrimination – this is political profiling. I was supposed to go there tomorrow. God knows what will happen to me, will I be put in a detention centre? I can't see my friends because of their political opinions. I can't meet one of my best female friends to talk about right wing politics."
On Monday morning, Southern took to Twitter to announce she was being held in Calais after trying to enter Britain by bus. Southern joked online she had self-identified as "Pakistani" to French police as she was held in Calais.
However, angered supporters called on the government to be clear about what was happening.
Investigated me under schedule 7 (terrorism act) because of alleged racism. At least they let me identify as Pakistani on my report lol. Still being held by police. pic.twitter.com/LhZFK2d8Jh

— Lauren Southern (@Lauren_Southern) March 12, 2018
@Lauren_Southern is currently being detained by UK border police she has told me. They have taken her passport and taken her in for questioning. After the outrage over @Martin_Sellner and @BrittPettibone does the Home Office want to repeat this?

— Chris Tomlinson 🏴󠁧󠁢󠁥󠁮󠁧󠁿🇬🇧🇨🇦 (@TomlinsonCJ) March 12, 2018
A free-speech row erupted in the UK over the trio's detention. On Sunday, Speaker's Corner was surrounded by police as left-wing activists Antifa attempted to stop a rally by right-wing groups, including GI. Sellner had been due to talk at the event.
Vinnie Sullivan of Veterans Against Terrorism and a number of other groups said right-wing groups are having free speech denied to them.
"I don't have a platform unless I create it myself. We have to sneak around and use underground means just to get our message out," he told RT UK. "In this country today it's becoming a crime to be white, a crime to fly your own flag and a crime to have right-wing opinions.
"They [Antifa] turn up with their faces covered – we would be arrested for that. There is no free speech anymore – not even here."
Sirens blared as left wing campaigners chanted "Nazis off our streets" and said there is a "difference between free speech and hate speech."
Another right-wing activist who gave his name as Tom, aged 23, said the aim of GI in the UK is to bring about social change.
"We want to influence what politicians are talking about – we are not a political group. To ban people from entering the UK for a speech they have not yet given is insanity," he said.
Sellner, Pettibone and Southern have all been released, but not allowed into the UK.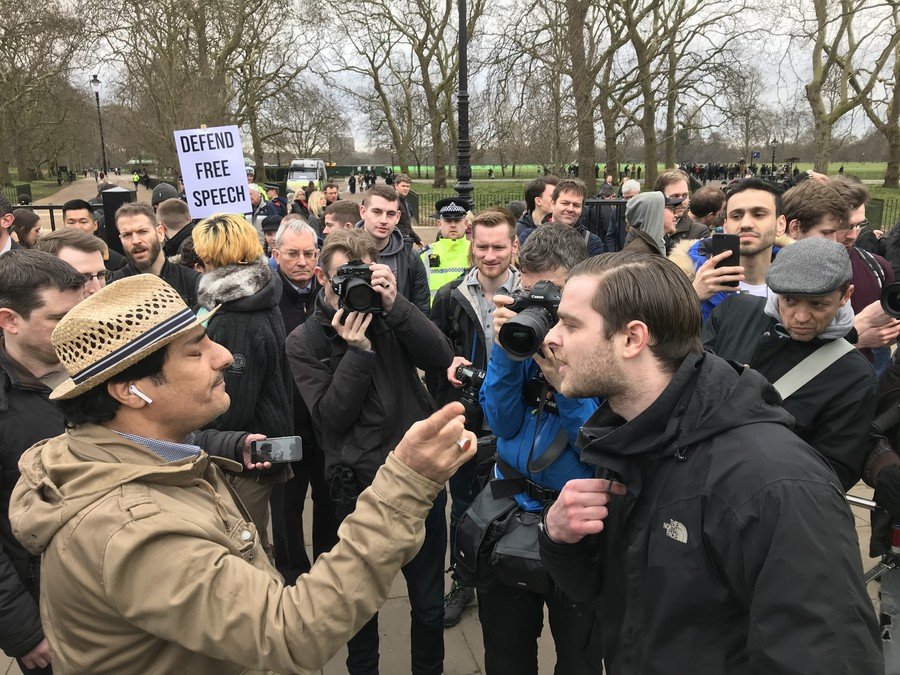 You can share this story on social media: