Poetry slam: 'BBC Question Time' pelted with mixed bag of satirical rhymes on Twitter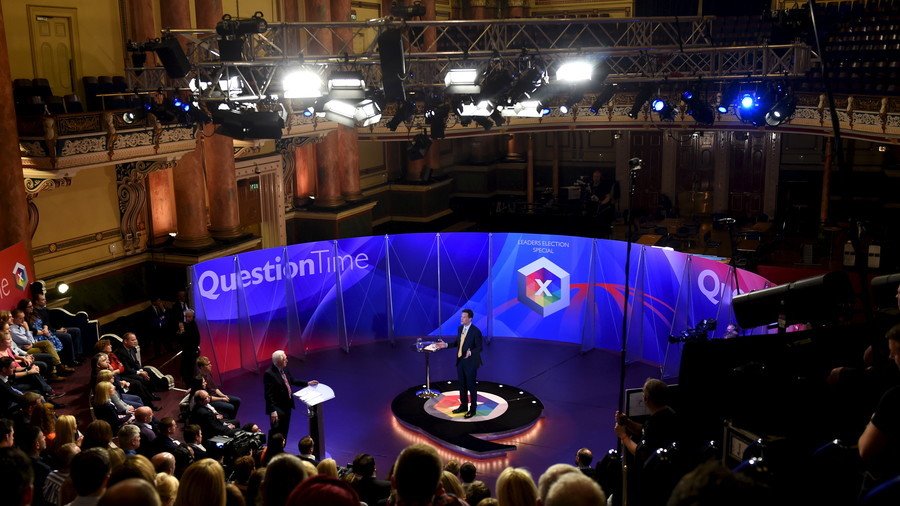 Television shows are no strangers to critics, but political program 'BBC Question Time' is feeling the heat in a special way, as dozens on Twitter are composing not-so-complimentary rhymes under the hashtag #WriteAPoemAboutBBCQT.
The poets, and their corresponding works, range from clever to not-so-great. However, they all seem to share a common theme – BBC Question Time's choices of participants leaves much to be desired.
Many wrote about the program's audience being "planted," which could be in reference to host David Dimbleby recently announcing that only people under the age of 30 will be allowed in the audience when the show is in Leeds later this month.
Another person also addressed the BBC's so-called "plants," in a straight-to-the-point poem which took advantage of the fact that there are no rules in poetry. "They've got more plants than Gardeners World," they wrote, referring to another BBC program, which is about actual plants.
Quite a few seemed to be upset about former UKIP leader Nigel Farage's appearance on the program earlier this month. "It's time to park it in the garage if the best you've got is Nigel Farage," they wrote.
One tweet accused the show of being "hijacked by Brexiteers." He added that he "used to like Q Time" before that so-called hijacking took place. Another similarly-themed poem lamented that the show no longer debates "strikes, Thatcher and famine."
Some questioned the BBC's affiliation, accusing it of no longer being the unbiased outlet it claims to be. "Tories lying with glee, what happened to our unbiased BBC," they wrote.
Many of the anti-Tory comments were directed at Liam Fox, who was recently on the program's panel. Fox, a Conservative MP, currently serves as Secretary of State for International Trade.
"Question Time is on the box, we hoped for a great debate. But all we got was Liam Fox, with ideas out of date," one person wrote.
Another brought in a term heard all too often these days – "fake news.""It's not about questions, it's not about time, it's fake news and bluster, a broadcasting crime," he wrote.
Some of the rest were outright brutal:
'BBC Question Time' is a weekly program that airs on BBC One. It has been on television since 1979 and claims to offer "topical debate in which guests from the worlds of politics and the media answer questions posed by members of the public." It might be that the audience has become picky of late – but members of the public seem to be enjoying the political rhyming debate.
Like this story? Share it with a friend!
You can share this story on social media: