Cameron to Trump: Stop whining about CNN and focus on 'Russian bots'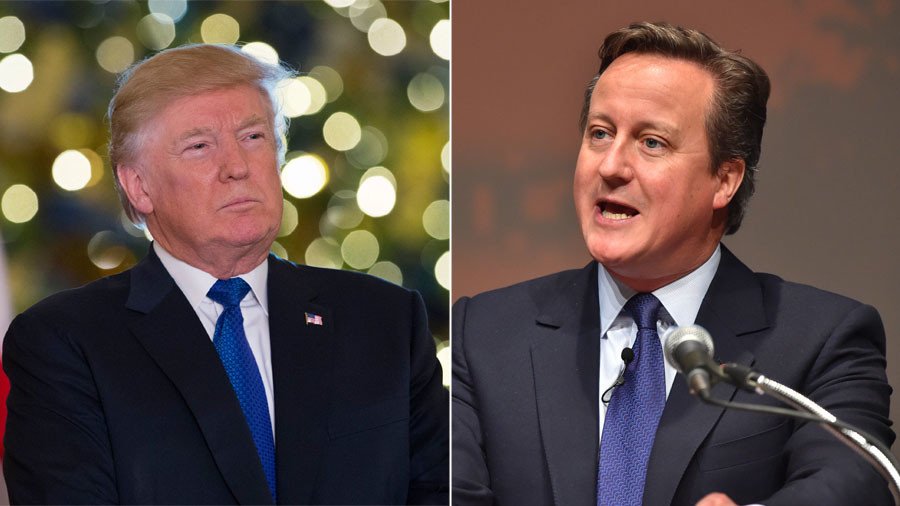 Donald Trump is undermining democracy by repeatedly attacking news organizations that criticize him, says David Cameron, the former British PM, urging the US chief to stop throwing tantrums about CNN and to focus instead on 'Russian bots.'
Cameron claimed the real fake news emanates from Russian President Vladimir Putin, Russian corruption, and Twitter bots that create the false appearance of genuine news and opinion. Cameron said the POTUS' war on media is "an attempt to question the whole legitimacy of organizations that have an important role in our democracy."
"Let me put it like this: President Trump, 'fake news' is not broadcasters criticizing you, it's Russian bots and trolls targeting your democracy, pumping out untrue stories day after day, night after night," Cameron said in a lecture in London for Transparency International.
"When you misappropriate the term 'fake news' you are deflecting attention from real abuses. Ignoring what's happening on social media is facilitating a form of corruption that is undermining democracy."
Cameron's comments come as accusations against Russia's influence, both online and in political campaigns, are repeatedly debunked. On Tuesday, the former head of the UK's intelligence agency MI6 dismissed claims that Russia had any sway in the Brexit referendum.
"I've not seen anything that convinces me at all that the Russians intervened significantly in the Brexit referendum," Sir Richard Dearlove told the BBC, in his first public interview.
On Wednesday, Facebook confirmed that a whopping 73 pence (97 cents) was spent by Russians to influence the Brexit referendum. That advertising reached 200 people, mostly Americans.
Last month a 'Russian troll' was revealed to be an angry Scotsman - a security guard from Glasgow who said he was "anti-crony capitalism."
Even Foreign Secretary Boris Johnson has conceded that there is 'nyet' evidence that Russia has interfered with UK votes. When asked in November whether he believed Russia had any involvement in the UK election, he said: "I haven't seen a sausage [of evidence]."
The former PM also called into question Russia's status as 2018 World Cup host, describing the process of awarding the event as a fiasco.
"President Putin actually boycotted the whole thing because he said it was riddled with corruption. He was right - it was," Cameron said.
"I am sure he wasn't completely surprised when Russia actually won the bid. You couldn't make it up," he told the audience, adding that "in the years since, 10 of the 22 members of that FIFA executive committee were indicted or punished."
You can share this story on social media: