May's Brexit defeat 'a good day for democracy' - Verhofstadt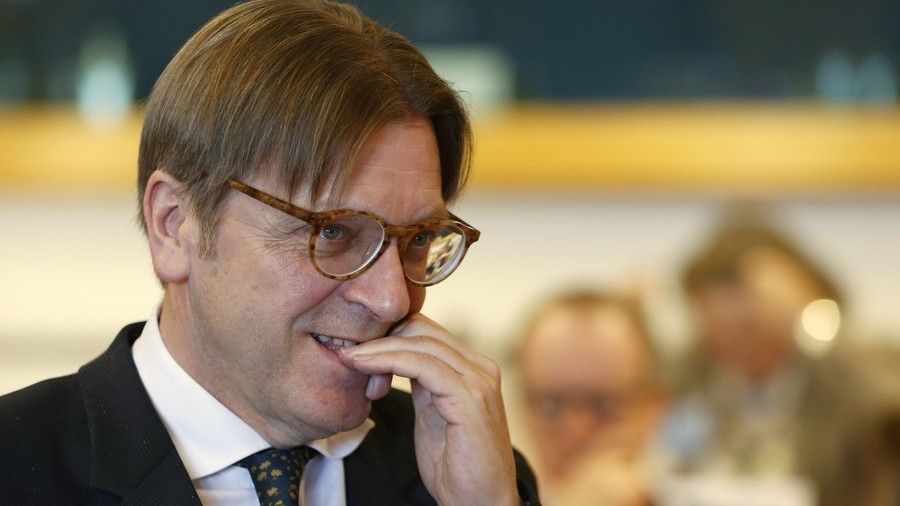 EU Parliament chief negotiator Guy Verhofstadt has praised the UK parliament's pro-EU rebels, who have backed a vote to give MPs a guaranteed say on the final Brexit deal struck with Brussels. Eleven Tory MPs staged the rebellion, demanding a "meaningful" vote on the final settlement.
Employing the slogan of the Leave campaign ahead of the EU referendum, Verhofstadt said the thwarting of the UK government's flagship Brexit bill showed that MPs were taking back control. He tweeted: "British Parliament takes back control. European and British Parliament together will decide on the final agreement. Interests of the citizens will prevail over narrow party politics. A good day for democracy."
An amendment to the EU Withdrawal Bill on Wednesday night was backed by 309 MPs, while 305 supported the bill remaining unchanged. Ministers admitted Wednesday night's defeat was a "significant setback" but insisted it would not frustrate the Brexit process.
Labour leader Jeremy Corbyn, however, described it as a "humiliating loss of authority" for Prime Minister Theresa May on the eve of a crucial trip to Brussels, at which she hopes EU leaders will approve the start of Brexit trade talks. Corbyn added that "parliament has asserted itself" amid a "power grab" by May.
The Tory rebels were Duncan Grieve, Heidi Allen, Ken Clarke, Jonathan Djanogly, Stephen Hammond, Sir Oliver Heald, Nicky Morgan, Bob Neill, Antoinette Sandbach, Anna Soubry and Sarah Wollaston. Another Conservative MP, John Stevenson, abstained. Two Labour MPs, Frank Field and Kate Hoey, voted with the government.
In an immediate act of retribution by the government, Hammond was sacked as vice-chairman of the party. He tweeted: "Tonight I put country and constituency before party and voted with my principles to give Parliament a meaningful vote." He added: "Very disappointed to no longer be Vice Chairman of the Conservative Party for London. It was a huge honor and I'll continue to campaign across our capital in the run up to the Borough elections next year."
Meanwhile, Brexiteer MP Nadine Dorries demanded the 11 rebels be "deselected and never allowed to stand as a Tory MP ever again." She tweeted: "Tonight, the Tory rebels have put a spring in Labour's step, given them a taste of winning, guaranteed the party a weekend of bad press, undermined the PM and devalued her impact in Brussels. They should be deselected and never allowed to stand as a Tory MP, ever again."
Former UKIP leader Nigel Farage told LBC radio that those behind the amendment are "utterly determined, hundreds of them, to do what they can to overturn the Brexit result." He added: "It's just as simple as that."