CNN pundit on fake news: Trust blunder-prone media as they expose Trump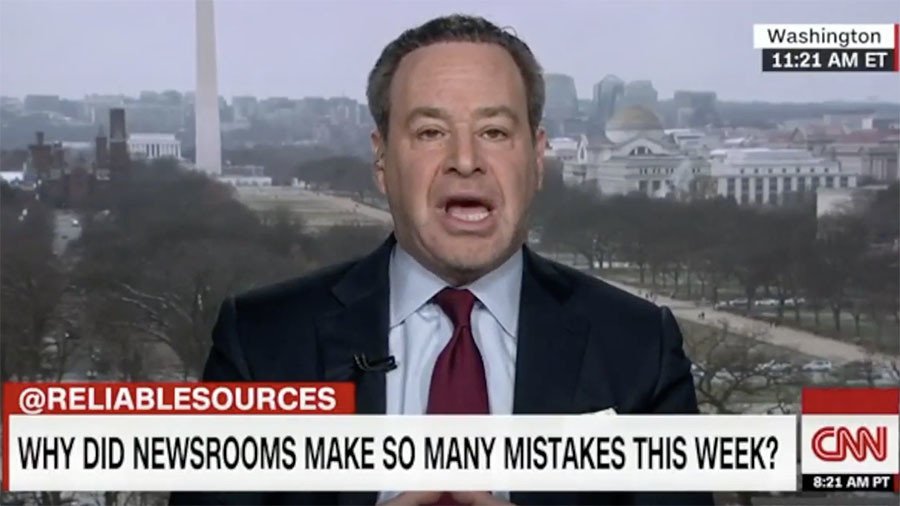 Factually inaccurate reports are a natural by-product of fighting Donald Trump's "system of lies", CNN pundit David Frum has reassured the public. The Atlantic senior editor's comments were made in the wake of false reporting by ABC and CNN.
"The mistakes are precisely the reason people should trust the media," Frum told Brian Stelter, on CNN's 'Reliable Sources' program.
He insisted that "the worst mistakes that press organizations have made in their coverage of [US President Donald] Trump has precisely occurred in their overzealous effort to be fair to the president."
READ MORE: Washington Post reporter apologizes to Trump over crowd tweet as president demands firing
Frum's comments come after two major news networks, CNN and ABC, each had to correct "bombshell" reports that showed Trump and his administration in a poor light.
Frum was a speechwriter for President George W. Bush, and authored the infamous "Axis of Evil" portion of the 2002 State of the Union address. Now a senior editor at The Atlantic, Frum argued that Trump and his supporters are "not well-placed to complain" about false media reports, because they themselves are engaged in a "system of lies."
"Mistakes occur in the process of exposing the lies," Frum claimed. "The liars then complain about the mistakes that are investigating them."
Likening CNN reporters to astronomers committed to the "discovery of truth," Frum urged news consumers to trust the press, but also to consult a variety of sources, in order to avoid close-minded thinking. However, Frum warned CNN's viewers against watching Fox News, which he said did not have "an interest in finding truth."
Several American news networks have been on the defensive after back-to-back "bombshell" stories about Trump and his associates were quickly revealed as 'nothing burgers'.
Brian Ross, chief investigative correspondent for ABC News, erroneously reported on December 1 that Michael Flynn, the former national security adviser, would testify that Trump had directed him to make contact with Russian officials while Trump was still only a candidate for the presidency.
The story was considered so damaging to US political and economic stability that the stock market took a hit after it was published. In fact, Flynn had been asked to contact Russian diplomats only after Trump won the election.
Ross received a four-week suspension from ABC after the widely-publicized story, which had been hailed as conclusive proof of Trump's so-called collusion with Russia. Such contact is nothing more than routine procedure by an incoming administration.
READ MORE: ABC's error on Trump-Russia investigation shows why public faith in media is at rock bottom
CNN painted itself into a similar, factually dubious corner when it reported that congressional investigators had been provided an email that suggested Trump had been offered early access to leaked Democratic National Committee emails.
The story, which was heralded by CNN as evidence of a nefarious Trump-Wikileaks-Russia trifecta, fell apart within hours, after it was revealed that the news network had misreported the date of the email, which had been sent by a random Trump supporter forwarding publicly available information.
A CNN spokeswoman says there will not be disciplinary action in this case because, unlike with Brian Ross/ABC, @MKRaju followed the editorial standards process. Multiple sources provided him with incorrect info.

— Brian Stelter (@brianstelter) December 8, 2017
Although it corrected its story, CNN has since avoided explaining how it got the facts so wrong. Its initial report cited "multiple" anonymous sources. However, during his Sunday program, Stelter did acknowledge that the report was "a black eye for CNN."
READ MORE: From bombshell to dud: CNN botches report on Trump, Wikileaks
You can share this story on social media: