'An expression of joy': Boxer Pulev apologizes for controversial kiss on reporter Sushe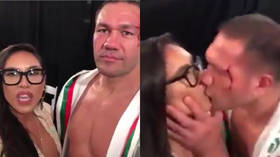 Bulgarian heavyweight boxer Kubrat Pulev has publicly apologized for the first time since his uninvited kiss on reporter Jenny Sushe after a bout in California in March.
The two-time European heavyweight champion shocked the boxing world when he planted a kiss on Sushe – real name Jennifer Ravalo – during an interview following his victory over Bogdan Dinu in Costa Mesa.
The Las Vegas-based reporter later said she felt "humiliated" by the incident, and also accused Pulev of groping her buttocks off camera, which he denies.
READ MORE: 'I felt humiliated': Reporter speaks out after being kissed & 'groped' by boxer Kubrat Pulev
Sushe is now pursuing legal action against the boxer, 37, who has been suspended by the California State Athletic Commission ahead of a hearing on May 14.
Pulev has previously appeared unrepentant over the kiss, claiming that Sushe was his friend, while his team have released footage appearing to show the reporter partying with the fighter's entourage in the early hours of the morning following his victory.
Also on rt.com
Pulev team release video claiming to show Jenny Sushe partying with boxer AFTER controversial kiss
But the boxer has now apologized, attempting to explain the kiss as an expression "of happiness."
"I'm sorry. I'm sorry about what happened. If I could go back in time, of course I would not do it," Pulev told 120 minutes, as reported by World Boxing News.
"Anyway, it's the experience again which one must go through. I do such things. I'm temperamental and I did it purely out of happiness.
"I can tell my fans it was the euphoria (of winning). The people who sympathize with me will know that if I had to do it all over again – I would not (kiss Sushe)," the former world title challenger added.
"I'm sorry about that. But the point is, the desire that I had was made with no intention of violence. This kiss was an expression of joy."
Also on rt.com
'That's not true. This woman is not my type': Boxer Pulev denies grabbing reporter's buttocks
He also claimed that as he had spent time with Sushe in the build-up to the fight, he felt the pair were "knew each other."
"I never did that (before). But I just felt the situation, we knew each other.
"I said we were friends, but she said she we were not. But we were talking and we talked the day before I was interviewed. We were much closer (than Sushe said)."
Pulev has received vocal support from his girlfriend, Bulgarian pop star Andrea. The blonde diva posted a photo of herself and Pulev in the ring, as well as one message reading:
"In a piece in Vegas SportsDaily I find Jenny Sushe as a victim, that she is hurt and shocked. How can someone upload a video and plead how hurt they are by it?
"To me it is more of a joke, a rather comical situation.When it comes to the sushi... We all love it, but only when the fish is fresh and the rice not overcooked."
Sushe is also expected to be at the May hearing during which Pulev will learn his fate amid his current suspension.