Conor McGregor's 59-year-old dad 'to have a boxing match in December'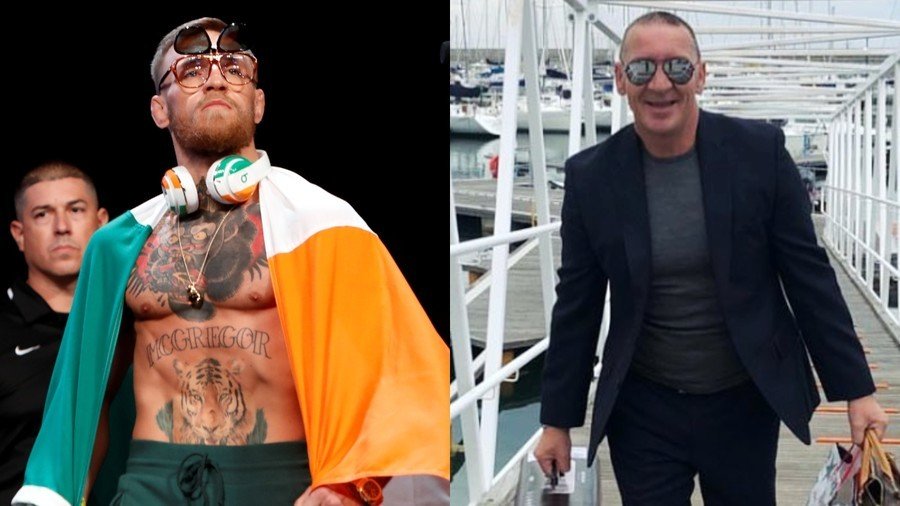 It looks like we might be seeing the name McGregor on a boxing bill before the end of the year. But it won't be UFC superstar Conor competing inside the ring – it will be his father, Tony.
Tony McGregor has accepted a call-out from opinionated Irish radio host Eoin Sheahan and the pair are set to face off in a charity boxing match later this year.
READ MORE: Conor McGregor's fighting career may be stalling but his whiskey business is booming
McGregor Sr., who is approaching his 60th birthday, explained in an interview with The Irish Sun that he had already started training at a boxing gym in a bid to get fit ahead of his landmark birthday.
"I decided I wanted to get fit and healthy as I approach my sixth decade," he explained.
"I respect my body, I don't over­-indulge, I know when to not have another beer. But I don't live an abstentious lifestyle. I do enjoy the finer things in life!
"At this era in my life, I just want to get and stay healthy. You see lads letting themselves go when they get to my age and I don't want that to happen to me."
But his training looks set to transform from a purely recreational activity to a bona-fide fight camp after he was the subject of a tongue-in-cheek call-out from Off The Ball radio host Sheahan, who reacted to footage of McGregor Sr. working the pads at Headon Boxing Academy.
"I would totally fight this guy, I'm calling him out right now," he scoffed.
"For the sake of that old man's brain, I'd better not call him out."
READ MORE: Waiting for Conor: Donald 'Cowboy' Cerrone hints at McGregor clash
McGregor Sr., who dubbed his training camp 'Camp Apocalypse', said Sheahan's call-out was an ill-advised one, and took a page out of his son's trash-talking handbook to issue a series of warnings to the man 35 years his junior
"Everyone has a plan until a hydrogen bomb goes off in their face," he said.
"If young Mr Sheahan decides to step up, I will ramp up Camp Apocalypse to get in proper fighting shape."
He later added: "If I'm being honest, I think he's taken leave of his senses. Does he want Santa to rearrange his face for Christmas? He'll be eating his turkey through a straw!
"Camp Apocalypse began at 16:00 hours and it's full steam ahead now. Six weeks of intensive training to get in peak condition. Camp ­Apocalypse was formed solely for the purposes of the destruction of young Mister Sheahan."
While Sheahan hasn't officially accepted the bout, McGregor Sr. has already mocked up a fight poster for the charity match, which lists December 15 as the scheduled date of the fight.
If the bout happens, it will be a major test for both men, with McGregor Sr. admitting he doesn't have the same fighting tendencies exhibited by his son.
READ MORE: 'Beaten fair & square': McGregor analyzes Khabib defeat, ready to face 'next in line' before rematch
"My father boxed at an amateur level but I've never done it before. The fighting gene skipped my generation!" he laughed.
"I'm really loving the training. I knew it would be grueling and strenuous and stressful but it's great.
"I would recommend it to anyone."
You can share this story on social media: