'I wasn't gonna get drunk yet but, okay!': Zverev reveals 'wild' plans after ATP victory (VIDEO)
The newest young phenomenon in tennis Alexander Zverev, who beat Serbian great Novak Djokovic in straight sets in the ATP Finals on Sunday, jokingly revealed his title-winning celebration plans - chug a huge bottle of champagne.
READ MORE: A star is born: Zverev beats Djokovic in straight sets to clinch ATP Finals (PHOTOS)
The 21-year-old German, born in Hamburg to Russian parents and whose father is former Russian pro Alexander Sr., bested Djokovic 6-4, 6-3, after shocking Roger Federer in the semi-finals, also in straight sets, in London.
'Sascha' scooped himself off the floor to accept his trophy and aim a few kind and grateful words at defeated opponent Novak Djokovic in his winner's speech, but was interrupted and handed a huge bottle champagne customarily presented as a a prize to the winners.
"I mean I wasn't done yet but thanks for the champagne," a bemused Zverev, who is only just old enough to legally take a swig of the champers in some countries, told the crowd at London's O2 Arena, to laughter. "I wasn't gonna get drunk just yet but, okay, I mean, it's nice!"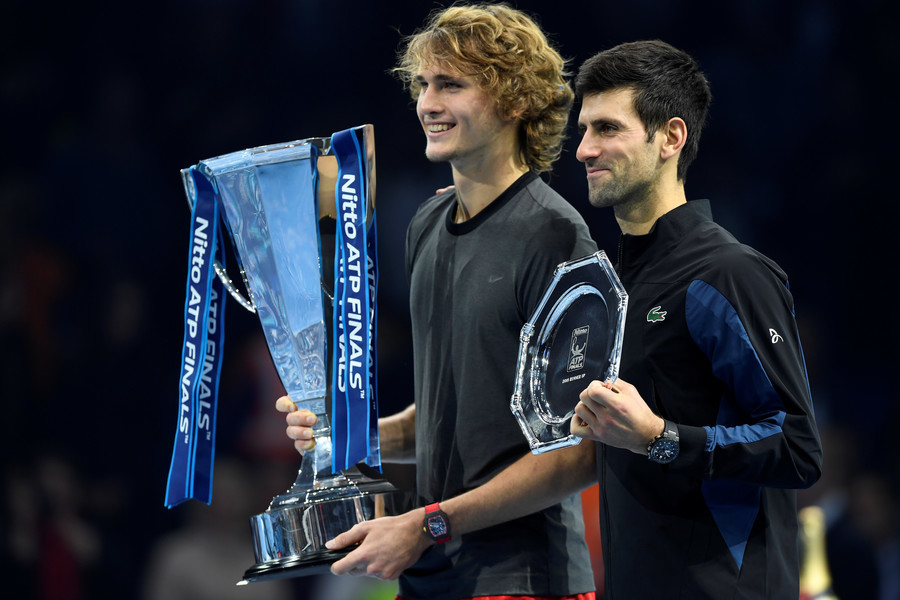 World no.4 Zverev is currently the youngest man ranked within the world ATP top 10, and pulled the shock upset win over Djokovic in style to become only the second German since Boris Becker to clinch the sport's end of year championship.
READ MORE: 'No need to apologize': Federer defends Zverev after controversial incident in ATP Finals defeat