Kadyrov presents Mercedes to 5yo 'Chechen Schwarzenegger' after 4,105 push-ups 'record' (VIDEO)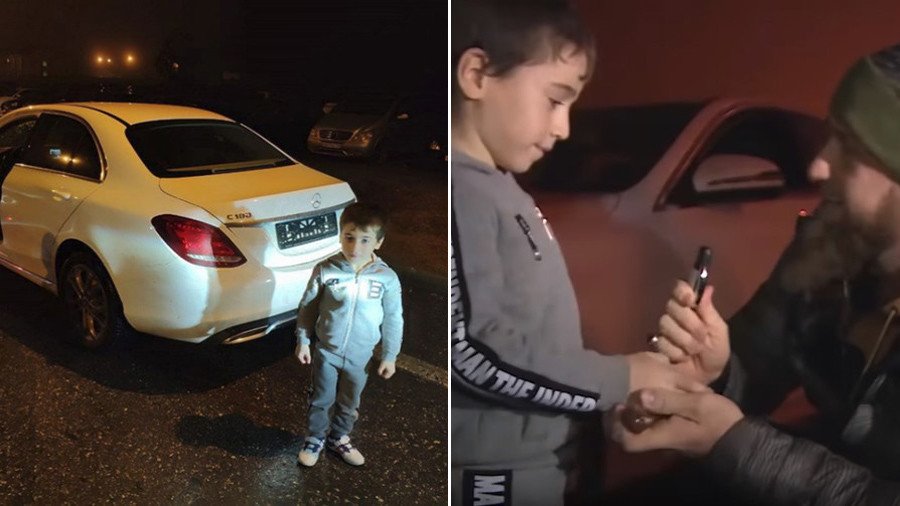 Chechen leader Ramzan Kadyrov has presented a five-year-old boy with a Mercedes-Benz car after the youngster completed 4,105 push-ups to set a disputed 'world record' - then asked the fitness fanatic to work out on the car's hood.
READ MORE: Kadyrov says 5yo Chechen can repeat 4,100 push-ups after 'world record not recognized' (VIDEO)
Miniature muscle man Rahim Kuriev - dubbed the "Chechen Schwarzenegger" - reportedly achieved the feat in 2 hours and 25 minutes to set the 'record', according to the republic's sports minister, Musa Khanarikov, and then dedicated his efforts to Kadyrov.
Touched at the gesture, Kadyrov visited the bodybuilding boy to present him with a fitting present for any five-year-old - a white Mercedes-Benz C-Class, handing the youngster the key in a face-to-face meeting.
"This car is given to you as a present by Aiman Kadyrova (the leader's mother), president of the Ahmat Kadyrov charity foundation (his late father), let your father drive around in it, you deserve to travel in a white Mercedes," Kadyrov told Rahim upon handing over the present, RIA Novosti reported.
In response, the boy boasted he could even reach the 5,000 milestone if need be, before then showing off his press-up prowess on the car's hood.
Rahim has since become a local celebrity in Chechnya, in Russia's North Caucasus region. His Instagram is filled with pictures and videos of the boy weightlifting, arm wrestling, and partaking in 'light' sparring martial arts.
In any case, the pint-sized push-up artist will have to repeat his earlier total next week in order to have it recognized by the Russian Book of Records, who reportedly said there were some "minor problems" in recording the accomplishment.
Kadyrov has already expressed his certainty it would be a repeat from Rahim, adding: "let's hope the commissioners (of the record) have the patience to count them (the push-ups)."
Whether or not the record will officially be set remains to be seen, although Rahim has a claim to another more impressive record - the youngest owner of a white Mercedes-Benz C-Class car.
You can share this story on social media: