'I don't want to repeat it' - Khabib on McGregor teammate words that triggered THAT octagon jump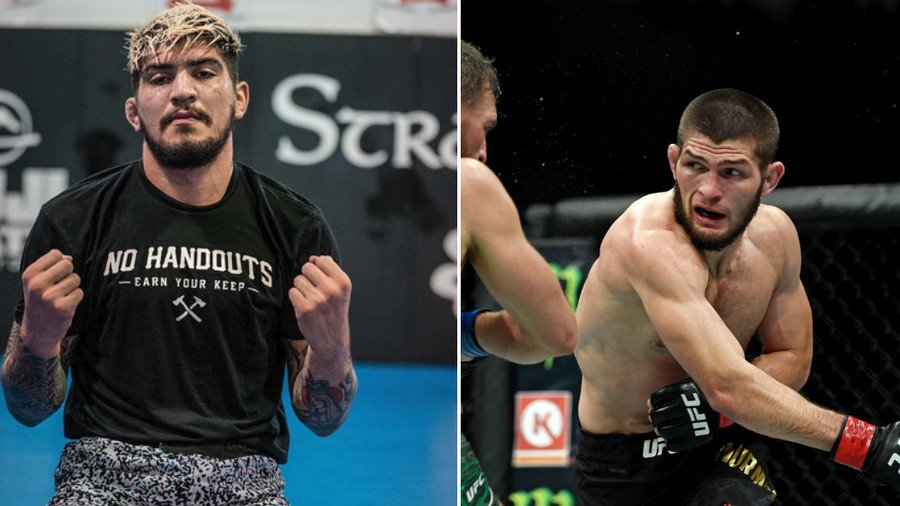 UFC lightweight champion Khabib Nurmagomedov has claimed his shocking octagon jump into the crowd after defeating Conor McGregor at UFC 229 was triggered by his opponent's teammate Dillon Danis calling him a "Muslim s***".
READ MORE: Putin to Khabib on UFC brawl: 'When someone provokes us from outside, there can be hell to pay'
In words published by Russian news outlet Kommersant, Khabib, a dedicated follower of Islam, reluctantly relayed Danis' insults, alleging he heard the epithets during the bout, and that they had been confirmed by subsequent articles by journalists who witnessed the incident.
"Around then I couldn't even hear myself think," Khabib said. "There was so much noise. But by his facial expression everything was clear. Before, I heard them also. What they wrote in the press afterwards, confirmed everything that I thought.
"There were journalists standing around him, they all heard it and wrote about it." When asked to confirm what he heard precisely, Khabib replied: "Calling me a 'Muslim shit' and all that kind of stuff. I don't want to repeat it, I can't."
Dagestan native Khabib, who holds a 27-0 undefeated record in professional MMA, has never made his beliefs a secret, repeating the phrase "alhamdulillah" - a common Islamic expression meaning 'praise be to the Lord' in Arabic - at the weigh in before the fight.
Khabib submitted superstar McGregor in round 4 of their title fight at T-Mobile Arena, goading the Irishman even after the referee called a halt to the action.
READ MORE: 'My face when they say they didn't like my jump' - Khabib posts 'apology' for UFC fracas

The Russian then threw his mouthguard and gesticulted at a member of the crowd, before vaulting the octagon and leaping into a cluster of bodies and exchanging punches with a spectator.
It later appeared Danis, the jiu jitsu coach and stablemate of McGregor's at Straight Blast Gym, was the target. Bellator fighter Danis had also become involved in a spat with a member of Khabib's team moments before the jump.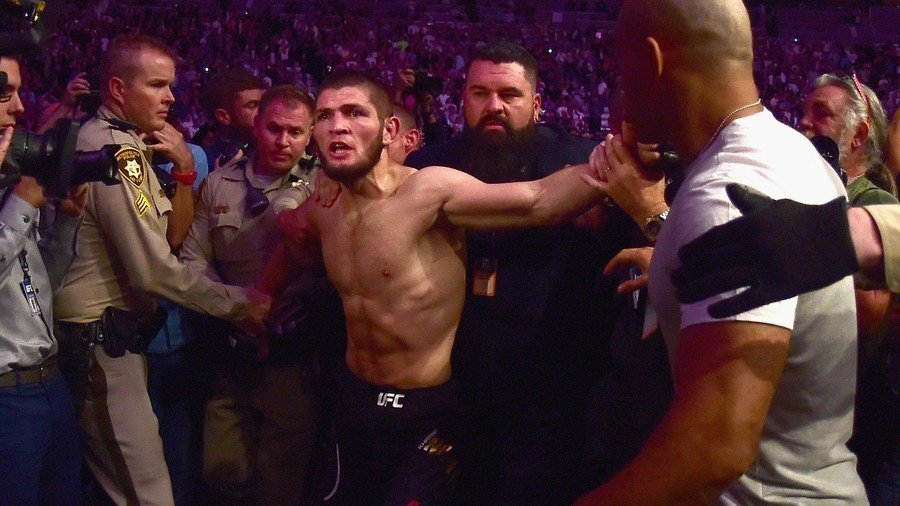 It was rumoured Khabib would be stripped of his title by the UFC and banned from competition because of the brawl, and the Nevada State Athletic Commision (NSAC) initially witheld his fight purse, believed to be in the region of aroun $2 million.
In an instagram post, Danis vehemently denied the accusations made against him, insisting he was simply the victim of a "smear" by Khabib's followers.
"Khabib Nurmagomedov's fans are attempting to smear me in an effort to justify his actions," the 25-year-old wrote.
READ MORE: 'Our common victory': Khabib Nurmagomedov thanks Vladimir Putin after meeting
"I have never and would never denigrate anyone's religion. I look forward to the results of the Nevada State Athletic Commission investigation which will reject this bullshit claim and put the blame where it belongs."
There had been bad blood between the McGregor and Nurmagomedov camps in the run up to the fight, largely owing to McGregor's tireless tirade of insults directed at Khabib and his team.
Danis seemed to agree with at least some of McGregor's torrid words, and even posted a pre-fight snap of himself and 'The Notorious' posing after a workout with the prediction his teammate would "spark this backwards c*** out cold".
McGregor also verbally atacked Khabib's father and trainer Abdulmanap, whom he labelled a "snivelling coward". Abdulmanap later said he had, upon relfection, forgiven McGregor for his words, claiming that what had been said was "in the past".
Nurmagomedov Jr. laughed off the brouhaha over the jump in a series of posts to Instagram, in which he also referenced his burgeoning social media following as a result of the brawl.
You can share this story on social media: