Putin to Khabib on UFC brawl: 'When someone provokes us from outside, there can be hell to pay'
Russian President Vladimir Putin says "anyone could have acted" in the same way as Khabib Nurmagomedov did when the fighter confronted members of Conor McGregor's team after defeating the Irishman at UFC 229.
At a meeting on Wednesday, Putin congratulated Dagestani fighter Nurmagomedov on his "worthy and convincing" submission win over McGregor in Las Vegas on Saturday.
Touching on the ugly scenes that followed the fight – when Nurmagomedov leapt over the cage to confront McGregor team member Dillon Danis, apparently after being goaded – Putin said that while it was best to keep emotions in check, "anyone could have jumped [from the cage] in the same way."
"If we are attacked from the outside, not only you, we could all jump in such a way… there could be hell to pay," Putin told Khabib and his father, Abdulmanap, at a meeting on the sidelines of the 'Russia – Country of Sports' forum in the city of Ulyanovsk.
"But it's better not to reach that stage," Putin added, prompting smiles from Khabib and his father, as the pair nodded in agreement.
READ MORE: 'I begged God for one thing – to leave me in the cage with this clown' - Khabib Nurmagomedov (VIDEO)
The scenes on Saturday marred what was a dominant victory for Nurmagomedov, who retained his lightweight title and unbeaten record with the win over McGregor.
He apologized for his actions after the fight, citing McGregor's frequent insults in the build-up to the bout as a source of the tensions.
Nurmagomedov, 30, is likely to face sanctions from the Nevada state authorities over his actions.
READ MORE: 'I forgive McGregor': Khabib's father says Conor's tirade of insults 'in the past'
The fighter returned to Dagestan to a hero's welcome on Monday, meeting thousands of fans at Anzhi Arena in the regional capital, Makhachkala.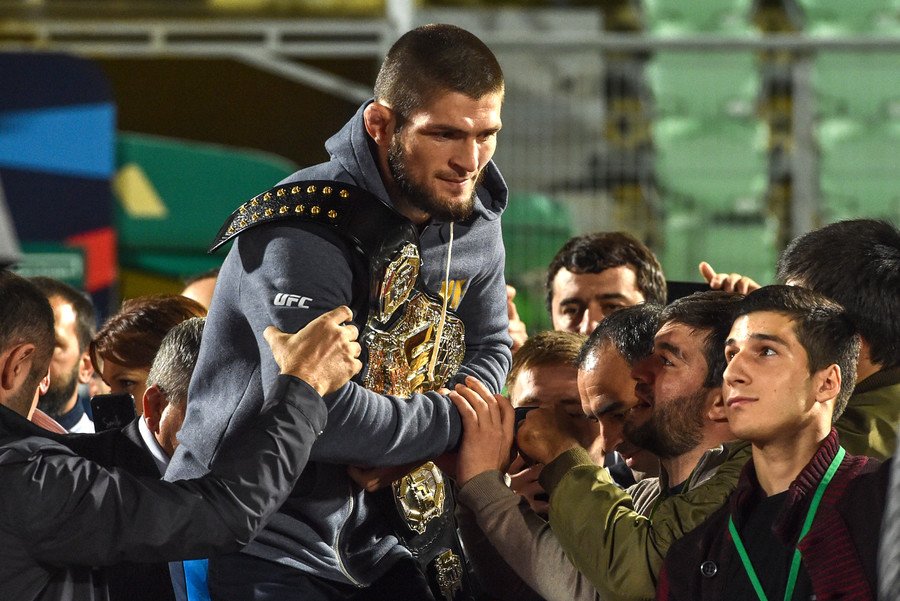 In the run-up to Saturday's megafight in Las Vegas - touted as the biggest in MMA history - McGregor had attempted to use Putin as a means of goading Nurmagomedov.
The Irish fighter met the Russian leader at this summer's World Cup final in Moscow, reportedly as a guest of the president. Nurmagomedov was also at the event, although was seated elsewhere in the stadium.
When the Dagestani fighter had indicated he was not bothered by his Irish rival's photo and meeting with Putin, McGregor accused him of "disrespecting" the Russian president.
READ MORE: 'Are you disrespecting Putin!?' - Conor goads Khabib over WC final pic with Russian President
However, after his comprehensive fourth-round submission victory on Saturday, Nurmagomedov revealed that Putin had phoned him to offer his congratulations, saying he was "proud" of the Russian fighter's victory.
READ MORE: 'Putin called to say congratulations, he's proud of me': Khabib on UFC 229 presidential call (VIDEO)
You can share this story on social media: