Players were talking about making a revolution if I got fined – Cornet on US Open sexism row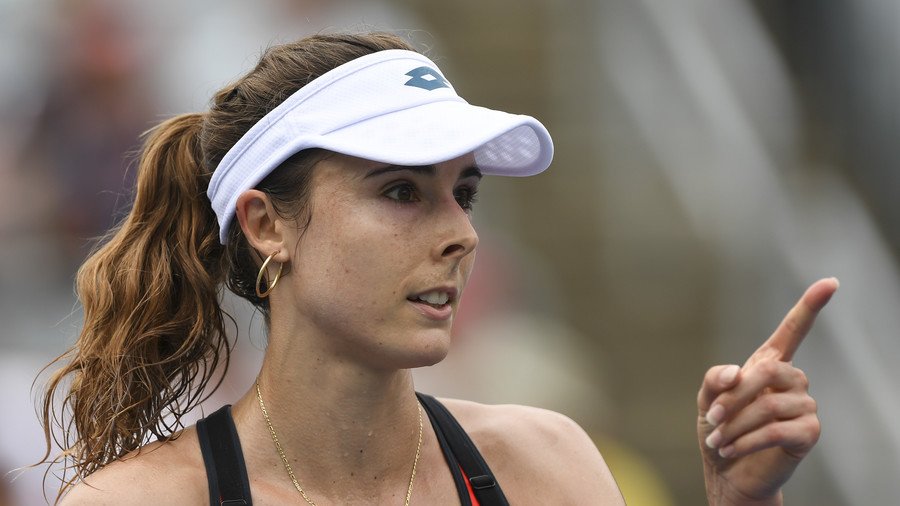 Alize Cornet says she received strong support from fellow female tennis players over her code violation for removing her shirt on court at the US Open, adding that some discussed "making a revolution" if she had been fined.
French player Cornet was warned after briefly removing her shirt in her first-round game against Johanna Larsson of Sweden on Tuesday, after realizing she had put it on the wrong way round during a break in extremely hot conditions at Flushing Meadows.
Cornet, 28, received the warning although male counterparts have been allowed to change shirts freely at the tournament.
The incident sparked a sexism row, with many offering their support and calling for a rule change.
Cornet herself downplayed the incident, saying at a press conference that "it really seemed like a mistake from the umpire and nothing else. That's how I take it."
However, she added that had she been fined, fellow players were ready to "make a revolution" in a show of solidarity.
"When I came in this morning in the locker room, like, many players came to me. Even former players, like Tracy Austin – I was very honored to be actually approached by her like that. They were just giving me all their support. I mean, everybody was pretty scared that I could get a fine for it. I was also scared.
"So all the players were supporting me for that, and were telling me that if I get fined, we would all be together and see the WTA, you know, and make a revolution and stuff. I was, like, 'Calm down. I'm going to get the information first and then we see if we make a revolution or not.'"
US Open officials apologized on Wednesday for the penalty, saying they had "clarified the policy to ensure that this will not happen moving forward."
The WTA also issued a statement saying that the decision had been "unfair" and that it was based on Grand Slam rules, rather than WTA policy.
Cornet said that progress was being made in addressing gender inequality, but hit out at French tennis officials for the recent ban imposed on the 'catsuit' outfit worn by Serena Williams at this year's tournament at Roland Garros.
"I think that now, of course it [equality] can be better, inequity between men and women, but I think we are on the right path," Cornet said.
"I really believe it. Everybody is working in the same direction. I think we are doing all very good.
"Then we still have some people, like, the president of my federation that lives in another, you know, time, and can still do these kind of comments.
"They are totally for me shocking... What [French Tennis Federation head] Bernard Giudicelli said about Serena's catsuit was 10,000 times worse than what happened to me on the court yesterday, because he's the president of French federation and because he doesn't have to do that."
Williams wore the all-black outfit in her three matches at Roland Garros earlier this year, saying it helped her deal with blood clot issues.
While the 23-time Grand Slam winner has said the future ban on the outfit is "no big deal," others have criticized the French Open for the decision.
READ MORE: Ex-Iran president tweets support for Serena Williams over French Open 'catsuit' ban
Support for Williams even came from the unlikely source of former Iranian President Mahmoud Ahmadinejad, who questioned why French tennis bosses were "disrespecting" the US player.
You can share this story on social media: