Mayweather offers to help 'warrior' McGregor ahead of Nurmagomedov UFC fight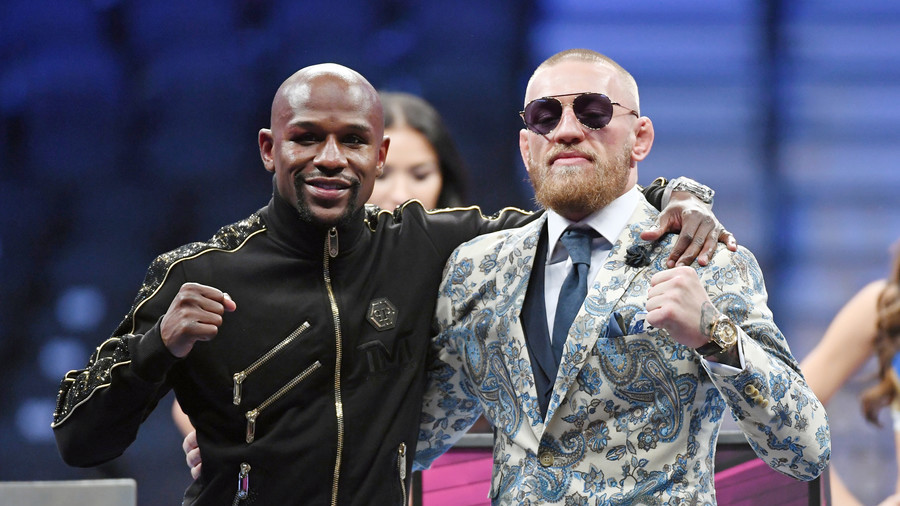 Boxing great Floyd Mayweather has offered to help former rival Conor McGregor ahead of the Irishman's UFC mega-bout against Russian fighter Khabib Nurmagomedov in Las Vegas in October.
Mayweather – who famously fought McGregor in a money-spinning boxing bout last summer – has offered the MMA star the use of his gym in Las Vegas as the Irishman prepares for the fight against Nurmagomedov at UFC 229.
The boxer issued a warning to the Russian, saying his own boxing match against McGregor had shown him that the Irishman was a "warrior" who was "not going to back down."
"Conor's not gonna back down and he's not a scared fighter at all, win, lose or draw," Mayweather said in Atlantic City on Tuesday, according to TMZ Sports.
Mayweather even offered his former rival the use of his famous gym in Las Vegas, saying: "I know that UFC has got a training facility, but we'd like for him to work out at the Mayweather Boxing Club."
The 41-year-old former boxer, who retired with a 50-0 record after claiming a 10th-round TKO win in the fight against McGregor, which earned him a reported $275 million, said that while Nurmagomedov was a tough grappler, McGregor was "a warrior."
"I don't really have a prediction because I've never seen the guy [Nurmagomedov] fight that's facing Conor McGregor. From what I know he's a hell of a guy that's on the ground, hell of a grappler, and he can wrestle.
"But, the fans want to see you stand up and fight. That's what the fans like to see. But, Conor McGregor, he's a tough competitor, like I said before Conor McGregor's not gonna back down from anyone, he's not scared, he's a warrior," Mayweather added.
READ MORE: McGregor's mind games have already affected Khabib, says MMA analyst Robin Black (VIDEO)
The American fighter has apparent respect for McGregor after the pair's bout, unveiling a giant artwork of the pair at his Beverly Hills mansion back in September.
McGregor and Nurmagomedov meet for the Russian's UFC lightweight championship title at the T-Mobile Arena in Las Vegas on October 6.
The Irishman, 30, has an MMA record of 21-3, and was the first man to hold belts at two weights simultaneously in the promotion. Nurmagomedov, 29, has an MMA record of 26-0 – including 10 straight wins in the UFC.
There is added spice to the match-up after McGregor attacked a bus containing fighters including Nurmagomedov ahead of UFC 223 in Brooklyn in April.
READ MORE: 'Biggest fight in UFC history' – Dana White on Khabib Nurmagomedov v Conor McGregor
McGregor escaped jail after agreeing a plea deal, freeing him up to continue to travel and fight in the US.
The highly-anticipated fight against Nurmagomedov has been described by UFC chief Dana White as the biggest in the promotion's history, and is expected to set a pay-per-view record of around 2 million buys.