'If I had to put my house on it, I'd choose Khabib' – MMA legend GSP on McGregor v Nurmagomedov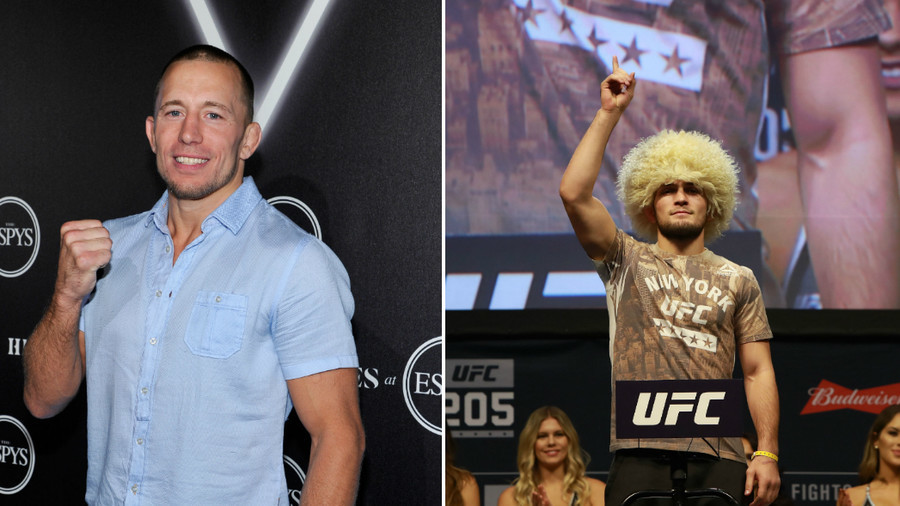 Canadian MMA legend Georges St-Pierre is backing Khabib Nurmagomedov to beat Conor McGregor in the pair's UFC megabout in October, adding that he would be willing to return to the cage to fight the winner.
READ MORE: 'Biggest fight in UFC history' – Dana White on Khabib Nurmagomedov v Conor McGregor
St-Pierre, known as GSP, says he believes Russian Nurmagomedov's undefeated record of 26-0 and his stronger work on the ground make him the favorite against Irish star McGregor, who is 21-3.
"If I had to bet – if I had to put my house on it, the biggest one – I would have to choose Khabib over Conor," the 37-year-old told Submission Radio.
"Khabib never lost, and Conor has lost before. He's lost on the ground. He has a few losses and he lost on the ground. That's where Khabib is good, that's where Khabib is more competent.
"However, Khabib is sometimes a slow starter and he gets punched a lot," he added.
"But once he's got you in the clinch he's very good. So, I believe the chance, the house goes in Khabib's favor, maybe."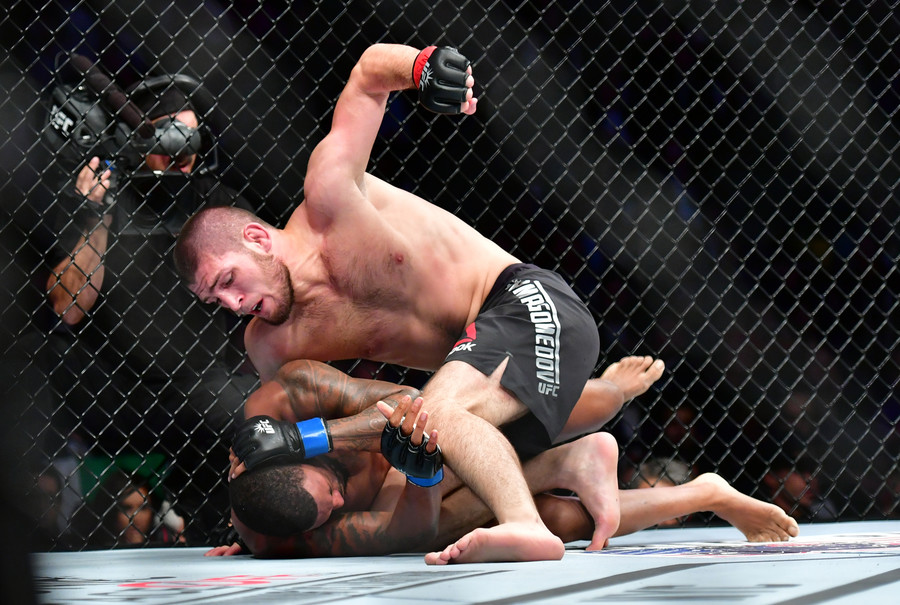 The Canadian added that he would be willing to fight the winner of the bout, having himself returned to action last November after a four-year hiatus when he beat Michael Bisping to win the UFC middleweight title – which he later relinquished due to health concerns.
"I would be interested in that fight [against the winner of McGregor versus Nurmagomedov]. That's a win-win situation. It's a legacy upgrade and it's good money. It's gonna be a big fight," he said.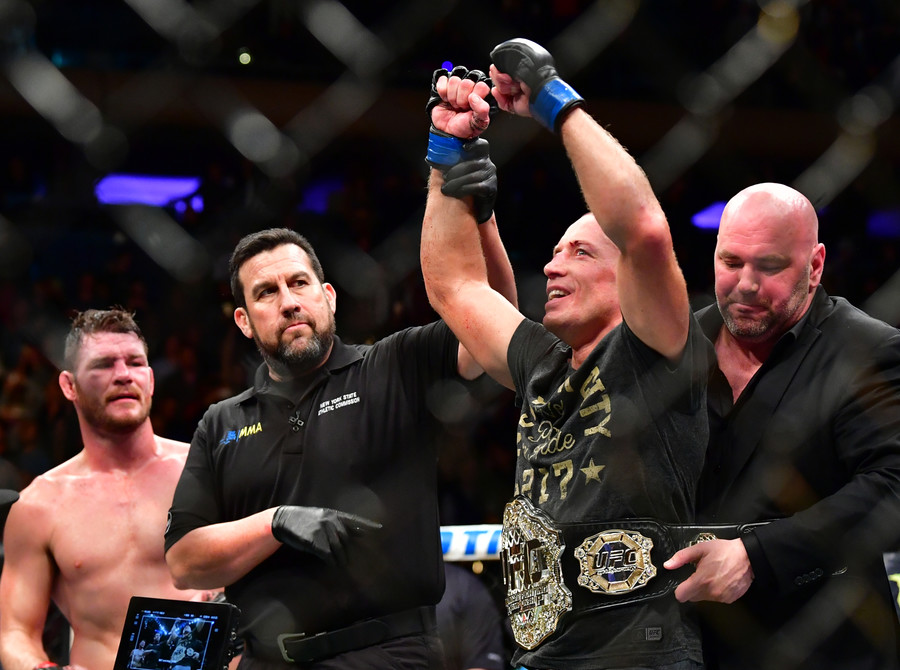 He added that moving down to lightweight would not be an issue, although a caveat could be the UFC's reluctance to agree a fight due to the risk of the Canadian winning another belt, only to relinquish it.
"I fought at 170 [lbs], I relinquished the title. And I fought at 185, I relinquished the title. I don't think the UFC will let me fight for the title at 155. They will be afraid I'll relinquish and I'll leave the division in ruins again," he said.
"From my perspective it's a very winning situation, for the UFC it's a big risk for them. Right now I'm less than 185. I'm 183, 185. I've always been like that, my natural fit weight," he said.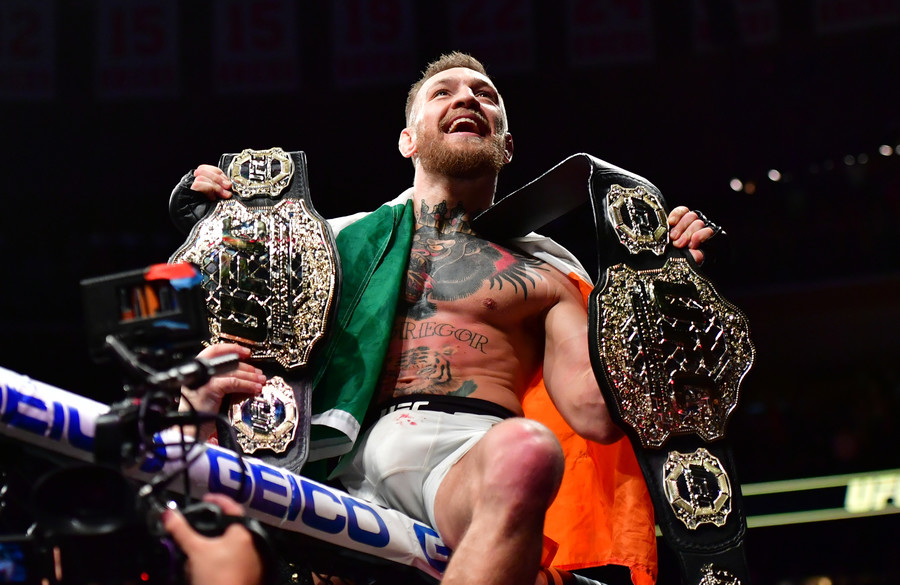 "But yeah, 155. I think I could make it. I never tried it, I'm not a fan of big weight cuts, but are they gonna let me do that? I don't know."
READ MORE: 'The champ champ is back!' MMA community reacts to McGregor v Nurmagomedov announcement
He added that he could be willing to face Nurmagomedov or McGregor in a non-title fight, which would still help to cement the legacy of the man many consider to be the best of all time.
"A title would be good for the legacy, but even if it's not for the title it would be a big fight. It would still be a legacy [fight].
"Maybe not as much as if it will be for a title fight, but it still would be against a champion. We'll see."
The Canadian fighter appeared keener on the potential bout than he did when speaking to RT back in April of last year, when he said a fight against Nurmagomedov would "would be a tough [weight] cut. And I'm not a big fan of cutting weight.
"But it depends on who's there at the right moment. Maybe it could be done, but I don't know," he said at the time.
READ MORE: 'Khabib is world's best pound-for-pound fighter' – Georges St-Pierre to RT Sport (VIDEO)
Nurmagomedov himself has previously said he would be open to a fight against GSP, whom he has hailed as "the greatest athlete who competed in UFC."
The Russian faces McGregor at the T-Mobile Arena in Las Vegas on October 6 in what is expected to be the biggest MMA fight in history.
UFC chief Dana White has said he expects around 2 million pay-per-view purchases for the event – eclipsing the previous record set when McGregor faced Nate Diaz in their second fight in 2016.
You can share this story on social media: