Khabib Nurmagomedov wants 'legacy fight' with St-Pierre next, but what does GSP think?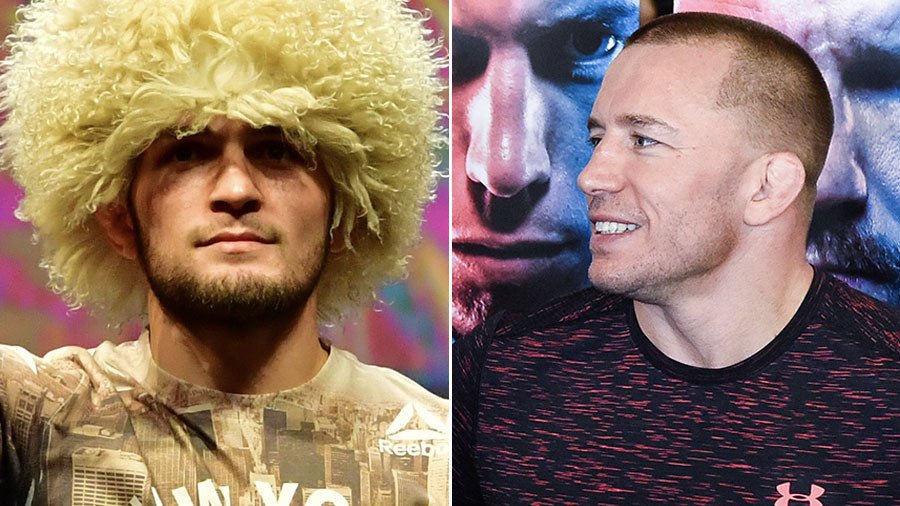 Khabib Nurmagomedov has said that if he beats Max Holloway and wins the UFC lightweight title, he will demand a fight against Georges St-Pierre. RT Sport looks at what the Canadian has previously said about a potential match-up.
Undefeated Russian fighter Nurmagomedov, who is set to face Holloway in the main event of UFC 223 for the lightweight championship belt this Saturday in Brooklyn, spoke on the topic during The MMA Hour show on Monday.
Talking to the show's host, Ariel Helwani, the Russian revealed that in the event of victory over Holloway, thoughts about his "legacy" will determine the choice of future opponents.
"I think about Georges St-Pierre," the 29-year-old said. "For his legacy and my legacy, it's very important [for us to fight]. [Our] win streaks, champion versus former champion. He is the greatest athlete who competed in UFC, in my opinion."
Nurmagomedov was considerably less enthusiastic about fighting MMA superstar Conor McGregor.
READ MORE: 'We'll demand Ferguson fight as long as he's alive' – Khabib Nurmagomedov's coach
"If I beat Conor, or I beat Georges – which one is better for my legacy? We don't talk about money, we talk about legacy. Of course Georges. If UFC will give me choice – I will bring Georges."
While the possibility of a Nurmagomedov-St-Pierre match-up surprised many fight fans and journalists, RT Sport spoke about it with the Canadian over a year ago, during his visit to Moscow.
Back then, he was more than complimentary about Nurmagomedov.
"I think actually one of the best pound-for-pound [fighters] in the world, maybe the best pound-for-pound in the world, is Khabib Nurmagomedov," said St-Pierre.
"His resume speaks by itself. You know, the guy's undefeated, he beat everybody," he added.
When asked about a possible fight with the undefeated lightweight, he was taken aback, but did not exclude the possibility.
"Look, I really like Khabib. It would be crazy."
"I think Khabib is about the same size as me. Maybe heavier than me. A lot of 155ers are bigger than me. But it would be a tough cut. And I'm not a big fan of cutting weight. But it depends on who's there at the right moment. Maybe it could be done, but I don't know.
"It has to be win, win, win situation – one opponent, another opponent and the organization. If the organization is going to win because that is a fight that they can make money with it, and fans want to see it. If one guy wants to do it because he has something to gain by fighting the other guy. And the same thing for the other guy. It has to be a win, win, win situation."
The pair are on good terms, and have spent time together before, particularly during St-Pierre's visit to Moscow, when Nurmagomedov even helped the legendary fighter to move to a different hotel when too many Russian MMA fans learned about his location and started to follow him for photos and autographs.
Nurmagomedov told RT Sport last summer that 36-year-old St-Pierre had been something of an idol for him.
"I grew up watching his fights. Of course Fedor [Emelianenko] was number one for me in MMA. But if we talk about UFC, St-Pierre was number one for me. I watched all of his fights. Some of them I watched even five-six times,"
"We talked a lot. We had dinner a couple of times together. I learned a lot from him."
by Denis Geyko for RT Sport
You can share this story on social media: