'I'm aiming for November 4 to fight Ferguson in NYC' – Khabib Nurmagomedov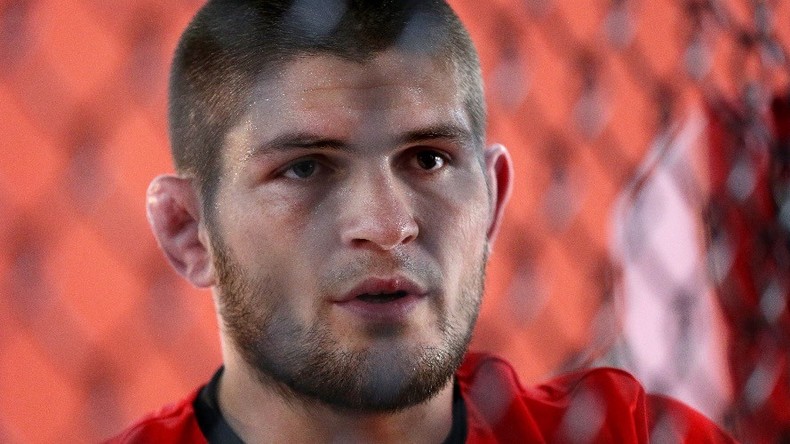 Talking to RT Sport after a recent master class event in Moscow, UFC lightweight championship contender Khabib 'The Eagle' Nurmagomedov discussed his health status, crazy fans, meeting with Georges St-Pierre and the next fight date he's aiming for.
Nurmagomedov, who has a huge following in his native Russia, appeared once again in front of his fans for a master class followed by a Q&A session in the Vegas Mall in the northwest of the Russian capital on Friday.
During the master class itself, fans of the undefeated MMA fighter got the chance to experience the intensity of training with Nurmagomedov through various drills and exercises.
The meeting then transferred to a Q&A session, during which supporters also presented gifts to their hero and made various, and occasionally somewhat unusual, requests.
That included one 17-year-old fan named Kirill, who despite being deaf and mute practices Freestyle wrestling. He called out Nurmagomedov for a friendly grappling match in front of the gathered crowd. Although Nurmagomedov didn't appear ready to give in, his young opponent displayed strong character, wrestling the UFC star for almost three minutes and receiving applause and cheers from the crowd – as well as a hug from The Eagle.
After the event was over, security at the mall was in for a big test, as getting Nurmagomedov out of the venue proved a tough task. As the MMA star reached a cafe separating the workout area where the masterclass had taken place and the rest of the mall, security personnel closed the glass doors, only to realize that Khabib had become trapped from both sides as fans were already storming the cafe's entrance from the other side.
It took a group of strongly-built guards to walk Nurmagomedov out of the cafe as fans mobbed their hero as soon as the doors were open.
Nurmagomedov – who had come for the master class on the back of a long trip, which included the Russian city of Kazan, South Korea, Kazakhstan and Tajikistan – was eventually safely delivered to a service room by the parking lot, which was then blocked by dozens of security guards.
As fans slowly started leaving the mall, Nurmagomedov spent time talking to the media.
Surrounded by security officers and with hundreds of fans still waiting outside, RT Sport opted to skip the much-hyped topic of McGregor and Mayweather, and his own possible fight against the Irishman, as The Eagle told us earlier that the only fight he has on his mind is the one against Tony Ferguson.
RT: You obviously have very enthusiastic fans, and the last video we saw on your Instagram page was about a fan who apparently asked you to punch him in the stomach. Could you tell us a little more about what happened there?
Khabib Nurmagomedov: That was the craziest thing I've seen from the fans. At first he asked me to take him down. But I said, 'Look we are on concrete right now, this is not a wrestling mat.' Then he asked me to choke him – I said no. After that, we agreed on me punching him in the stomach, since he wanted to experience something really extreme. So I did a little trick on him, I started talking to him to distract his attention, and then I punched him hard enough to make sure he wouldn't ask me for another strike.
RT: Another photo we saw on your Instagram that shocked many people was some sort of cupping therapy, with five large cups filled with blood. What sort of therapy was that exactly? Is it related to your recent health issues?
KN: I've been using that sort of therapy since a I was a teenager. It's good for preventing all sorts of illnesses. I recommend it to everyone for good health – but not before fights. Not earlier than one month before a fight. It purifies your blood. Some might not like it because it involves cuts. Little cuts are made under the cups that vacuum the dirty blood out of your body. But it's not related to my recent health issues at all. I've been doing it for at least the last 10 years. And because of the recent health issues I hadn't done it in the last half a year. But now, as I've recovered, I did it again.
RT: So when will you be ready to return to fight?
KN: Now I'm training at 100 percent capacity already. All my media activity is over and I'm going straight to Dagestan for a training camp for a month or a month and a half. Then I'll go to train in the States for about two months, so I'll be able to perform at the end of the fall. As I said earlier, we will repeat the same fight again with Tony Ferguson for the belt.
RT: Talking about a possible date for a fight, you hinted at November 4 on social media, which is when UFC 217 takes place in New York. Is it a date you agreed on with UFC, or it's just the date you want to fight?
KN: That's the date I asked UFC for. First they offered me a fight on October 7, but I couldn't accept it. I want to prepare well and I don't want to put my body at risk. I don't want to make the same mistake and push my body. I had to take care of my health, something I've been doing in the last four months. And now I need at least 100 days of hard work to get back in fighting shape.
RT: This is the second time we've talked to you since April, when Georges St-Pierre visited Moscow. We know that you guys met and spent some time together – could you tell us a little more about it?
KN: We talked a lot. We had dinner a couple of times together. We were in the same hotel. To be exact, we were in different hotels, and then I met him for dinner at my hotel. He told me that there were too many fans in the hotel he was staying in, since they knew that he was there. So I suggested moving to my hotel. He agreed, so I helped him to organize it. We spent a lot of time talking. Throughout my life I've wanted to talk as much as possible to people who know more than I do. People who have more life experience, and of course those who know more about fighting. I learned a lot from him.
RT: We spoke to him when he was here as well, but that was before you met. And when we asked him what he thinks about Russian fighters, he mentioned you right away. Even before Fedor Emelianenko. How do you feel now, representing Russian mixed martial arts?
KN: That's not my priority of course. I'm trying to be more of a doer than a talker. So I have to prove it with my fights. But then again, I grew up watching his fights. Of course Fedor was number one for me in MMA. But if we talk about UFC, St-Pierre was number one for me. I watched all of his fights. Some of them I watched even five-six times. And so it's a big honor for me, when people ask him about Russia and I come to mind first, that means a lot to me. There are so many great fighters (in Russia), and to hear that from such a great athlete, it's indescribable for me.