Khabib punches 'crazy fan' in stomach after being asked to do it (VIDEO)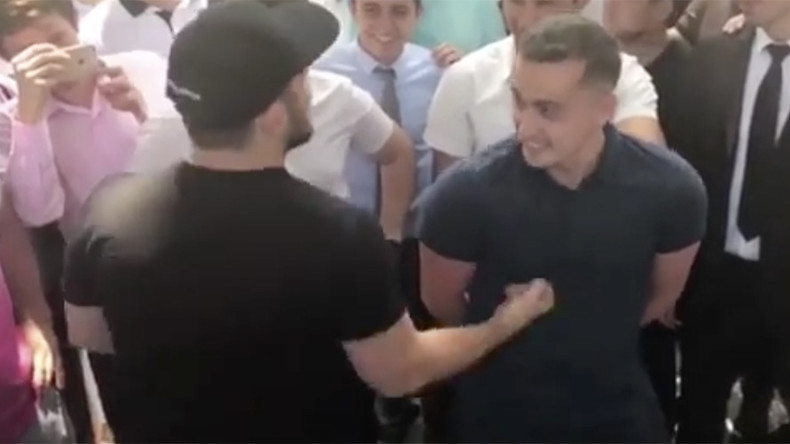 UFC's Khabib Nurmagomedov is known for his huge and very enthusiastic fan base in Russia and the former Soviet countries, but this particular fan definitely took the craze to a different level.
Nurmagomedov, 28, who says he is looking to return to the UFC octagon this fall, paid a short visit to the former Soviet republic of Tajikistan for a meet-and-greet session with local fans this week.
Judging by the video posted on his Instagram account on Tuesday, the 24-0 lightweight is no less popular in Tajikistan than is his native Russia – to say the least.
The other video from the trip, which is titled Crazy Fan, shows a local Khabib supporter apparently asking the former Sambo champion to punch him in the stomach.
"He really asked me for it," added Nurmagomedov in Russian in the caption.
READ MORE: 'McGregor wants Khabib fight in Russia after Mayweather' – UFC head White
After apparently checking if the fan's stomach really was hard enough to take the punch, Khabib diverted the man's attention by saying "the most important thing when you are doing it…" Just as the fan appeared to be distracted, Khabib delivered the punch – much to the delight of the fan and those gathered around.
The two gave each other a hug amid laughter and applause from the crowd.
A native of the southern Russian republic of Dagestan, Nurmagomedov was set to fight for the interim UFC lightweight belt against Tony Ferguson on March 4, but had to cancel his participation in the bout a day before due to health issues that appeared during the weight cut.
READ MORE: Khabib vows to bring back UFC belt during Moscow child clinic charity event (VIDEO)
According to Nurmagomedov, the two will meet this fall for the same belt. He even hinted at the possible date for the bout on social media – November 4 at UFC 217 in New York City's Madison Square Garden. Nurmagomedov fought at the Garden in his previous bout, defeating Michael Johnson at UFC 205.