Video shows brutal street brawl in which UFC fighter Jared Gordon 'nearly lost 3 fingers'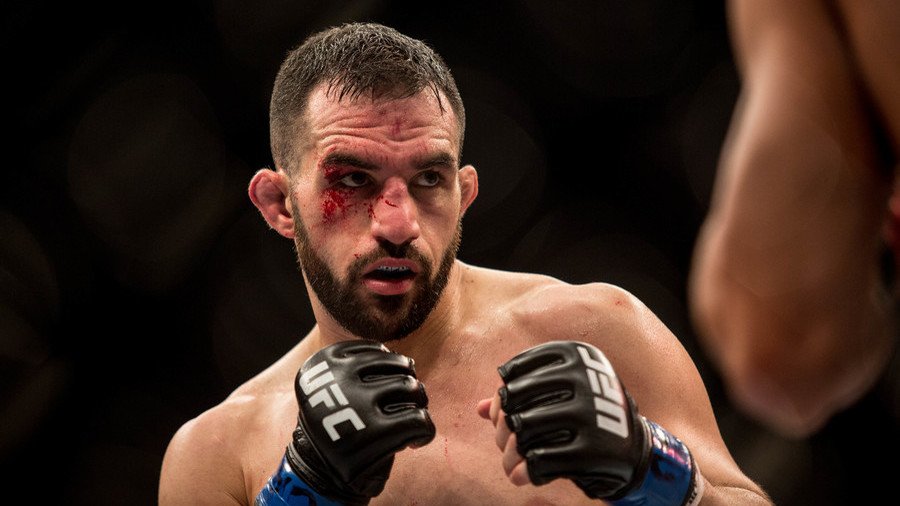 UFC lightweight Jared Gordon has revealed the details of a brutal street fight that left him needing 21 stitches to his hand and almost saw him lose three of his fingers.
The brawl happened in Queens, New York, last December, although Gordon has for the first time shared footage of the incident as well as the details of how the vicious altercation broke out.
According to Gordon, 29, he was holding a coffee and chatting with his friend Jeffrey Gallardo outside a barbershop when Gallardo recognized someone he had taught jiu-jitsu to.
As the video below shows, the youngster joined them and as the trio began talking, two hooded men – said to be gang members – approached and began attacking Gallardo's friend.
"Those two kids came out of nowhere, I guess they must've had some problems with him, and they attacked him. But I was just standing there watching," Gordon said, according to MMA Fighting.
"When my friend jumped in and the kid kinda pushed my friend and was posturing like he was going to hit him, that's when I decided to take matters into my whole own hands."
As the footage shows, the four men – Gordon, Gallardo and the two attackers – begin grappling, before the UFC fighter crashes into a window.
READ MORE: From 'Machattan' to 'Squat City' – The adventures of Conor McGregor in NYC (VIDEO/PHOTOS)
"Of course we hit into the f***ing storefront window and it comes crashing down on me and cuts my hand wide open, my fingers," Gordon added. "Luck of the draw for me, as always. I got 21 stitches."
The brawl happened just two months before Gordon was due to face Carlos Diego Ferreira at UFC Fight Night 126 in Austin, Texas.
Despite the setback, Gordon had the stitches removed less than two weeks later in a bid to get up to speed with training for the fight.
However, the cut on his middle finger opened back up, meaning he required more stitches and also a trip to the surgeon. To make matters worse, he later slipped and reopened the wound, leading to it getting infected.
"I go back to the same plastic surgeon, he has to take the stitches out, drain it, and then pack it with gauze," Gordon explained.
"So now I have like an open wound on my hand, this gaping hole on my finger, and my finger is really the size of a sausage. It was ridiculous. That took about four weeks for it to close, and then that was like already a week before my next fight, so it just had closed up, like scabbed over by the time a week before the fight.
"And actually when I was at the fights in Austin, the doctor was like, 'Oh, what happened to your hand?' When they were doing the pre-fight medicals. Like, 'Oh, that's just an old injury,' I just kinda brushed it off."
Gordon went on to lose the fight against Ferreira via first-round TKO, having been prevented from doing full-contact training ahead of the contest.
READ MORE: 'I want to change his face': Khabib Nurmagomedov on Conor McGregor showdown (VIDEO)
His hand has now healed, although a deformity left by the brawl still serves as a reminder.
Gordon remained philosophical about the incident, lamenting most of all that he'd dropped his coffee in the altercation.
"It's funny too because after the fight I was like, 'Goddamnit, I dropped my coffee,'" Gordon said.
"That's what I really p****d about. I got that cup of coffee and I'm addicted to coffee, so I was really p****d off, and that's what everybody's saying when they're commenting on the video, 'Oh, you lost your coffee. Should've put the coffee down first.' It's pretty funny."
READ MORE: Crazy 30-second MMA fight ends with ridiculous knockout (VIDEO)
The brawl was passed off as self-defense for Gordon and Gallardo, who declined to press charges as the fighter said that would have involved being detained by police for questioning.
Thankfully for the store owner, insurance covered the damage done to the window that Gordon had crashed through.
You can share this story on social media: