'I want to change his face': Khabib Nurmagomedov on Conor McGregor showdown (VIDEO)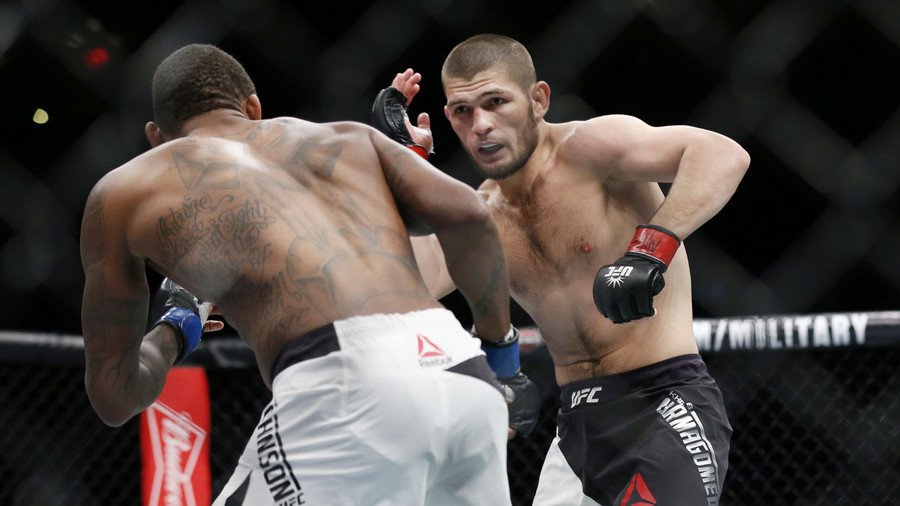 Russian UFC champion Khabib Nurmagomedov says that his chief rival for the lightweight championship of the world won't just have a new outlook after the Irishman faces him, but he will look a whole lot different too.
Nurmagomedov and McGregor are heavily linked with what will likely be one of the most money-spinning bouts in the sport's brief history later this year, with October 6 in Las Vegas the date that all parties are currently exploring. Alternatively, a year-end show in the same city on December 30 is also being considered.
"I can't believe we're going to fight, because I really want this guy," Nurmagomedov said to the media at UFC on FOX 30 in Calgary, Alberta, Canada on Saturday via MMA Junkie.
"Make him humble, a little bit teach him, and not only smash but change his face. I want to change his face. Of course, with face I can change his mind, too."
The undefeated fighter won the championship in April, after the title was stripped from McGregor for inactivity. The Dubliner last fought in the UFC in November 2016, though his last combat outing was a boxing defeat to Floyd Mayweather 11 months ago.
Their rivalry ignited at that April event in Brooklyn, when McGregor and his training partner Cian Cowley were arrested for a backstage melee at the Barclays Arena for criminally damaging a bus which was carrying Nurmagomedov.
McGregor and Cowley both recently reach a plea deal with the Brooklyn District Attorney's Office related to the incident, which will not restrict McGregor's ability to travel to the United States, nor will it levy a criminal record.
Now, with that final hurdle cleared, negotiations are moving forward. Audie Attar, McGregor's manager, says that talks are currently "in the redzone" and are near completion and when they do eventually set foot on the same octagon canvas, the Russian is clear on how he expects the contest to progress. Nurmagomedov also said that he was relieved that McGregor avoided jail time for the Brooklyn incident.
READ MORE: Conor McGregor accepts Khabib Nurmagomedov fight in October – RT Sport source
"To be honest, inside my heart I am a little bit happy about this," Nurmagomedov said. "Because if he goes to jail, what happens? How I can catch him? How? Only inside the cage.
"I want a big drama show," Nurmagomedov added. "A little bit (of) talk(ing) with him, tell him, 'I know how we have to do this.' I have a little bit of a plan. Make him tired, make him look bad.
READ MORE: 'McGregor is next for Khabib' – UFC chief White
"Strong, he's very dangerous. Everybody knows this. I know this, too. If you think I'm going to stay with him like I stayed with (Al) Iaquinta with my Muhammad Ali jab? No way, brother. No way. I'm going to try to take him down. Even if he defend my takedown, he's going to be tired.
"How can we fight after this fight when I change his face?" Nurmagomedov said. "Even if I have a chance for a submission or choke, I'm going to keep punishing, talk with him, enjoy inside the cage. I can't wait."
You can share this story on social media: