From 'Machattan' to 'Squat City' – The adventures of Conor McGregor in NYC (VIDEO,PHOTOS)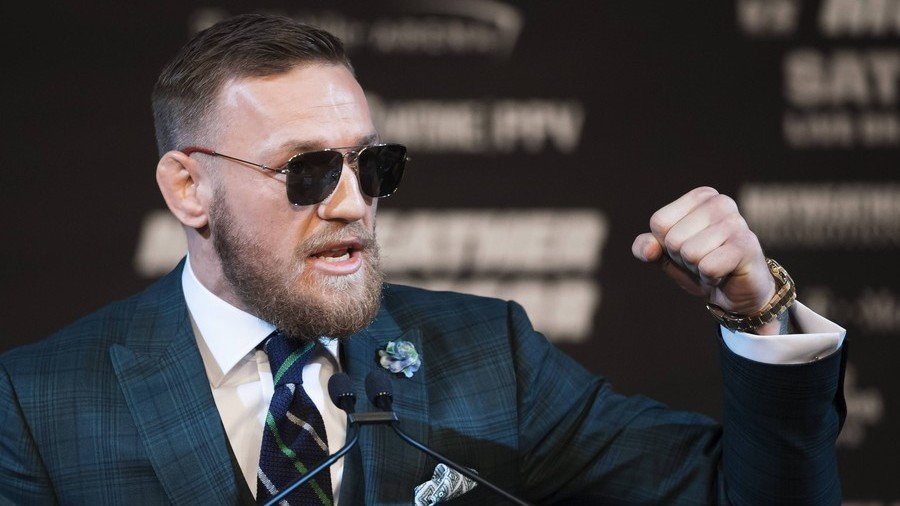 What to do in New York City if you're the world's most marketable MMA star? Conor McGregor gave us a glance at how to while away the hours in the Big Apple, from a trip to the movies to squatting men in the park.
READ MORE: Conor McGregor accepts Khabib Nurmagomedov fight in October – RT Sport source
McGregor recently avoided going to jail when he pleaded guilty to disorderly conduct after damaging a bus transporting several UFC fighters in Brooklyn's Barclays Center in the city.
The 30-year-old had all felony charges dismissed following the incident after entering a plea deal with the borough's District Attorney that saw him escape without a criminal record and unrestricted ability to travel to the US.
READ MORE: Conor McGregor avoids jail, pleads guilty to disorderly conduct
And the first fighter in UFC history to hold world titles in two weight divisions simultaneously certainly made use of that unblemished travel restriction by wading into the city that never sleeps to begin another adventure that didn't involve violence to buses.
First up for The Notorious was sampling some NYC nightlife under the neon lights. The Irishman stepped out of his car towards a popular after-hours hotspot shouting "freedom," imitating Mel Gibson's character William Wallace in the popular film Braveheart, celebrating his narrow jail escape.
That post was captioned accordingly with "Big Willy Wallace." A further Instagram snap apparently showed McGregor baring his tattooed chest partying with other revellers, beside which the fighter wrote: "Click clack I'm back" to signal his "return."
Always fond of a pun in his social media posts, McGregor marked his territory down in the city by snapping himself in the newly-named 'Machattan' borough. There, McGregor took in the movie based on his life before jumping from one flick to another and hopping into the famous car from the popular movie trilogy 'Back to the Future' on Tuesday.
Having wetted his beak at the New York nesting places, McGregor spread his wings to the city's Central Park to...hoist his training pal and fellow fighter Cian Cowley onto his back and bust out a set of squats. Crumlin man Conor was snapped practicing the unorthodox leg workout in the iconic park popular with fitness fanatics on Tuesday.
READ MORE: 'Bring his Irish team in November and finish our business': Khabib sets date for McGregor showdown
A much anticipated fight between McGregor and Russian UFC champion Khabib Nurmagomedov took a step closer to being made last week after the Irishman "accepted" a challenge from the Dagestan native for a fight in Madison Square Garden.
You can share this story on social media: