Mythbusting McGregor v Nurmagomedov: Conor's keys to victory at UFC 229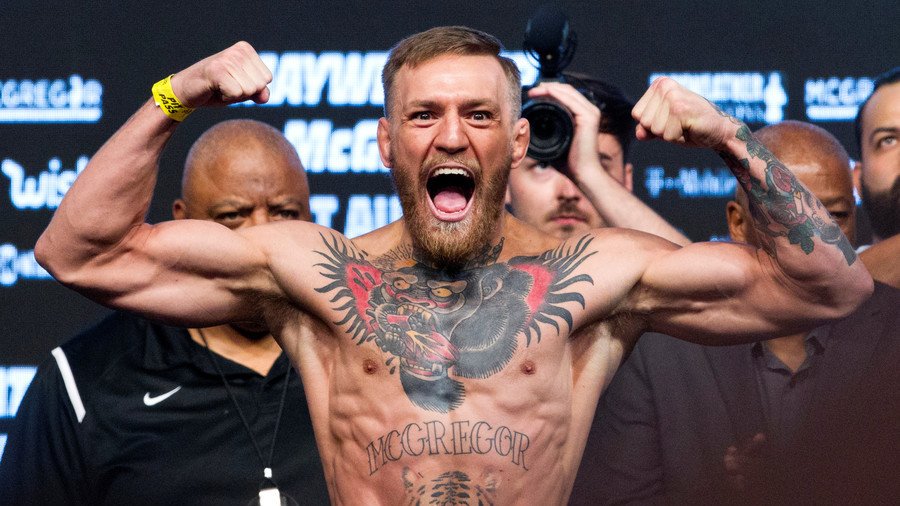 The narrative surrounding the bout between the two top lightweight MMA fighters in the world suggests the outcome will be determined by Conor McGregor's striking or Khabib Nurmagomedov's grappling but the reality is more nuanced.
If one was to survey the top mixed martial arts websites in the world, or glance at the sportsbooks which have been opened in advance of the October 6 fight, described as the biggest in the sport's quarter-century history, it would seem that the fight will progress in one of two ways.
Either McGregor will uncork that famous left hand of his, the weapon which has proved to be the undoing of the likes of Jose Aldo, Eddie Alvarez and Nate Diaz, or Khabib will implement his anaconda-like grappling game and dole out a prolonged suffocation of the Irishman.
While both of these are without question realistic scenarios for how the fight may progress when the first bell rings in the T-Mobile Arena in Las Vegas in six weeks' time, MMA historians will correctly point out that fights rarely play out in reality as they have been predicted to on paper.
Take McGregor, for instance. The prevailing thought surrounding the Dubliner is that, while his striking is world class, his weakness comes in the grappling department; but, while McGregor may finish second in a pure grappling contest with the undefeated Nurmagomedov, the act of bringing him to the ground is far easier said than done.
McGregor's detractors will point to his UFC 189 bout with Chad Mendes two years ago as evidence of his grappling deficiencies. In that fight for the UFC's interim featherweight title, McGregor was repeatedly taken down by the American wrestler before he was able to reverse a submission attempt towards the end of the second round and finish the fight with strikes.
It was the only match in McGregor's 10-fight tenure in the UFC in which he has been taken down repeatedly, but how much of that can be put down to the 80 percent ACL tear McGregor suffered in his knee just weeks out from the fight? His lateral movement was severely inhibited as a result of the training injury which was eye-wateringly captured in a scene in the 'Notorious' documentary, meaning that he was a far more stationary target than usual.
Moreover, McGregor's takedown defence is predicated on his mastery of range management. His unusually long reach (73 inches, one inch more than heavyweight champion Daniel Cormier) has given him an almost preternatural understanding of how to place himself in positions where he is a threat to his opponent, but his opponent is of no immediate threat to him.
In addition to that, McGregor has developed a defensive ability to 'post' out with his right arm to his opponent's shoulder or throat to inhibit their forward movement to sense his opponent's distribution of balance and center of gravity. If no threat is measured, his laser-sighted strikes come into play. This tactic was used repeatedly against Eddie Alvarez to win the UFC's lightweight title in November 2016.
READ MORE: 'Biggest fight in UFC history' – Dana White on Khabib Nurmagomedov v Conor McGregor
But what happens if the fight does indeed go to the ground? Even the most ardent McGregor supporter would struggle to say that he would invite the opportunity to be on his back against a grappler as vicious as Nurmagomedov but the tools he has developed in the 13 years he has been studying Brazilian Jiu Jitsu under Ireland's first black belt, John Kavanagh, have rewarded him with the techniques required to get back to his feet where he holds the clear advantage.
The likeliest plan of attack for Nurmagomedov, given McGregor's excellent footwork and movement, will be to force him backwards to the cage where McGregor's escape routes will be limited and try to get a takedown against the cage. Both Alvarez and Diaz had McGregor in this position in their fights, though neither could complete the takedown (though Diaz did manage an excellent trip takedown in the final seconds on their UFC 202 bout).
READ MORE: 'Oh nuts!' UFC fighter gets genitalia snarled in power tool with bloody outcome (GRAPHIC PHOTO)
The price of an error here is a large one for McGregor opponents. A failed takedown against the cage is one of the Irishman's favorite positions, as it allows him opportunity to unload elbows to the head of an opponent who over-commits, a lesson learned by Steve O'Keefe when he faced McGregor in 2012. Nurmagomedov will have a hard time taking McGregor down when they finally meet on October 6. The longer the fight remains upright and in a striking position, McGregor's chances exponentially increase but the problem with facing a fighter like Nurmagomedov isn't related to gameplanning what he will do in the cage.
McGregor and his camp know exactly what Nurmagomedov is going to do, the better question is, can he stop it?
You can share this story on social media: