'Whoever wins this series won't be going' – NBA rivals unite to turn down Trump White House invite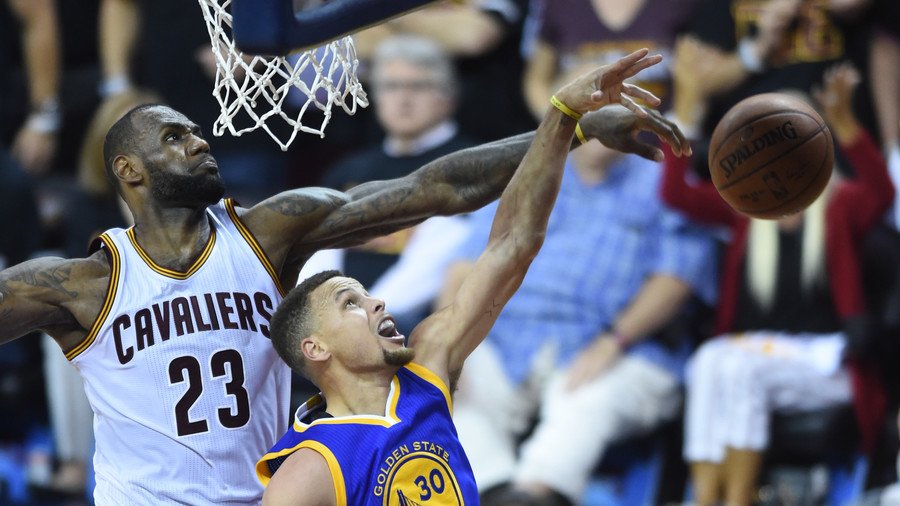 The winner of the NBA Championship finals between the Cleveland Cavaliers and the Golden State Warriors have announced that they will turn down any invitation to celebrate their win in Donald Trump's White House.
President Donald Trump's war of words with several high-profile US sports stars shows no signs of slowing down after LeBron James and Stephen Curry, arguably the two best players in basketball, revealed that the eventual winner of the Cavaliers v Warriors NBA finals series will turn down the traditional White House celebration that often comes with winning a major sporting title.
READ MORE: Trump comments convinced NFL owner not to sign Colin Kaepernick, attorney claims
A day after Trump revoked a similar invitation to NFL champions, the Philadelphia Eagles, when it was reported that only around 10 of the squad would attend the ceremony, James and Curry put aside their own rivalry to join forces in speaking out against the White House and its handling of a wave of demonstrations currently dividing various sports in the United States.
"It's typical of him," James said of Trump rescinding the Eagles' invitation. "I'm not surprised. Typical of him.
"I know no matter who wins this series, no one wants the invite anyway. It won't be Cleveland or Golden State going."
Asked for a comment, Curry later said: "I agree with 'Bron."
Trump and his administration have been vocal opponents of several players in the NFL for their decision to use the national anthem as an opportunity to speak out against perceived inequality for minorities and police brutality, often electing to sit or kneel for the duration of 'The Star Spangled Banner'.
He tweeted on Tuesday that his reasoning for uninviting the Eagles squad from the White House was because he "insists they stand properly for the national anthem." The Eagles were one of seven teams in the NFL last season who didn't have one player perform an anthem protest during the regular season. Recently, the NFL announced a new policy that enables the league to fine teams or players who protest during the anthem, instead affording players the opportunity to remain in the locker room until the anthem is finished.
Curry's Warriors were disinvited from attending the White House last year after defeating the Cavaliers in the finals after reports that the team's talisman was opting not to attend. Instead, the squad traveled to Washington to work with disadvantaged children, a new tradition which Curry says he would be happy to continue.
"I hope to be in that situation," Curry said. "The way we handled things last year, we'd stay consistent with that."
READ MORE: 'Draft-dodging racist': Jim Carrey slams NFL for 'siding' with Trump
Warriors coach Steve Kerr, an outspoken critic of the US president, says that Trump's decision to rescind invitations for anyone who disagrees with his politics is an unfortunate side effect of his presidency.
"It's not surprising," he said. "The president has made it pretty clear he's going to try and divide us all in the country for political gain. We're all looking forward to the day when we can go back to just having a celebration and celebrate Americans for their achievement.
"It will be nice when we can just get back to normal, in three years."
The Warriors currently lead the seven-game series 2-0 ahead of Wednesday's third fixture.
You can share this story on social media: