As Manchester United & Chelsea crumble, Liverpool stand vindicated in choosing Klopp
With Chelsea's disastrous season and Manchester United's meek capitulation in December, it's easy to forget that back in August both clubs along with City and Arsenal were pegged as certainties in the league's top four positions.
However, halfway through the 2015/16 Premier League season, things are looking very different.
Champions Chelsea are languishing in the bottom half, Manchester United are in sixth place and the club bottom of the table this time last season, Leicester City, is top, with Crystal Palace in fifth. Topsy-turvy times in the premiership indeed!
Newly promoted sides such as Bournemouth (undefeated in their last six league games) and Watford (seventh in the league), have not only impressed with their consistency, but have also showcased the outstanding influx of quality in the English game.
With the new TV deal coming at the end of this season, the competition is only going to get fiercer.
READ MORE: Have TV billions made the English Premier League more competitive?
When results turn sour, the club's executives have to decide whether to stick or twist. Whether it is a decision made on player transfers or the manager, there is little margin for error. This season is proof that the sooner the board makes a change, the quicker the results start to improve.
Chelsea waited till dropping a point above the relegation zone before sacking Jose Mourinho earlier this month. Guus Hiddink has been brought in as interim manager but Chelsea's future is still uncertain, with no clear decision made on the next manager and no clear transfer targets defined for January.
Manchester United are sixth in the league after losing four games in a row, but the United board is still backing the manager. A defeat to Chelsea at home on Monday night could be the final straw, but with no suitable candidates identified, United will have to scramble. Ryan Giggs is expected to take over as caretaker manager, but a change this close to the transfer window negates the previous manager's work and also puts the board at a disadvantage. Who do they bring in to strengthen the squad when there is no one to identify targets?
READ MORE: Louis van Gaal about to fold after United embarrassed at Stoke
Liverpool made a fast change at the start of the season after results under previous manager Brendan Rodgers remained poor. That decision has proved to be a masterstroke. Although there were questions raised over dismissing Rodgers so early in the season, Liverpool stand vindicated by results and performances on the pitch in their choice to hire the former Borussia Dortmund manager Jurgen Klopp.
As Liverpool's traditional rivals struggle with uncertainties about their future, Liverpool are well underway with plans towards securing a sustainable one.
Klopp's impact at Liverpool is already evident. The Reds have not only improved on the pitch, but the German has had a significant impact off it as well. With a revamped transfer strategy and a focus on improving the players currently available, Liverpool are now climbing back up the league table and look a solid bet for European football next season, with Champions League football an outside possibility.
Read more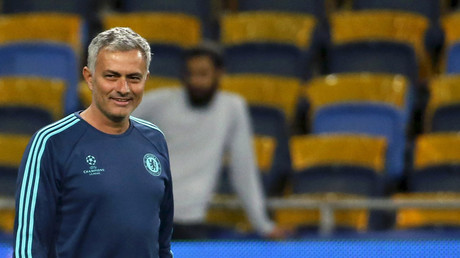 The key to the Liverpool's board's decision to sack Rodgers was identifying the footballing reasons behind the team's declining performances. Here, Chelsea and United lag behind with Mourinho's iconic status at Chelsea hindering his eventual departure, and the absence of a chairman with football experience at United preventing the club from taking smart decisions about transfers or the manager's future.
Would Liverpool be able to sign Klopp now if the club had waited until December to make the change? Unlikely. Would Klopp have opted to wait for Chelsea, United or even Real Madrid if Liverpool came calling in December? Very likely!
Time will tell how much of a success Klopp will prove to be at Liverpool, and whether the Premier League's traditional top teams can make a return to the summit. However, there is little doubt that both Chelsea and Manchester United would have loved to have Klopp available in December to take over and save their respective seasons.