Chelsea sack manager Jose Mourinho
Published time: 17 Dec, 2015 15:20
Edited time: 17 Dec, 2015 16:01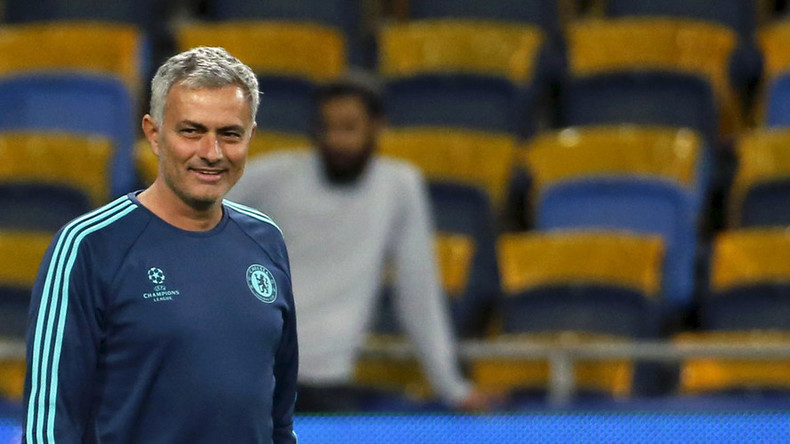 Chelsea Football Club has finally lost patience with manager Jose Mourinho, sacking him seven months after he led the team to the Premier League title.
Chelsea finished eight points clear last season while also winning the League Cup, but the tell-tale signs of decline were already there in second half of the season, as the team's sparkling early form fizzled out. That slow decline has turned into free-fall since August 2015, with Chelsea losing nine of their 16 league games so far.
Senior Chelsea management, including Russian owner Roman Abramovich, held a nine-hour meeting last week in the aftermath of the club's defeat by Bournemouth, with Mourinho's future the focus of the discussions.
The Champions League win over Porto on December 9 alleviated the pressure somewhat, but a league comeback was nowhere to be seen as earlier this week Chelsea lost to this season's surprise team, Leicester City, who now top the table.
Mourinho complained after the match of players "betraying" him, and the Portuguese manager's inability to motivate the same squad that won the league title last season has counted against him, with the Chelsea management concerned about a prolonged slump in form that can directly be traced to the players' failure to achieve their potential.
Mourinho had been given a four-year contract extension in August this year before the start of the season, but compensation is not expected to be an issue in this matter, with Chelsea committed to paying their manager until the end of the season.
Chelsea can bring in Guus Hiddink, a manager they have turned to in the past in an interim capacity, while former Chelsea manager Carlo Ancelotti is also a possibility, although he would be less interested in a temporary appointment and is already being linked with Bayern Munich should Pep Guardiola leave next summer. Juande Ramos has also been mooted as a stop-gap replacement, although it is likely that the club will look to the current support staff for this weekend's game against Sunderland.
The Blues will hope they can bring in a new manager ahead of the busy run of games during the festive season, before dipping into the January transfer window to buy their way out of a disastrous season.
In an official statement on Thursday afternoon, Chelsea FC insisted that the separation was mutual:
"Chelsea Football Club and José Mourinho have today parted company by mutual consent. All at Chelsea thank José for his immense contribution since he returned as manager in the summer of 2013.
"His three league titles, FA Cup, Community Shield and three League Cup wins over two spells make him the most successful manager in our 110-year history. But both Jose and the board agreed results have not been good enough this season and believe it is in the best interests of both parties to go our separate ways."
The raging debate surrounding Chelsea this season has been the spectacular decline in Mourinho's ability to motivate his players - something that has usually been a hallmark of his work in football management. However, it is worth noting that while Mourinho inevitably performs well in his first two seasons as manager, the third season sees a decline in team performances due to the taxing demands placed on players by his management style.
Mourinho's exit from Chelsea does not change the fact that he remains the most successful manager in the history of the club. As part of their effort to recognize his contributions to the club, Chelsea said the following in their statement:
"The club wishes to make clear José leaves us on good terms and will always remain a much-loved, respected and significant figure at Chelsea. His legacy at Stamford Bridge and in England has long been guaranteed and he will always be warmly welcomed back to Stamford Bridge.
"The club's focus is now on ensuring our talented squad reaches its potential."