Shocking resemblance: Crimea massacre closely fits Columbine pattern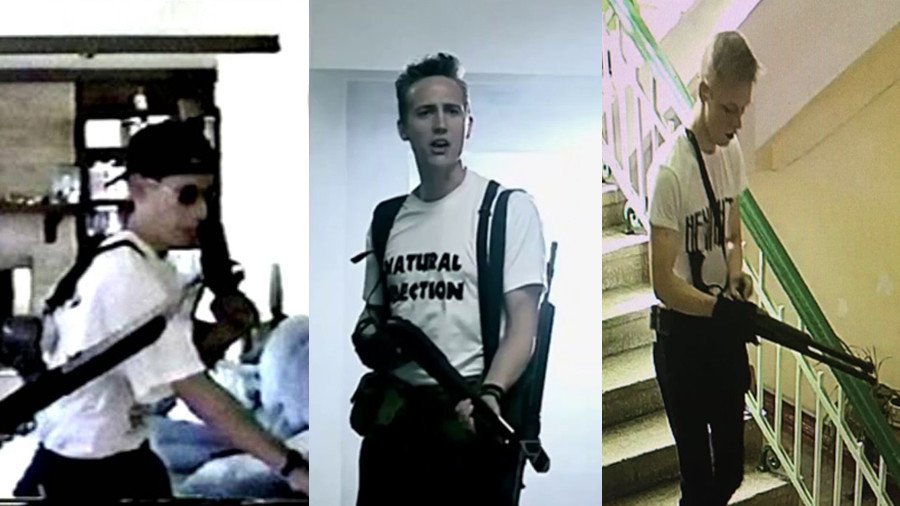 Was the Kerch college attacker inspired by the infamous Columbine massacre in the US? That is for the investigators to find out, but his actions look shockingly similar to those of Eric Harris and Dylan Klebold back in 1999.
Just like Eric Harris and Dylan Klebold, the Columbine attackers, the Kerch suspect identified as Vladislav Roslyakov was a senior student at the college he attacked. He assailed his fellow students with a rifle, killing at least 17 and injuring almost 50, and later shot himself. Harris and Klebold murdered 12 students and one teacher, injuring 21 more people, and also committed suicide afterwards.
In another parallel, Roslyakov detonated an improvised explosive, as well as the shooting attack, with the blast apparently hitting the college canteen. The Columbine attackers also prepared several IEDs, including propane tanks converted to bombs placed in the school cafeteria, but their bombs failed to detonate.
READ MORE: 'We want to live': Terrifying VIDEOS of students fleeing Kerch college massacre
The 1999 Columbine High School massacre in Littleton, Colorado is considered one of the deadliest mass killings in US history. What's more, it has given rise to a whole online community of "Columbiners" obsessed with the massacre and its perpetrators, 18-year-old Eric Harris and 17-year-old Dylan Klebold.
US media have reported that Columbiners tend to be young people drawn to the shooters on a personal level, while others are intrigued by the case because of an interest in criminology and psychology. Other mass shooters and serial killers have also made appearances on the pages of Columbine shooting "fans."
Although school shootings are rare in Russia, it had already faced a Columbine-inspired attack earlier this year. A teenager stormed his school in the Republic of Bashkortostan, attacking his school teacher and classmates, and attempting to set the building on fire. Four people were injured in the incident. Media reports claimed the attacker, known only as Artem, drew inspiration from Columbine.
In another incident last December, a student with an ax stormed a school in the Siberian city of Ulan-Ude and used a Molotov cocktail to set the building on fire. Seven people were injured, and it was not clear what really inspired the attacker but parallels with Columbine were inevitably drawn.
READ MORE: Crimea bloodbath: Seeing friends die and fleeing for their lives - witnesses describe attack horror
Moscow appears to be taking the problem quite seriously. In July, the Russian State Duma committee for family, women and children drafted a bill ordering urgent action against internet groups promoting child suicide and school attacks.
Think your friends would be interested? Share this story!
You can share this story on social media: