'We want to live': Terrifying VIDEOS of students fleeing Kerch college massacre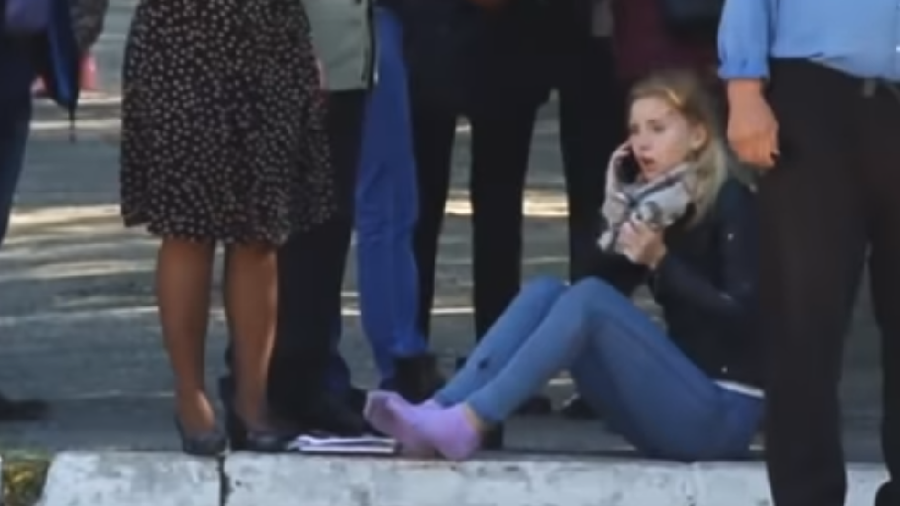 Footage has emerged of scared students fleeing Kerch college in Crimea after it was attacked by a gunman. The sound of gunshots and a blast can be heard on some of the videos that have been posted online.
An 18-year-old student went on a shooting rampage at a polytechnic college in Kerch on Wednesday, also detonating an improvised explosive device. At least 19 people were killed and some 45 others injured in the attack, many of them students. The college is attended by students who typically range in age from 15 right up to their mid-20s.
A video filmed outside the college just seconds after the blast has been uploaded by Izvestia newspaper. It shows smoke coming from the windows of the building.
"Holy sh*t! There's an explosion there," one of the students shouts, while another cries: "What the f**k is happening! What the f**k is happening!"
Numerous sounds of gunshots are then heard as students consider whether to try to help those inside or flee for their own safety.
In another video, published by Telegram channel Mash, confused and terrified students are seen fleeing the scene of the shooting and emotionally discussing what may have happened.
"It's f***ed up. I was looking up and there was a blast on the second or third floor… Everything went in flames," one of the witnesses said.
At one point, they stopped and one of them said: "Do you hear this?" And his friend replied: "Those are gunshots, right?" A young man shouts: "We want to live, mother***er!" while a girl starts to cry.
However, this group managed to stay calm, as one student called on the others to "Stop whining. We should remain calm," and tells his classmates to move faster and help the girls climb the fence in order to reach safety.
Kerch attack suspect identified as college student, killed himself
A separate video uploaded by Mash shows a much more desperate group escaping the scene, with a young man behind the camera shouting: "The place has been bombed… they're shooting there." Just the ground and the feet of running students can be seen in the shaky footage.
Like this story? Share it with a friend!
You can share this story on social media: