Cult of personality: FBI ignores online 'Columbiner culture' glorifying mass shooters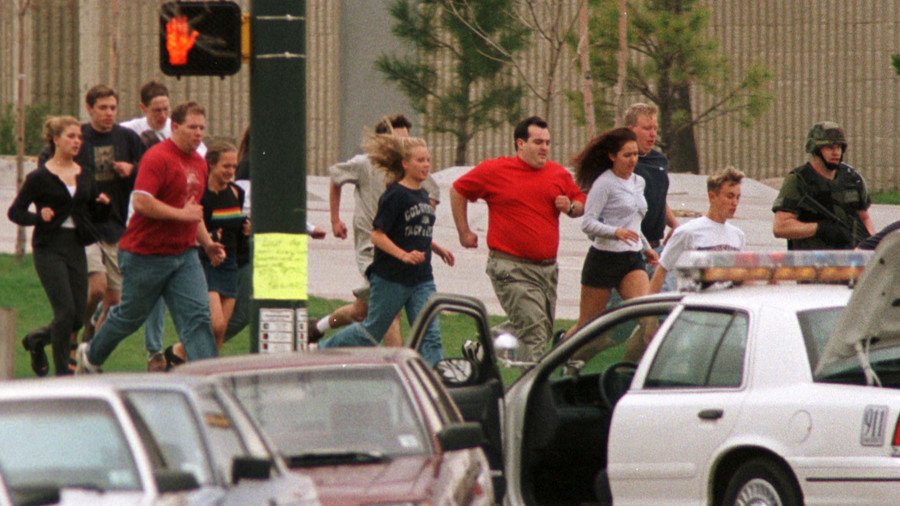 The FBI's failure to heed warnings about Florida mass shooting suspect Nikolas Cruz, who reportedly expressed the desire to attack a school online, suggests authorities overlooked a youth subculture obsessed with mass shootings.
The FBI received a tip-off after alarming comments from a user called 'Nikolas Cruz' were posted under a Youtube video published by Ben Bennight in September 2017. "I want to be a professional school shooter," it read, Bennight recalls. The same user also reportedly commented under a video about another shooter, Elliot Rodger, who killed six and injured 14 near the University of California, Santa Barbara in 2014.
Under another video about a sniper shooting at the University of Texas in 1966, Cruz reportedly wrote: "I am going to [do] what he did." Bennight contacted the FBI in Mississippi to report the shooter comment, emailing a screenshot of the comment and phoning the agency. He also flagged it with Youtube, which removed the remark. He met with FBI agents and gave an interview at his office on September 25, but didn't hear from them again until 30 minutes after Cruz was arrested on Wednesday.
The FBI also failed to follow up on a call made to an agency tip line six weeks before the Parkland school attack. The tip-off was from someone who knew Cruz and reportedly detailed his "gun ownership, desire to kill people, erratic behavior, and disturbing social media posts, as well as the potential of him conducting a school shooting."
Following the high school attack on Valentine's Day, FBI Director Christopher Wray said in a statement that the bureau is looking into how it failed to address the threat and respond to information from the public. Meanwhile, as Florida reeled from the US' most deadly school shooting, an online community that obsesses over and even fetishizes mass killers shared tasteless Valentines Day memes featuring known school shooters and mass murderers.
"Columbiners"
The online 'true crime community' consists of people who pore over details of gruesome crimes and the lives of the perpetrators. A big subsection of this group, known as "Columbiners," are obsessed with the 1999 Columbine High School mass shooting and its perpetrators, Eric Harris and Dylan Klebold.
Columbiners discuss the shooters and their crimes on forums, social media groups and Tumblr blogs dedicated to the pair. The community is made up of a mix of young people who appear drawn to the shooters on a personal level, and those intrigued by the case because of an interest in criminology and psychology.
While some posts seen by RT.com rail against the bullying experienced by Harris and Klebold, others appear infatuated by the teenagers, looking to them like a boyband crush, creating fan art and detailing romantic fantasies involving the killers.
Dylann Roof, who killed nine black churchgoers in South Carolina in 2015, and serial killer Ted Bundy also make an appearance on these blogs, often depicted in a positive and even revered way.
Columbine-inspired Halifax shooting foiled
Three years before the Valentine's Day 2018 attack in Florida, police in Halifax, Canada foiled another attempted mass shooting planned for February 14 which was connected to the Columbiner subculture.
Lindsay Kanittha Souvannarath, Randall Steven Shepherd and James Gamble planned the attack at the Halifax shopping center in Canada. Gamble and Souvannarath reportedly posted an ad on Tumblr before their planned attack, and had an interest in the Columbine shooting. Souvannarath and Shepard were arrested at the airport before they could carry out the attack, and Gamble killed himself as his home was surrounded by police.
Gamble was also believed to be a fan of the Columbine killers. When asked by another Tumblr user whether he wore "boots like Dylan (Klebold)," he replied, "indeed I do," and posted a picture that showed him carrying a rifle and knife.
Although many Columbiners weren't even born when the deadly school shooting took place, the events of that day have become something of a legend which attracts the attention of young people who glamorize and empathize with Harris and Klebold.
If you like this story, share it with a friend!
You can share this story on social media: