EU needs US-style border controls & warning systems to properly process migrant influx – Merkel
Almost a year since Germany announced its open-door refugee policy, Angela Merkel has defended her decision. In the wake of terrorist attacks in the EU and to better deal with any further refugee influx, she proposed introducing US-modeled border controls.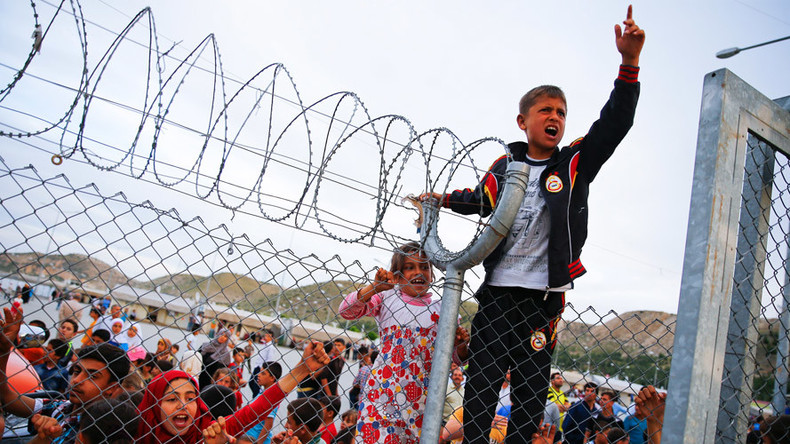 On September 4, 2015, the German Chancellor made an epic policy decision which resulted in over one million refugees flocking into Germany by the end of the year. The move by the EU's largest economy has sparked a downward spiral for the EU-wide migration policy.
Migration crisis 2.0? Erdogan holds all the aces as Merkel flounders
Merkel's decision impacted the entire European Union with some Schengen countries, forced to close their borders in light of the massive refugee influx. To aid and somewhat correct the situation, Merkel rallied the EU countries to agree to a €6 billion ($6.bn) deal with Turkey to reduce the illegal refugee flows in exchange for an eventual promise for Ankara to potentially join the EU.
While focusing on external protection of borders, Merkel arguably contributed to the demise of the EU as we know it when the UK opted to leave the Union in June. As cases of refugee violence, rape and attacks intensified over the course of last year, and EU unable to agree on migrant quotas, Merkel defended her initial position in an interview with the German Bild newspaper.
Claiming her welcome was "misunderstood," she explained that her "point was not to open the borders for everybody – but rather not to close them for those people who… had started their trek to us ..on foot," Merkel said, as quoted by Business Insider.
Answering "no" to whether or not she regrets announcing the German open door policy, Merkel also defended the EU-Turkey deal which went into effect in March. This as tensions between Ankara and the union continue to rise, with European politicians warning that the EU must not allow itself to be bullied by Turkey over the migrant deal.
Bringing up shortcomings of the refugee camps in Lebanon, Jordan, and Turkey, she said that Turkey's approximately 3 million refugees were "left alone by us for too long."
'I'm their chancellor too': Merkel urges Turks to commit, endorses EU refugee quota system
"This is why the agreement between the EU and Turkey was, and is, so important. It is the only way to stop the traffickers and to be in a better position to help people."
"With the EU-Turkey agreement, we managed to stem the traffickers' activities and to save human lives – which is our most important aim," she explained.
Send them back: Bavarian minister wants to repatriate 1,000s of refugees within 3 years
The landmark deal agreed by the two sides in March is aimed at returning all illegal migrants reaching Greece from Turkey's shores. In exchange, the EU would take in thousands of Syrian refugees "legally" and directly from Turkey. The EU would also give Turkey €6 billion (US$6.7bn) in funding over the next five years.
Czech Republic & Hungary push for joint European army
The deal also envisaged an accelerated process for Turkey's EU accession, and visa-free travel to the Schengen Zone for its citizens. However, the visa-free agreement has failed to come to fruition, despite a plan to introduce it in July, as Turkey has failed to comply with all of the EU's 72 criteria – a sticking point of which is a requirement that Ankara relax its stringent anti-terrorism legislation.
The Chancellor said that positive results came out of the migration crisis, namely a better understanding on how to proceed with the largest migration to Europe since World War II.
"We have created a common European Agenda on Migration. Everyone has to contribute to it. It is, therefore, important that, for example, Poland participates in protecting the external borders, in the NATO mission in the Aegean, and in foreign aid. The question of who should take in how many refugees needs further discussion," Merkel told Bild.
Merkel also went on to stress that fighting the root causes of refugee numbers is not Europe's task alone but "entire world's humanitarian responsibility."
Asked about the Ansbach and Würzburg Islamic State-inspired terrorist attacks this summer, Merkel said that while Germany has been exposed to the threat of Islamist fundamentalism, the "Islamist terrorism represents great challenges for our security services."
In fact, in two major terrorist attacks in Germany this summer, German's Federal Office for Migration and Refugees failed to account for migrants' extremist motives.
Mohammed Daleel was due to be deported when he detonated a bomb in the Bavarian town of Ansbach on 24 July. The bomber was a 27-year-old Syrian refugee who had pledged allegiance to the leader of the Islamic State (formerly ISIS/ISIL). While Daleel was the only fatality in the incident, 15 civilians were also injured in the blast.
Germany asks NSA to decipher Bavaria attackers' chat with ISIS mastermind – report
On 18 July 2016, a 17-year-old refugee injured five people when he attacked passengers with a knife and hatchet on a train near Würzburgin. German authorities later discovered that Ahmadzai was also in contact with members of the terrorist organization. Media reports suggested that the 17-year-old Afghan male arrived in Germany as an unaccompanied child refugee in 2015.
The Ansbach and Würzburg attacks Merkel said have shown that Germany needs a better early warning system, while the EU needs border controls similar to those in the United States.
Refugees did not bring Islamist terrorism to Germany – Merkel
"On the European level, we should start working on an electronic entry control system modeled on the US system. This means that – regardless of whether they travel visa-free or not – anyone who enters a European country and who leaves again is registered so that you know exactly who has not left and is still somewhere in the Schengen Area," Merkel said.
You can share this story on social media: