More than 300,000 refugees in Germany work illegally, pay kickbacks to asylum center staff - reports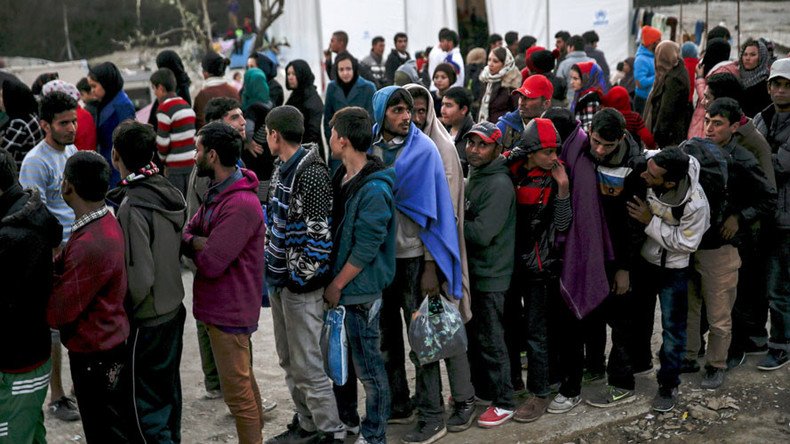 Up to 30 percent of the 1.1 million asylum seekers who arrived in Germany in 2015 may be working illegally, German broadcaster NDR said, citing experts. It added that refugee shelter employees often help migrants find illegal jobs in return for kickbacks.
NDR admitted that there is no reliable data on the exact numbers of asylum seekers who are working illegally in Germany, adding that its report was based on an enquiry conducted among social workers, activists and employees working in refugee centers as well as refugees and experts in the cities of Hamburg and Berlin, and in the states of Lower Saxony and Saxony-Anhalt.
According to NDR's own estimates, at least 100,000 refugees living in Germany are working illicitly while experts at the universities of Tuebingen and Linz say their share could reach 30 percent of the 1.1 million asylum seekers who came to Germany in 2015. At the same time, activists and social workers in Lower Saxony and Berlin put this number at 50 percent of all refugees in Germany.
"They [refugees] have to provide for their families back home" as well as to pay human traffickers, a social worker in Hamburg told NDR, adding that "some of them become really desperate, and leave the accommodation and are gone for two or three weeks, or leave in the morning and return in the evening."
She also said that her experience over the last 10 years was that up to 50 percent of asylum seekers tried to find illegal work at some stage.
In the meantime, the German Customs Service reported that about 10 cases of refugees working illegally are being uncovered each month.
Asylum seekers are mostly involved in doing menial tasks, NDR reports. They leave the assigned refugee centers located in small towns and come to big cities such as Hamburg or Berlin, where they live in makeshift quarters, sleep on mattresses and work on the side as dishwashers, cleaners or loaders.
One asylum seeker who came to Germany from Burkina Faso about two years ago told NDR he has worked illegally since he arrived as he is still awaiting a decision on his asylum request and has no opportunity to work legally.
"We want to work. We don't want to stay the whole time in camp and only sleep and eat, eat and sleep," he told NDR's Info TV program. "Eventually, one turns insane there."
He has been officially registered by the German authorities and was provided a place in a refugee center. However, he prefers to live in a dorm in Hamburg at his own cost earning €150 (US$165) per month because "there are more job opportunities" there.
"Actually, I do not want to work illegally, I know that what I do is wrongful, it is a crime. However, I will not find any job otherwise," he said.
Refugee shelter staff help refugees to find illegal jobs for kickbacks
According to NDR, activists who visit refugee shelters or even people who work there often offer asylum seekers help in finding jobs if refugees agree to give them a cut of their wages.
Police in the Hamburg region told NDR that a former employee of a refugee shelter in the town of Neu Wulmstorf is suspected of "exploiting the plight of refugees for personal gain." The refugee center employee, who spoke Arabic, offered refugee accommodation and privileges in the shelter as well as illicit jobs for kickbacks.
The man offered a refugee "an unregistered job at a discotheque in Hamburg's Reeperbahn district" in exchange for "paying half of the wage to him," the asylum seeker, who declined the offer, told NDR. The organization Human Care, which managed the shelter, told NDR that it fired the man in mid-July and filed charges against him.
Social workers and activists who spoke to NDR also reported that similar illegal schemes were used by refugee shelter employees in Berlin and Hamburg.
At the same time, local authorities in the Harburg district, located in southern Hamburg, told NDR they are unaware of any such issues.
The Municipal Group for Assistance and Accommodation that manages most refugee centers in Hamburg also told NDR that there were attempts by some asylum seekers to find illegal jobs, but they were prevented from doing so.
Emilija Mitrovic from the German DGB trade union federation's advisory center for employment and migration in Hamburg, told NDR that about 60 refugees come to the center every year complaining about being cheated out of their wages or mistreated at work.
"Many people profit from the plight of others," she said, adding that asylum seekers mostly work in poor conditions and get low wages. At the same time, experts also doubted that the new integration law that came into force on August 6 and made it easier for asylum seekers to find legal jobs would significantly change the situation in the field of illegal employment among refugees, NDR reports.
The report comes as German politicians take a hard-line stance on refugees. On August 27, the Bavarian finance minister told Der Spiegel daily that thousands of migrants who flooded Germany because of Chancellor Angela Merkel's open door policy should be sent back within three years.
German Vice Chancellor Sigmar Gabriel from the Social Democratic Party also criticized Merkel for her stance towards refugees and said that her Christian Democratic Union party underestimated the challenge posed by the mass inflow of asylum seekers.
However, Merkel continues to stick to her current refugee policy and has called on other EU member states to abide by mandatory quotas that require them to accept a certain number of asylum seekers determined by Brussels.
In a recent interview with Passauer Neue Presse, Merkel called the stance of those countries that refuse to accept asylum seekers "unacceptable."
You can share this story on social media: