Merkel's conservatives underestimated refugee challenge – vice chancellor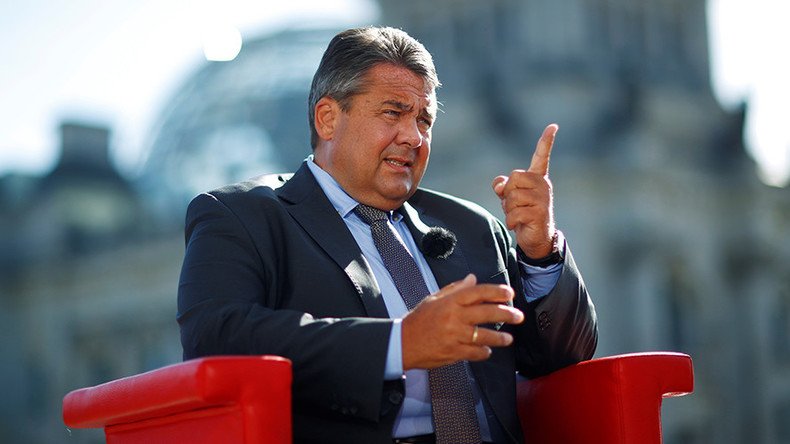 German Vice Chancellor Sigmar Gabriel has criticized Angela Merkel's party's stance on refugees, stating that the nation "underestimated" the challenge of integrating asylum seekers and should have taken stricter measures in dealing with the influx.
"It is not enough when she [Angela Merkel] constantly says 'we can do it'. She must instead create the conditions under which we'll be able to manage [the refugee situation] well, but the CDU /CSU have always ... blocked such efforts," said Gabriel, who is the leader of the government's junior coalition partner, the Social Democrats (SPD), in an interview with broadcaster ZDF, as cited in extracts released on Saturday.
Gabriel is also Merkel's potential challenger in the 2017 federal election.
"The Union has underestimated the challenges [of integrating refugees], and we have always said that it is unthinkable to take one million people into Germany every year," he added.
Over one million refugees and migrants arrived in Germany from the Middle East, Africa and other war-torn or simply troublesome places last year. Citing German labor office research institute IAB, Reuters reports that some 16,000 asylum seekers arrive in Germany every month, much less than in 2015, but still a considerable number.
This year Germany expects that up to 300,000 more refugees and migrants will arrive in the country, according to the head of the country's Federal Office for Migration and Refugees, Frank-Jürgen Weise. The official also said that his office would struggle if more people arrived, according to the Bild am Sonntag newspaper.
Chancellor Merkel has been sticking to a policy of open borders, using the catchphrase "we can do this" to persuade the public that Germany will manage the wave of newcomers.
READ MORE: German far-right party wants to expel migrants to islands as Merkel tells companies to hire refugees
But both the phrase and Merkel's policy have increasingly fallen under fire from the public and opposition parties, more so after a spate of attacks on civilians in late July, two of which were claimed by Islamic State (IS, formerly ISIS/ISIL).
Most recently, in an interview with Der Spiegel published on Saturday, the Finance Minister of the German land of Bavaria, Marcus Söder, suggested that the refugees and migrants that flooded into Germany, encouraged y Merkel's open-door policy, should be deported and sent back home within the next three years.
Like Gabriel, he also lashed out at Merkel's catchphrase. "A simple 'we can do it' is not enough," Söder said.
"I think the citizens would have preferred a different message […] something like 'we have realized [the threat]'. But we're still waiting."
The number of German citizens supporting the current Chancellor and her policies has also been growing smaller by the day. According to a DeutschlandTrend (Germany Trend) survey, just under half – 47 percent – of Germans rated Merkel's work as satisfactory by the end of July, down 12 percentage points on the June figure of 59 percent.
And another survey drawn earlier this week for Bild newspaper showed half of the German electorate to be against a potential fourth term for Merkelin the Chancellery and would not support her candidacy for top office in elections that are due to take place next year.
Merkel, first appointed as Chancellor in November 2005, is currently serving her third term in office.
Sigmar Gabriel is expected to challenge Merkel for the chancellorship, and his comments to ZDF coincide with the beginning of election campaigning. However, first he has to face two state elections in September and a crucial party congress that could seal or change his fate and that of his party, which has not been at the top of the voters' charts lately.
Gabriel has often been accused of supporting Merkel's refugee policy and promoting a so-called 'welcome culture.' Earlier this month, he said that the successful integration of migrants into German society only favors the country's diversity, sparking a barrage of criticism from Germany's far-right. But his latest comments to ZDF seem to contest his earlier statements.
The next German federal elections are expected to be held between August 27 and October 22, 2017. Merkel is to announce her decision on her potential run for chancellorship next spring.
You can share this story on social media: