Merkel support rating drops sharply after wave of attacks – poll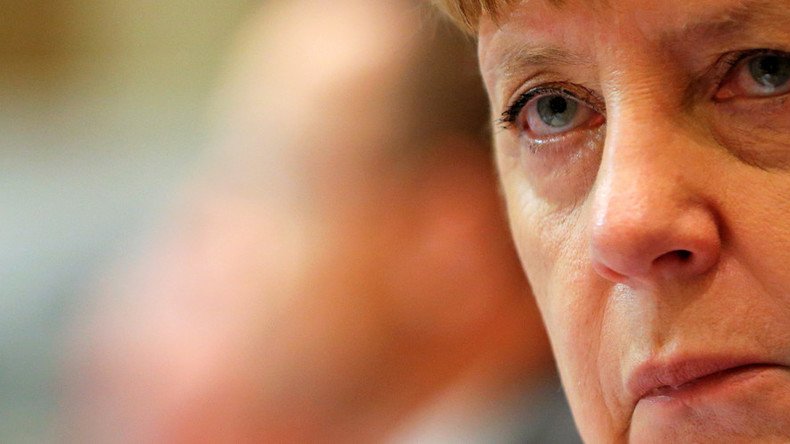 The number of Germans supporting Chancellor Angela Merkel and her policies is growing smaller by the day, according to a new survey conducted in the wake of the series of attacks that shocked Germany in July.
Just under half – 47 percent – of Germans surveyed rated Merkel's work as satisfactory by the end of July, down 12 percentage points on the June figure of 59 percent, according to DeutschlandTrend (Germany Trend), a representative survey by the polling institute Infratest dimap conducted on behalf of German broadcaster ARD.
The pollster surveyed 1,003 German citizens of voting-age on August 1-2. Two-thirds of respondents said they disagreed with Merkel's asylum policies 'in general,' as the poll did not allow for specific reasons to be given. Around a third – 34 percent – claimed the refugee crisis was being handled properly, the lowest level of support for Merkel's open-door policy since the issue appeared in polls almost a year ago.
The survey was conducted after five assaults shocked Germany in just over a week in July. Three were committed by asylum seekers, with two of those being investigated for links to Islamic State (IS, formerly ISIS/ISIL).
The biggest loss of life was on July 22, when an 18-year-old Iranian-German went on a shooting rampage in Munich, killing nine people and injuring 36 others.
Around three-quarters – 76 percent – of those surveyed said they expect more attacks on German soil in the nearest future.
A staunch proponent of the open-door asylum policy, Chancellor Merkel has admitted at a news briefing last week that Islamists could use the refugee flow to infiltrate the country. At the same time, however, she reiterated there would be no turning back on the country's policies regarding migrants. Dealing with the influx of refugees is a "historic task" Merkel said, adding that Germany "will make it" – repeating a phrase she's often used in recent months.
Germans, though, seem to be losing faith in the motto, and some social media users have launched proposals to declare it a "taboo word."
"So easy for #Merkel to repeat #WirSchaffenDas [We can make it]. She's well protected. Make that awful woman resign," one of the scores of tweets read.
Last week, hundreds of right-wing activists gathered for a rally at Berlin's central railway station, demanding that the chancellor step down. Waving German national flags, the crowd shouted, "Merkel must go!" Some protestors also had "The queen of smugglers. Merkel must leave" written on their banners.
Despite the recent fall in the ratings, they are not at their lowest point – that was seen when they plunged in February this year during an outbreak of fears over the massive influx of asylum seekers, when some 200,000 people arrived in Germany in just two months.
Since then, arrivals of new refugees in Germany have fallen significantly, in part due to the EU's agreement with Turkey to tackle the refugee influx, which Merkel helped broker.
READ MORE: Terrorized state: The week of attacks that shocked Germany (PHOTOS)
You can share this story on social media: