Send them back: Bavarian minister wants to repatriate 1,000s of refugees within 3 years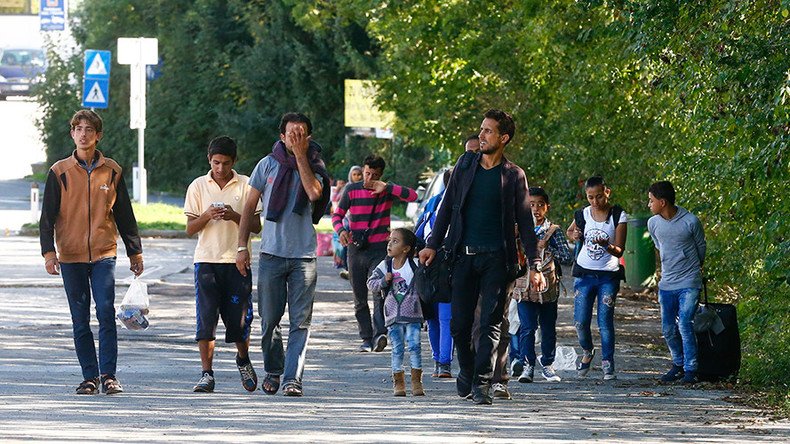 The thousands of migrants that flooded into Germany thanks to Chancellor Merkel's open-door policy should be sent back home within the next three years, Bavaria's Finance Minister said in an interview with Spiegel newspaper.
The politician added that the conflicts in the war-torn states the refugees come from should be over within that timeframe.

"In specific terms, we need instead of reunification of migrant families, to repatriate these several hundred thousand refugees within the next three years," Bavarian FM Marcus Söder said.
"We've given many people temporary protection from civil wars, but if the situations in their home countries improve, they should return there to rebuild their homelands. The Asylum Procedure Law stipulates that people should return to their homeland when they no longer need to flee," he stressed, while noting that some countries that the refugees come from, such as Afghanistan and Iraq, already have safe areas where migrants can go.
Between 250,000 and 300,000 refugees will arrive in Germany in 2016, the head of the Germany's Federal Office for Migration and Refugees (BAMF), Frank-Juergen Weise, told tabloid Bild on Sunday. The official noted that the agency did not expect the number of migrants to exceed the stated figure, admitting that more refugees will put a strain on his office's work.
Germany accepted more than a million asylum seekers last year. Since the closure of the so-called Balkan route and signing of the refugee pact between the EU and Turkey, the number of refugees flowing into Europe has sharply dropped. Still, there are thousands of asylum seekers crammed into migrant camps all over Europe waiting to be granted the right to stay.
Söder further stated that even "the best of intentions do not have the power to successfully integrate so many people from a completely foreign culture," pointing to the recently intensifying debate on Islamic attire worn in public places in Germany, especially full-face veils that are deemed to rob Muslim women of a "chance of integrating" into society. A new law is being mulled over by German authorities that would ban the burqa and niqab, garments worn by Muslim women that adhere to ultraconservative interpretations of Islam. Polls suggest that 81% of German citizens support the move, and Söder says he can be counted among them.
"Whoever wants to live here must adapt to our values – and not vice versa. The burqa is not compatible with Germany. If someone wants to keep wearing it, this someone should do it elsewhere," the politician noted sharply.
The idea for the ban appeared after violent Islamist attacks were carried out in the German cities of Wurzburg and Ansbach this summer, for which Söder blames Merkel, saying that instead of trying to integrate refugees into German culture, the main priority of the government should be protecting the German population.
"It is therefore clear that a simple 'we can do it' is not enough," Söder said.
"I think the citizens would have preferred a different message [from authorities] after the attacks, something like 'we have realized [the threat].' But we're still waiting."
Meanwhile, the German Chancellor has been busy pushing for obligatory migrant quotas for European counties, while advocating a united EU approach to dealing with the refugee crisis.
Her initiative has met strong opposition from a number of European leaders, however, some of whom, like Söder, would prefer to talk about the repatriation and deportation of migrants instead. Austrian Defense Minister Hans Peter Doskozil has suggested that the EU should hold a "summit on deportation" to discuss steps that would speed up the process of returning refugees to their home countries, while slamming Angela Merkel's "welcoming" approach as "irresponsible."
The Czech Republic has also openly criticized the quota system, along with Poland, Slovakia, and Hungary, which together form the so-called "Visegrad group" that opposes any mandated re-distribution of migrants across the EU.
READ MORE: 'Not Germany's waiting room': Austrian defense chief lashes out at Merkel's refugee policy

The German state of Bavaria has been an outspoken critic of Merkel's refugee policy over the past months. Last year, Bavarian leaders even threatening to sue the federal government if it failed to stem the influx of refugees. Back then, Bavarian Interior Minister Joachim Herrmann warned that if "effective measures" weren't taken to deal with the crisis, Bavaria would take the matter to the Constitutional Court and charge the German government with endangering "the legal capacity of the German states to act independently."
You can share this story on social media: