Deepening wedge: EU leaders slam Germany for pressure on migrant quotas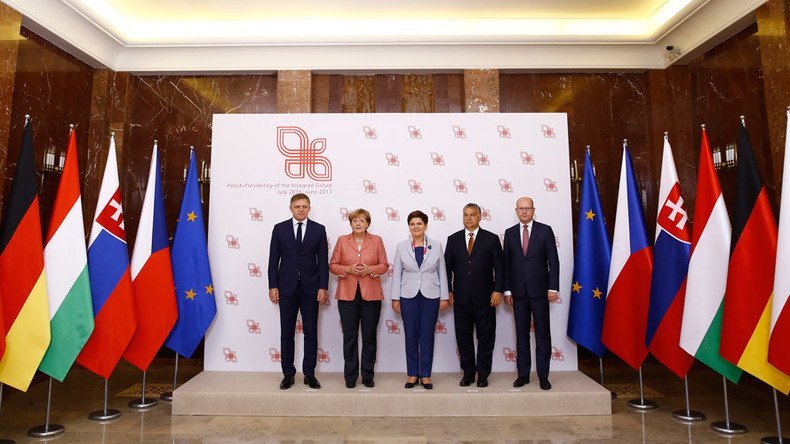 Leaders of four EU countries lashed out at Germany for insisting on migrant quotas as the German chancellor paid a visit to Poland, a staunch opponent of Berlin's strategy on refugees.
On Friday, Chancellor Angela Merkel, who arrived in Warsaw for official talks with her counterparts from Poland, Slovakia, Czech Republic and Hungary, faced discontent over the migrant quotas backed by Berlin.
During the joint press conference, Merkel advocated unity and said that the quotas should remain the ground for dialogue.
"The Czech Republic cannot agree to any system, based on the mandatory quota for the compulsory distribution of refugees," Bohuslav Sobotka, the Czech Prime Minister, countered.
The country alongside Poland, Slovakia and Hungary forms a so-called "Visegrad group" that staunchly opposes any regulations on re-distribution of migrants across the EU.
During the meeting Sobotko and the Hungarian Prime Minister Victor Orban also proposed increased European cooperation on security issues.
"The EU has lost its adaptability, and we have no right answer to migration and terrorism," Orban said.
Prior to Merkel's visit the Polish foreign minister accused Germany of "following its own goal" and lacking cooperation will on current challenges, including refugees.

"We often see that [Germany's] intention is only to follow its own goal," Witold Waszczykowski said in an interview with DPA news agency.
"Of course, every country has the right to pursue its own interests, but in some circumstances we'd expect a certain level of compromise," he added.
While talking specifically on the mandatory quotas Waszczykowski called them "forced resettlement."
The official noted that not every state within the EU can follow the policies proposed by the German government, claiming that "many countries, including Poland, have very limited capacities and capabilities."
READ MORE: Hungary set to build second fence on Serbian border to stop migrants – Orban

The divide between Germany and other European countries on refugees deepened on Thursday. In an interview to the Austrian Krone newspaper the country's Defense Minister Hans Peter Doskozil called the "welcoming" approach by Angele Merkel towards the migrants "irresponsible."
"The 'we can do it' policy is irresponsible," as it harms Europe and Austria in particular, Hans Peter Doskozil said. The official added that his country "is not a waiting room for Germany," alluding to the fact that many of the migrants are crossing to Austria in a hope of eventually settling in Germany later.
In a bid to curb the problem, Doskozil even suggested that the EU should hold a "summit on deportation" to discuss steps that would speed up the process of returning migrants back to their home countries.
You can share this story on social media: