Hungary set to build second fence on Serbian border to stop migrants – Orban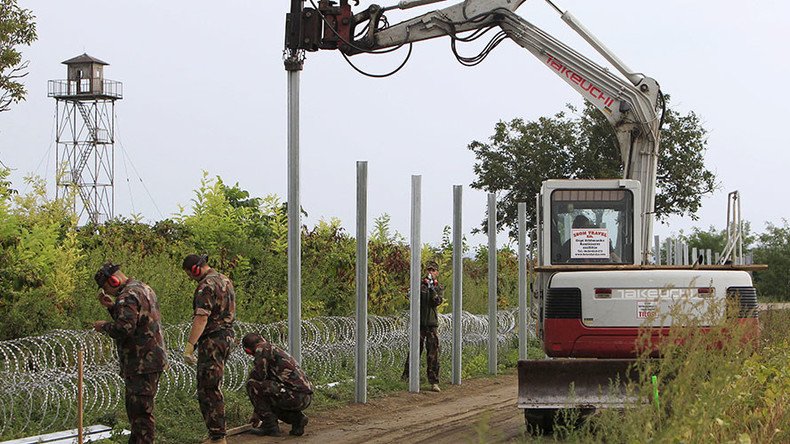 Hungary is planning to build a second fence on its border with Serbia in order to stop more migrants from coming, the country's premier Viktor Orban has told public radio.
The PM said that, should hundreds of thousands of refugees arrive at the country's border, the new barrier will assure that they will not be able to cross.
"Technical planning is under way to erect a more massive defense system next to the existing line of defense which was built quickly [last year]," the Hungarian Prime Minister told public radio Kossuth.
"We'll erect an additional row of fences using the most modern technology," Orban added, while reporting that 3,000 more servicemen will be assigned to guard the border, bringing the number up from 44,000 to 47,000.
"Then if it does not work with nice words, we will have to stop them with force, and we will do so," Orban vowed.
The first fence, a 4-meter-tall barrier made of razor-wire that was built along Hungary's southern border last September, has succeeded in reducing the number of migrants entering the country.
Nevertheless, a steady stream of asylum seekers continues to flow into the country, with local media reporting that around 400,000 refugees entered Hungary in 2015 alone.
There have been quite a few scandals connected with both the fence and the attitude of the Hungarian government towards refugees.
At the beginning of August, a group of self-styled border defenders posted pictures of scarecrows that they had attached to the fence in order to scare away refugees.
"Scarecrows made from sugar beet. Apparently working No [migrant] crossings in 4 weeks," the post read.
The Hungarian government announced last month that it would hold a referendum on October 2 to put the EU's mandatory migrant quota up for its citizens' approval, with premier Orban saying that a "no" vote would be for Hungarian independence.
At a joint meeting with an Austrian colleague back in July, Orban called refugees "a poison" and "terror risk," while saying they aren't welcome in Hungary. He also said that the mounting number of terrorist attacks in Europe can be squarely blamed on the unresolved migrant crisis.
Hungary has passed a law imposing a three-year prison sentence on those who cross its borders illegally.
You can share this story on social media: